Featured in CCTV News | PATEO Receives Thumbs-up for Assisting with Partners' Intelligentization Projects
On the evening of Jan. 17, "Xinwen Lianbo" (News Simulcast), a program by CCTV, broadcasted [A General Survey of Achievements during "13th Five-Year Plan"] China's Auto Industry in Transition to High Quality Development, in which the in-depth partners of PATEO CONNECT+, including FAW Hongqi, Dongfeng VOYAH, and SGMW, were given a special mention for their outstanding performance, among which, the application of intelligence in Liuzhou automotive industry has been highly commended. It is reported that at present, thanks to the empowerment of new technologies, such as 5G and AI, intelligence is extensively applied in various scenarios of the automotive industry chain. In Liuzhou, China's first logistics route for autonomous vehicles has been built, which is now equipped with 100 unmanned logistics vehicles that have covered a total of over 200,000km.
Founded in 2009, PATEO is mainly engaged in the R&D & manufacturing of intelligent telematics system and provision of subsequent supporting services. It has always been adhering to the core corporate philosophy of pursuing "Ultimate Quality, Ultimate Experience & Ultimate Intelligence", and now become an intelligent vehicle (IV) and IoV enterprise with the largest capital structure and business scale, as well as the most automotive clients in China.
Since its establishment, PATEO has always been maintaining an open attitude, and insisting on technological innovation as the starting point for collaborative construction and coordinated development with leading automakers, so as to help China's auto industry successfully transform, upgrade and thrive through concerted efforts, thus rising as a trendsetter of the IoV industry.
PATEO always insists that the IoV needs to be open and requires independent innovation. It is such persistence that has enabled it to make brilliant achievements.
PATEO × FAW Hongqi — Hongqi Intelligent Network Connection System 3.0

Product & technology innovation is an important way to enhance corporate competitiveness, as well as a core force that drives the sustainable development of an enterprise. PATEO and FAW Hongqi have joined hands in developing the Hongqi Intelligent Network Connection System 3.0, which has been launched by being installed on the two models of Hongqi E-HS9 and Hongqi H9.
This system provides the user with the ultimate experience by virtue of its highly personalized smart eco services, and has thus become a warm and emotional new-generation intelligent product ahead of the demand of the new energy vehicle (NEV) market.
It is learned that multiple vehicle models to be mass produced in 2021 will be iterated to adapt to the system.
2、PATEO × VOYAH — AI-empowered Intelligent Experience of VOYAH Smart Cockpit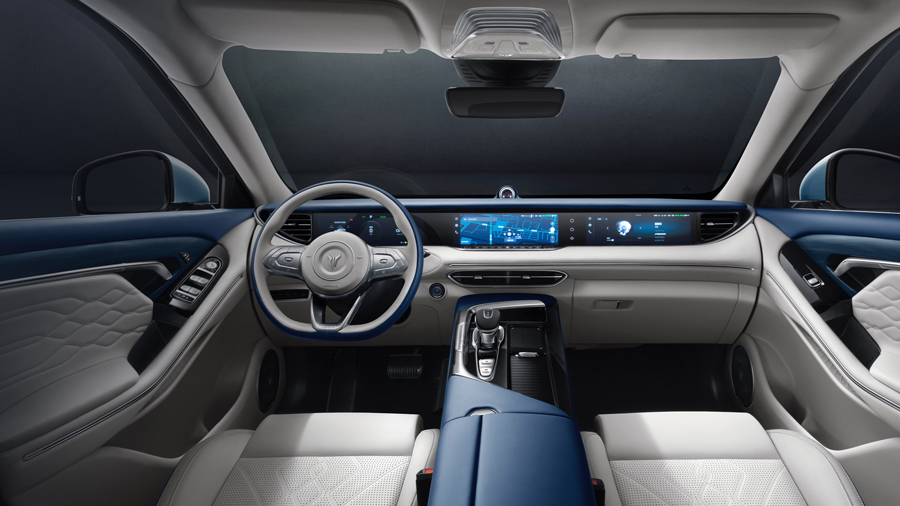 PATEO has assisted VOYAH in working together on the AI-empowered intelligent experience in smart cockpit, realizing features like safety assurance, natural language interaction (NLI), exclusive cabin space, full ecosystem & all scenarios, care for kids, and discerning what the user thinks from their body language.
This experience not only guarantees driving safety, allows the user to express themselves freely and adjust & control driving mode, offers them all-scenario and fully voice-controlled closed-loop services, and provides comfortable and intelligent care for kids at all times, but also adaptively adjusts lighting and multimedia based on user emotions.
3、PATEO × SGMW — Qing Mobile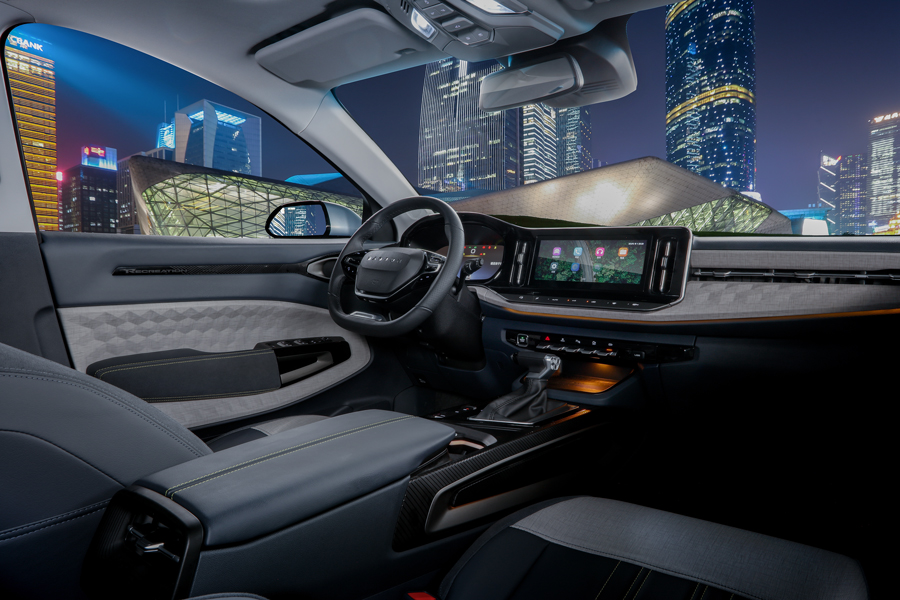 PATEO CONNECT+ and SGMW New Baojun have jointly created the Qing Mobile IoV. By replacing the IVI with the computing power and the AI capabilities of the cell phone, it allows the phone to enter the car in a very real sense, as it not only puts IV into the user's pocket, but also extends the connection between the user and the vehicle from 2 to 24 hours.
At the same time, by leveraging the OS (operating system) capabilities and the strong computing power of the cell phone, this product supports using voice to control vehicle features (vehicle control), navigation, music, and message sending / receiving via mainstream cell phone IM (instant messaging) apps.
From personalized IVI to individually customized phone, it truly embeds all the capabilities of the most advanced smartphone deeply into the car, thus is not only equipped with all features of the IVI, but also enables the mobile phone to replace the car key. In the meantime, while bringing the user the ultimate experience, it is also able to reduce communication costs for the user, especially the high data cost soon to be brought by 5G; the cost per vehicle will be cut by CNY 800-1,600, equivalent to a CNY 0.8-1.6 billion increase in profit for an automaker with an annual sales volume of over one million units.
PATEO Qing Mobile has ushered in an all-new era of the IoV. It is the first time in history that the IoV is fully opened to the user, allowing them to make their own choice, marking the formal transition from the era of serving a single user to the era of serving multiple users in a car, while also truly bidding a final farewell to the past IoV era.
4、PATEO × FAW — Tianquan Intelligent Lab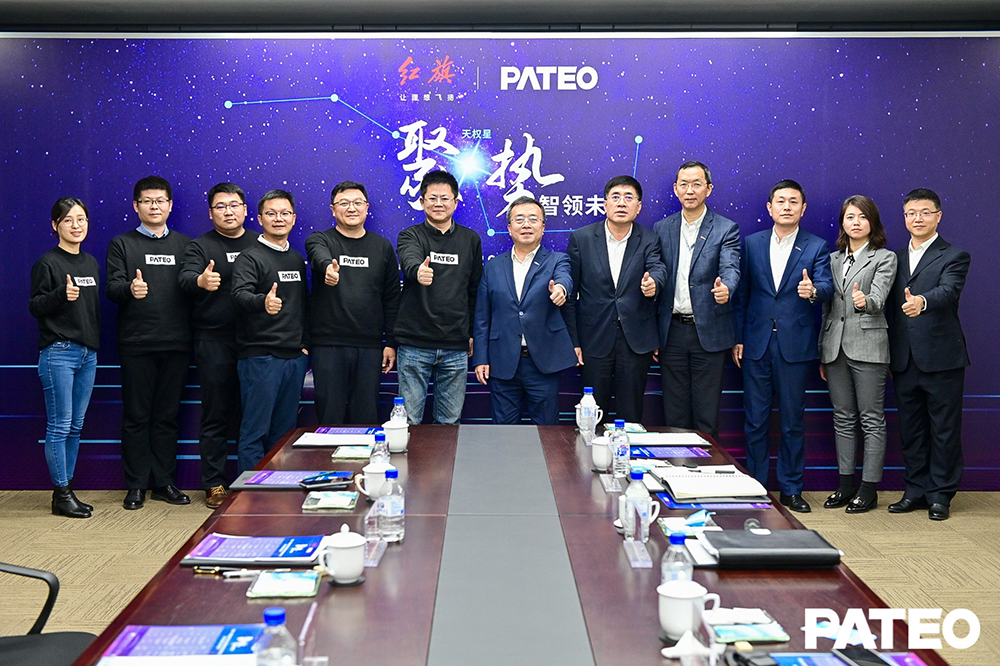 In Oct. 2020, PATEO CONNECT+ signed a comprehensive cooperation agreement with China FAW Group Corporation (FAW), and announced that it would establish a joint laboratory, Tianquan Intelligent Lab, with FAW ICVD (Intelligent Connected Vehicle Development) Institute on the basis of the Hongqi Intelligent System 3.0 project.
The two sides will initiate joint research in the application of forward-looking technologies and methods, build mature and competitive technologies, methods & tools, and cultivate excellent software talents, thereby realizing the transformation from a supply chain relationship to a comprehensive strategic partnership.
PATEO × CAIC — T3 Strategic Cooperation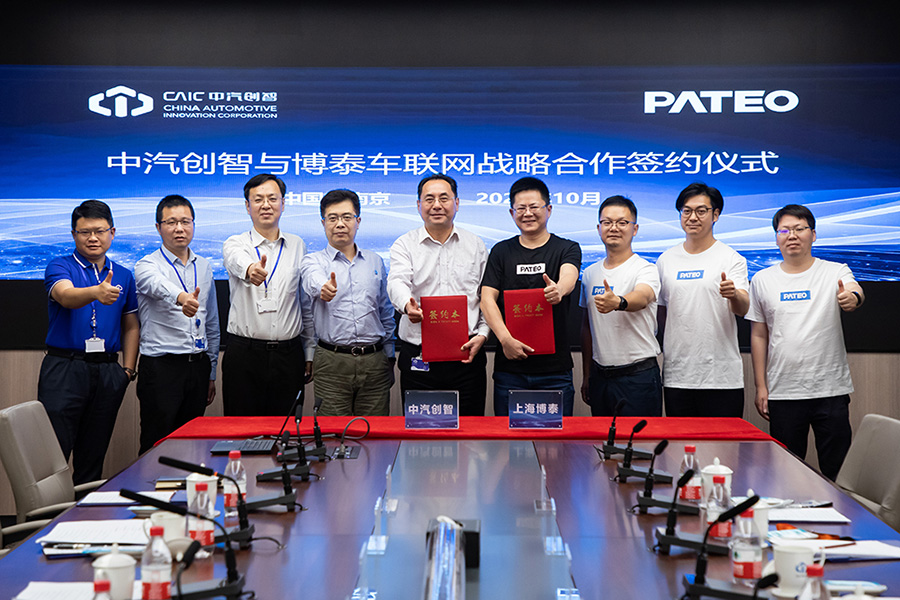 In Oct. 2020, PATEO and CAIC (China Automotive Innovation Corporation) established a strategic cooperation, whereby the two parties will jointly carry out platform & product R&D around new technologies through multi-area business integration by relying on their respective advantages.
Also, the two sides will promote in-depth cooperation in the field of automotive intelligent connectivity to form an all-round, long-term and stable strategic partnership, while actively exploring the development of intelligent vehicle software, smart cockpit related products, IoV application services, smart mobility services, vehicle big data applications, cloud computing and other automotive technologies, in an attempt to develop market-leading intelligent automotive products, thus achieving common development.
6、PATEO × FAW-AI — Strategic Cooperation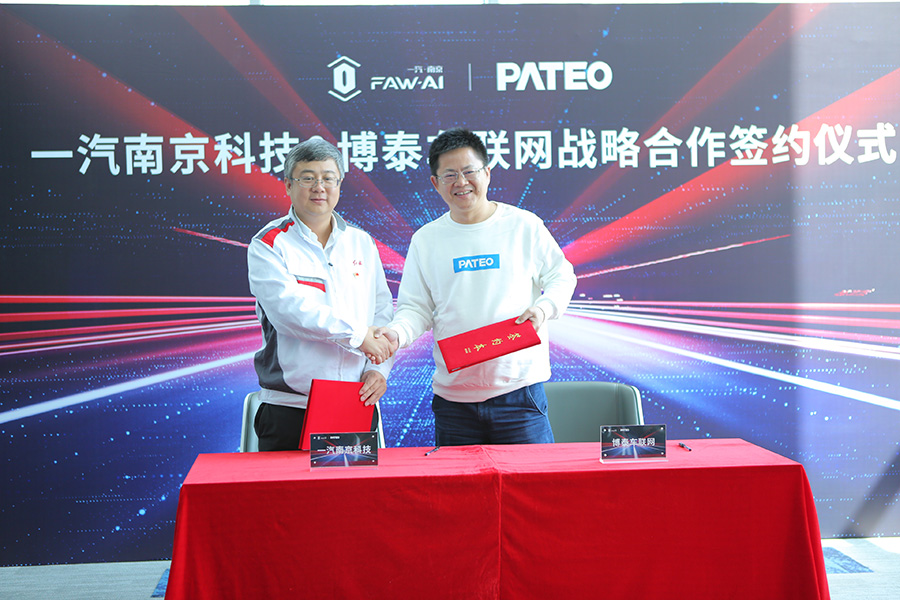 Oct. 2020 witnessed the formal establishment of a strategic cooperative partnership between PATEO CONNECT+ and FAW (Nanjing) Technology Development Co., Ltd. (FAW-AI).
The two sides will conduct long-term and in-depth cooperation in smart in-vehicle services, intelligent multimodal interaction, big data platform & product application, new retail, new mobility, smart transportation, smart city, smart value-added services, intelligent electronic products, and other related areas, work together on the technology development and product innovation in these fields, and devote concerted efforts towards the industrial implementation of related businesses.
7、PATEO × DFM — Receiving DFM Investment & Co-building Dongfeng R&D Center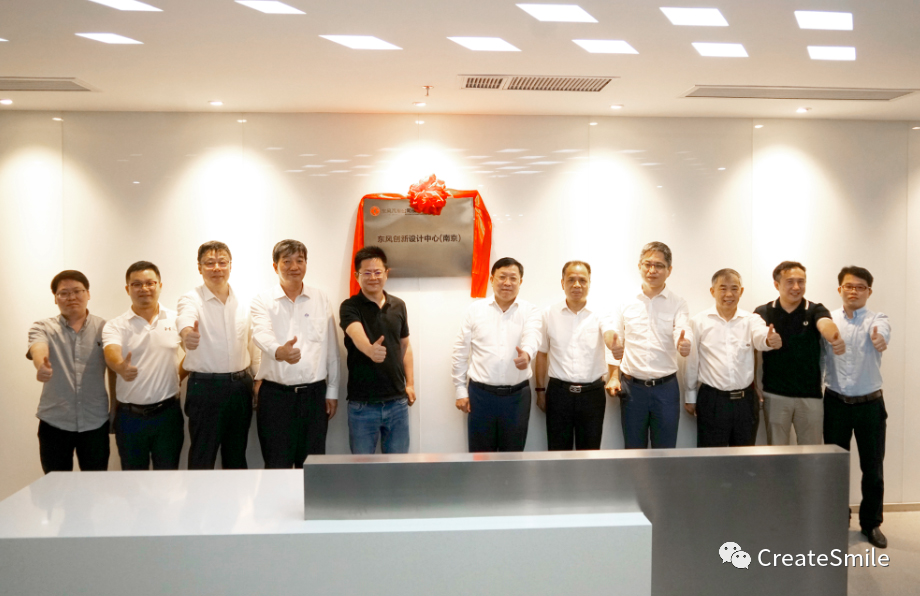 In Mar. 2020, another important investment in the strategy of "the five" (lightness, electrification, intelligence, connectivity and sharing) was completed — PATEO received a strategic investment from the leading automaker, Dongfeng Motor Corporation (DFM); meanwhile, the two sides will work in collaboration to build the Dongfeng R&D center and open up a new era of the IoV.
8、PATEO × Horizon Robotics — Strategic Cooperation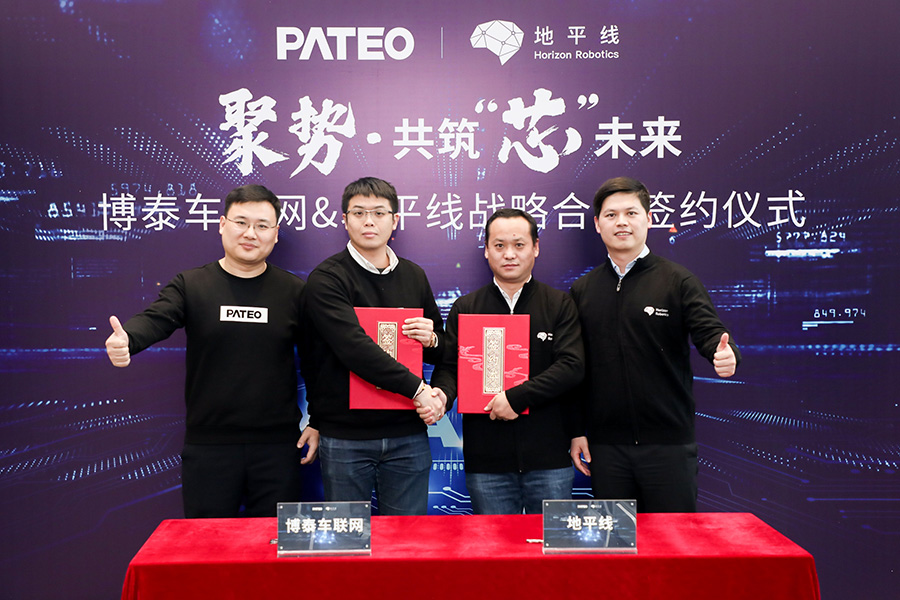 In Dec. 2020, PATEO CONNECT+ and Horizon Robotics jointly announced the establishment of a strategic partnership.
The two sides will join hands to form a strong alliance, and give full play to their respective resource advantages, to conduct in-depth cooperation on intelligent connectivity business, with intelligent cockpit as the focus and orientated to the needs for intelligentization in the automotive market, and empower OEMs to realize differentiation advantages, in addition to establishing a joint lab, aiming to research and develop a cockpit platform compatible with the Journey AI SoC of Horizon Robotics, jointly create and quickly implement future-oriented domestic platform-level leading products. According to the plan, the products that the two sides cooperate on will be mass-produced and equipped on vehicle this year.
9、PATEO × SGMW — Strategic Cooperation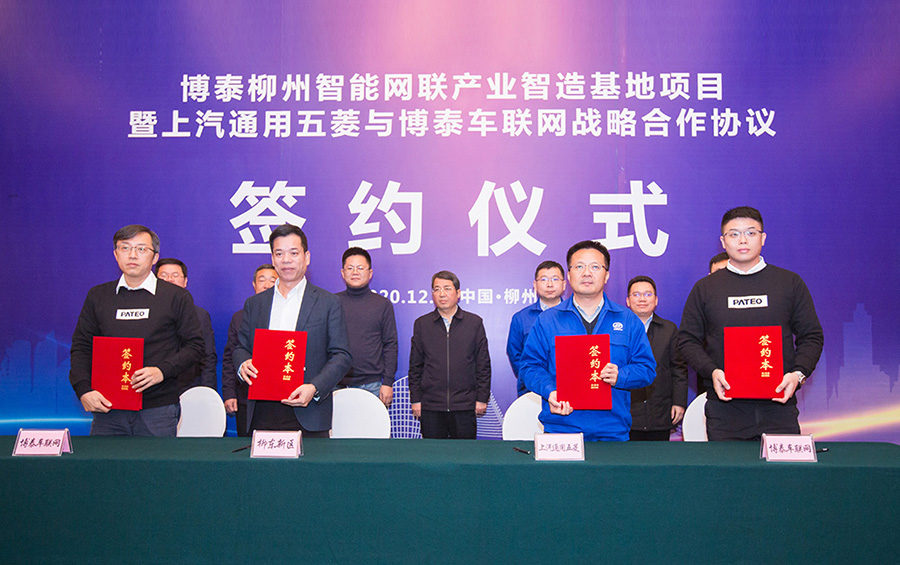 In Dec. 2020, PATEO CONNECT+, together with the Liuzhou Municipal Party Committee & Municipal Government, Management Committee of Liuzhou Liudong New District, and SAIC-GM-Wuling (SGMW), signed an agreement on "PATEO Liuzhou Intelligent Connectivity Industry Base Project & Strategic Cooperation Between SGMW and PATEO CONNECT+". This cooperation between the two sides will yield a leading integrated supplier of new-generation intelligent parts and IoV products to preferentially serve local complete vehicle enterprises represented by SGMW.
Also, the two parties will establish a pilot R&D and innovation center based on their respective industrial and technological advantages, to further promote joint R&D, joint innovation, and joint design, while drawing on each other's strengths to achieve coordinated development in areas like team collaboration, technology output, supply chain & production management, as well as delivery of hardware, software and cloud platform products, in an effort to enhance talent cultivation and product advantage introduction for SGMW in the field of intelligence, and build up the capabilities of independent technology platforms.
Honor is a reward for hard work and innovation; PATEO has earned recognition with its own strength
Up to now, PATEO has successfully won over 9 auto groups across the country, serving automotive clients covering luxury, joint venture, and China's self-owned brands – involving dozens of vehicle models – and boasting more than 2 million users of factory-installed solutions.
What's even more noteworthy is that in 2020, the year that has just passed, triumphant news of PATEO CONNECT+ kept pouring in: At the beginning of the year, it won the "Award for Collaborative Innovation · Hongqi Intelligent Connectivity" from FAW; and again, "2020 Annual Award for R&D Contribution to Dongfeng Passenger Vehicle Company (DFPV)" at 2020 DFPV Supplier Conference.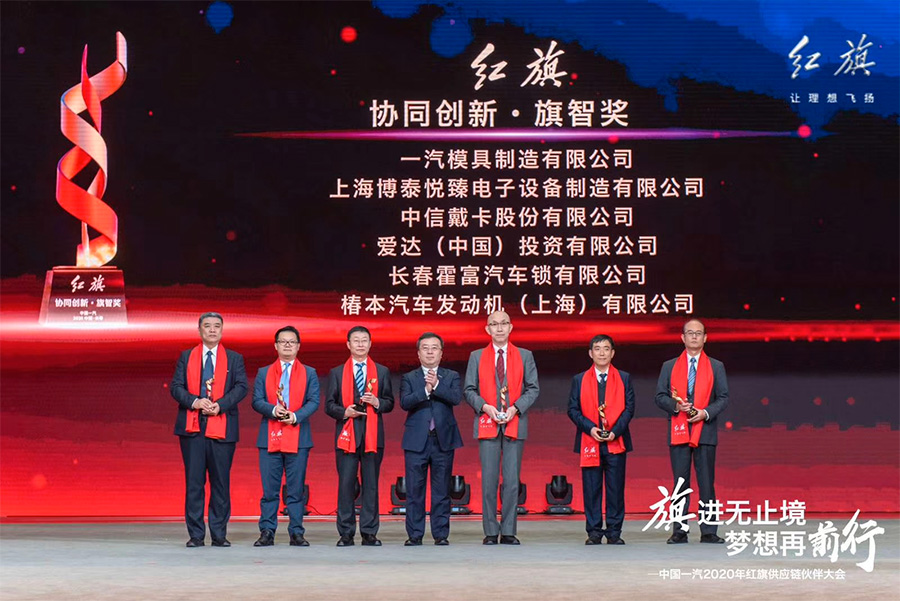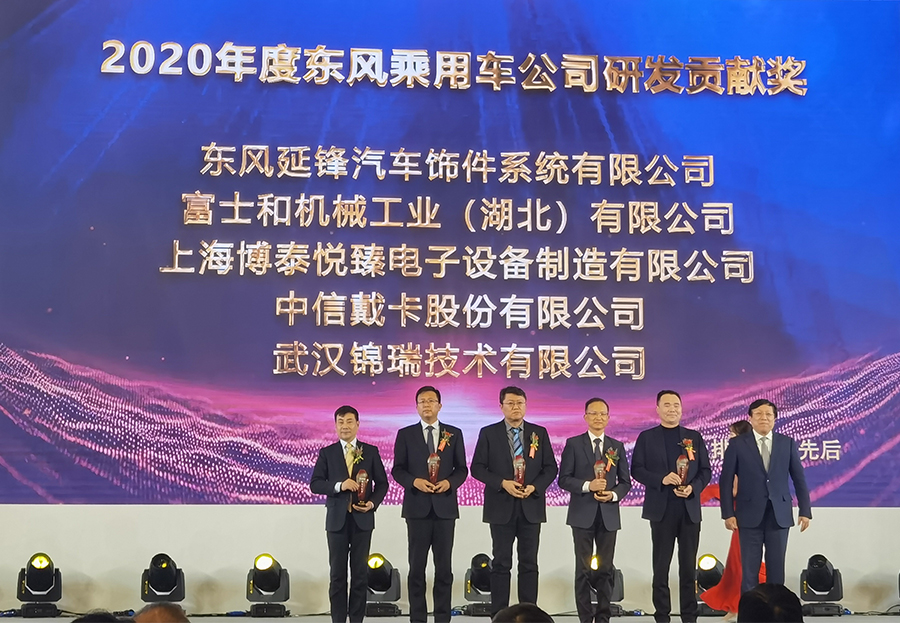 Honor is a reward for hard work and innovation. PATEO's "Geek Spirit" has, on the one hand, made it an IV & IoV enterprise with the largest capital structure and business scale as well as the most automotive clients in China, and on the other, established its position as a navigator who has always been leading the direction of China's intelligent connectivity development.
On the 10th anniversary of its founding, PATEO once indicated that in the decade to come, PATEO will join with suppliers and partners in standing firmly on the top of the development trend of the times, to promote the transformation and upgrading of traditional industries in the IoV field, and bring about disruptive changes as well.
We believe that in the future, the IoV industry represented by PATEO will be able to collect more and more information, further promote the successful transformation and upgrading of China's automotive industry with its own innovation & creation, open ecosystem, platform capabilities and technical barriers, and create more space for imagination about the prosperity of China's intelligent connectivity cause.