PATEO Empowers Smart Mobility and Appears at 2019 "Four Layers" Event with Teammates
From 22nd to 24th October, PATEO made an appearance at 2019 C-V2X "Four Layers" Interoperability Application Demonstration event with its new V2X product. As the first C-V2X application demonstration in China featuring "cross-chip module, cross-terminal, cross-vehicle and cross-security platform", it has fully displayed the Chinese domestic technical standards and capabilities in the entire C-V2X industry chain and will further promote C-V2X industrialization and application. As one of the few enterprises in the world boasting the capability to formally output C-V2X intelligent drive business solutions, PATEO demonstrated the first C-V2X intelligent drive solution that integrates with the complete vehicle on the site.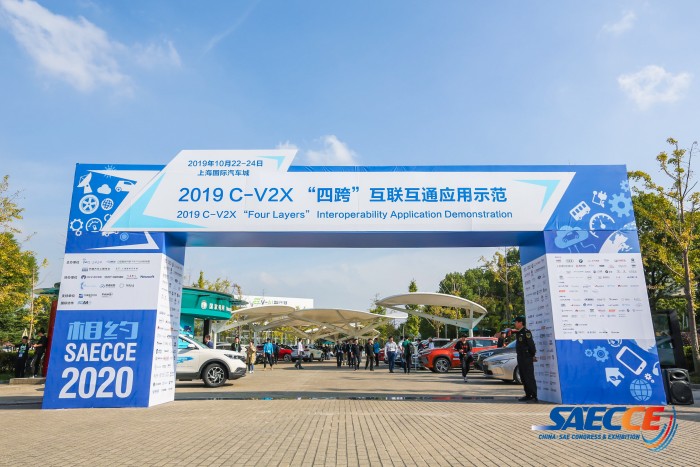 What Is C-V2X Technology?
V2X (Vehicle to Everything) is a new generation of information and communication technologies that connect vehicles to everything, thus realizing omnidirectional vehicle to vehicle (V2V), vehicle to roadside infrastructure (V2I), vehicle to pedestrian (V2P) & other vulnerable road users (VRU), and vehicle to cloud (V2C) service platform connections and information interaction.

C-V2X employs cellular network technologies, e.g., 4G/5G, to realize omnidirectional vehicle-to-vehicle (V2V), vehicle-to-road, vehicle-to-people, and vehicle-to-network (V2N) network connections, enhance the extent to which vehicle gets connected, and build new business forms in the automotive & transportation service sectors, thereby improving traffic safety & efficiency as well as the passenger ride experience, and offering the user intelligent, comfortable, safe, energy-saving and efficient integrated services.
In view that the C-V2X technology could effectively promote the development of the traditional automotive industry and is also one of the important technical pillars of the new generation intelligent transportation system (ITS), this event is of great significance to safe mobility, vehicle & traffic information services, traffic efficiency improvement as well as energy conservation and emission reduction. The application of secure communication mechanism will effectively increase the driving & ride safety of the intelligent and connected vehicles (ICVs), provide guarantee for the information collection of the ITS, and facilitate the intelligentization of the traffic system.
What Is the PATEO 4.5G V2X Vehicle Terminal System Capable Of?
As the first enterprise to adopt a Huawei module on a factory-installed C-V2X terminal, Shanghai PATEO, after the World Internet of Things Exposition held in Wuxi in this Sept., was again invited to attend this demonstration event, at which the distinguished guests and the media had the opportunity to experience the 4.5G C-V2X T-Box vehicle terminal system independently developed by PATEO.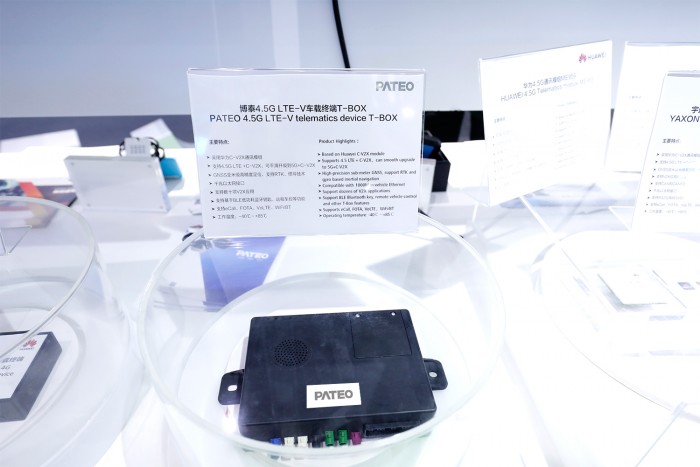 As PATEO's first 4.5G C-V2X driver assistance terminal integrated with the complete vehicle, it is not only equipped with the sub-meter positioning & high precision Assisted GPS (A-GPS) technologies, the lane-level precision safe driving assistance system and the multi-modal interactive platform, but also able to support dozens of V2V, V2I & V2P applications for driving safety, traveling efficiency, information service, etc., together with international ITS security protocol stack, national standards for information encryption & decryption, as well as the BLE-based car key, remote vehicle control and other features; it is also compatible with and can be upgraded to the 5G C-V2X, capable of providing key support for the omnidirectional V2V, V2R, V2P & V2N connections.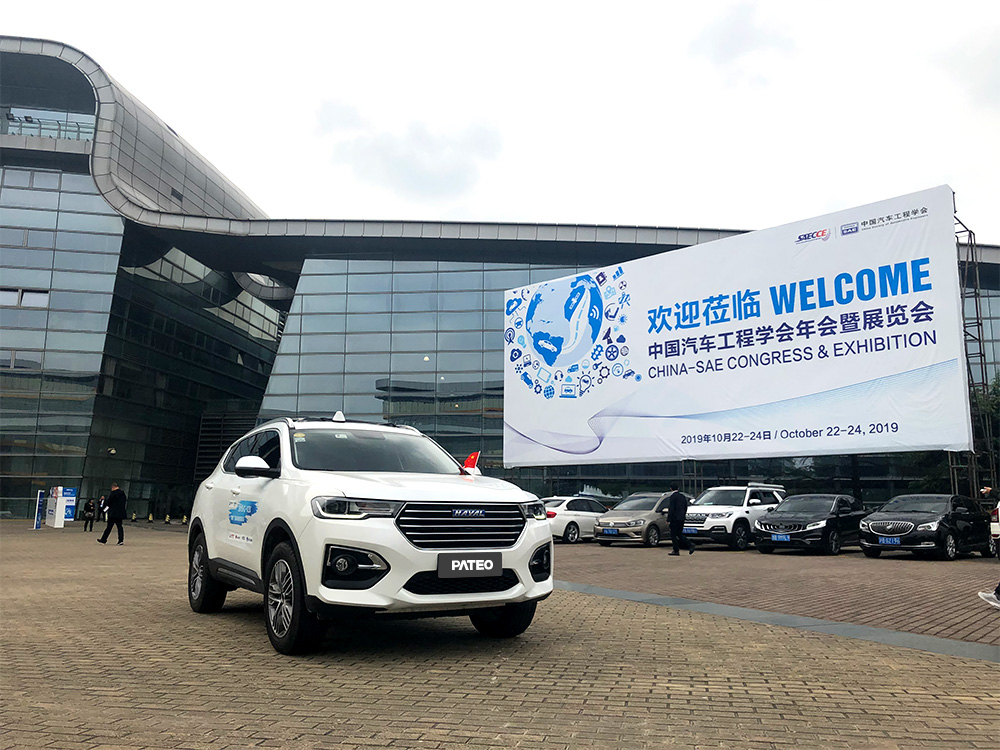 Moreover, it can accomplish 13 functional scenarios, including Forward Collision Warning (FCW), Intersection Collision Warning (ICW), Left Turn Assist (LTA), Blind Spot Warning (BSW) / Lane Change Warning (LCW), Electronic Emergency Brake Light (EEBL) / Emergency Brake Warning (EBW), Abnormal Vehicle Warning (AVW), Hazardous Location Warning (HLW), Speed Limit Warning (SLW), Red Light Violation Warning (RLVW), Traffic Light Optimal Speed Advisory (TLOSA), In-Vehicle Signage / IVS (road sign & signage in vehicle), Traffic Jam Warning (TJW), and Emergency Vehicle Priority (EVP), and shows off a series of remote control features, such as remote car door opening and remote trunk control, thus providing a differential competitive advantage to help the complete vehicle enterprises break through the technical bottleneck and seize the opportunities for the IoV in the age of 5G.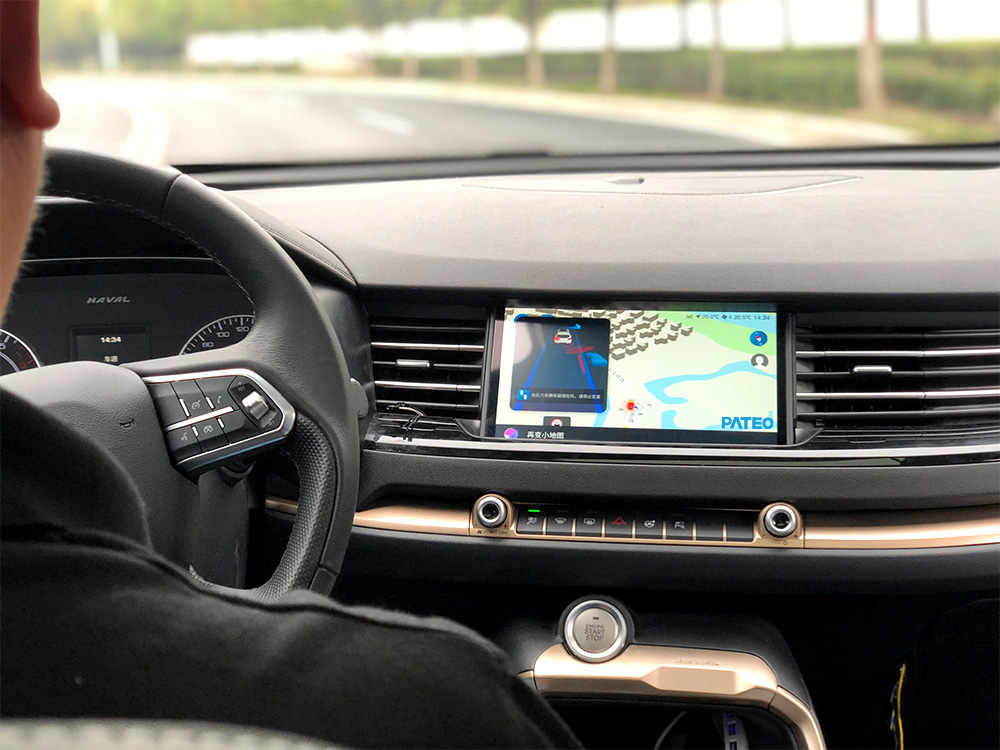 PATEO Joins Hands with Partners to Empower Smart Mobility
The demonstration took place on the public road for ICV road testing in Shanghai International Automobile City. The total length of the test route is 11.4km. It is worth mentioning that this event, on the basis of the 2018 "Three Layers" Interoperability Application Demonstration held last year, has placed emphasis on the newly added communications security demonstration scenario, and attracted active participation of security chip manufacturers, security solution providers, CA (Certificate Authority) / certificate management service providers and other parties concerned, who verified the technical solutions for C-V2X communications security through valid testing, and implemented the first domestic all-dimensional demonstration characterized by "cross-chip module, cross-terminal, cross-vehicle and cross-security platform", in a concerted effort to facilitate a complete V2X industry chain that involves security.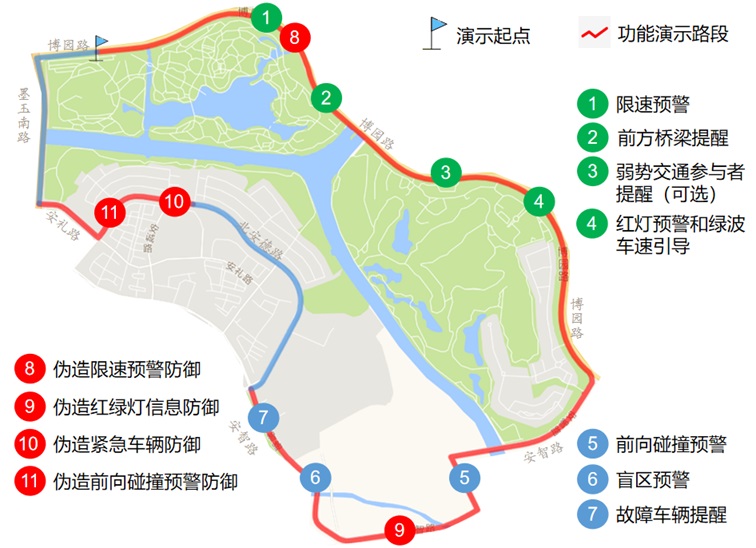 With the issuance of the order at the departure ceremony, 50 "chip module + terminal + automaker + CA platform" demonstration teams formed by more than 20 domestic & foreign automakers and over 30 terminal manufacturers & security service providers pitched into the work. PATEO teamed up with Huawei, CICV (China Intelligent and Connected Vehicles (Beijing) Research Institute Co., Ltd.) and GWM (Great Wall Motor Company Limited) to implement such services as security warning and efficiency improvement for the ICVs that are empowered by the C-V2X communication technology in four types of V2I scenarios, three types of V2V scenarios as well as four security mechanism verification scenarios.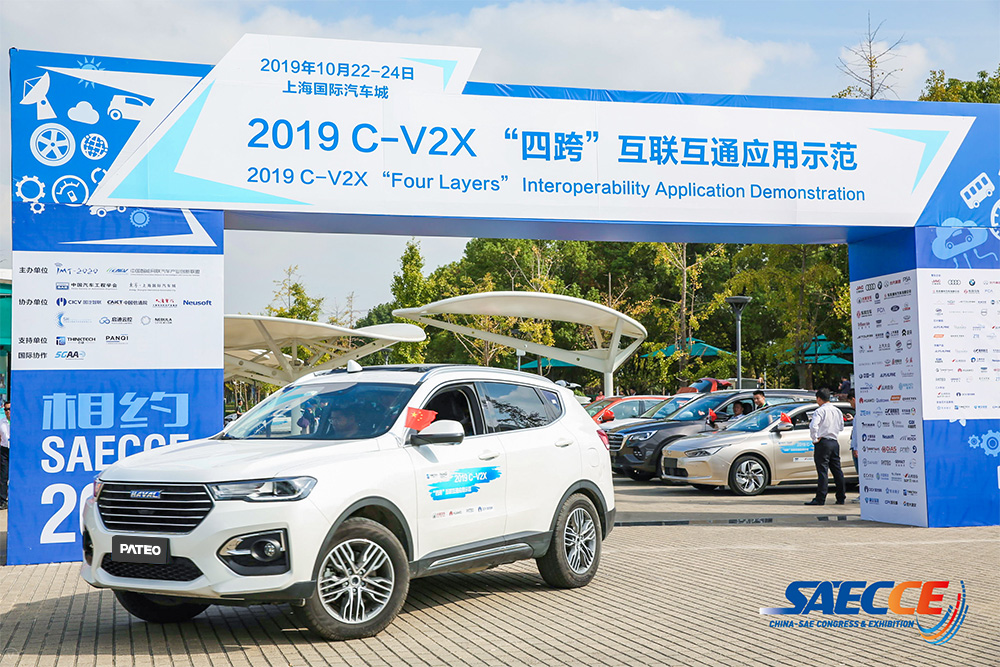 Among the V2I demonstration scenarios are safe speed limit warning, Hazardous Location Warning (HLW), Red Light Violation Warning (RLVW) & Green Light Optimal Speed Advisory (GLOSA), and vulnerable road user (VRU) reminder (optional), the V2V demonstration scenarios Forward Collision Warning (FCW), Blind Spot Warning (BSW) and malfunctioned vehicle reminder, and the security mechanism verification scenarios simulated speed limit warning & defense, simulated traffic light information defense, simulated emergency vehicle defense and simulated forward collision warning & defense.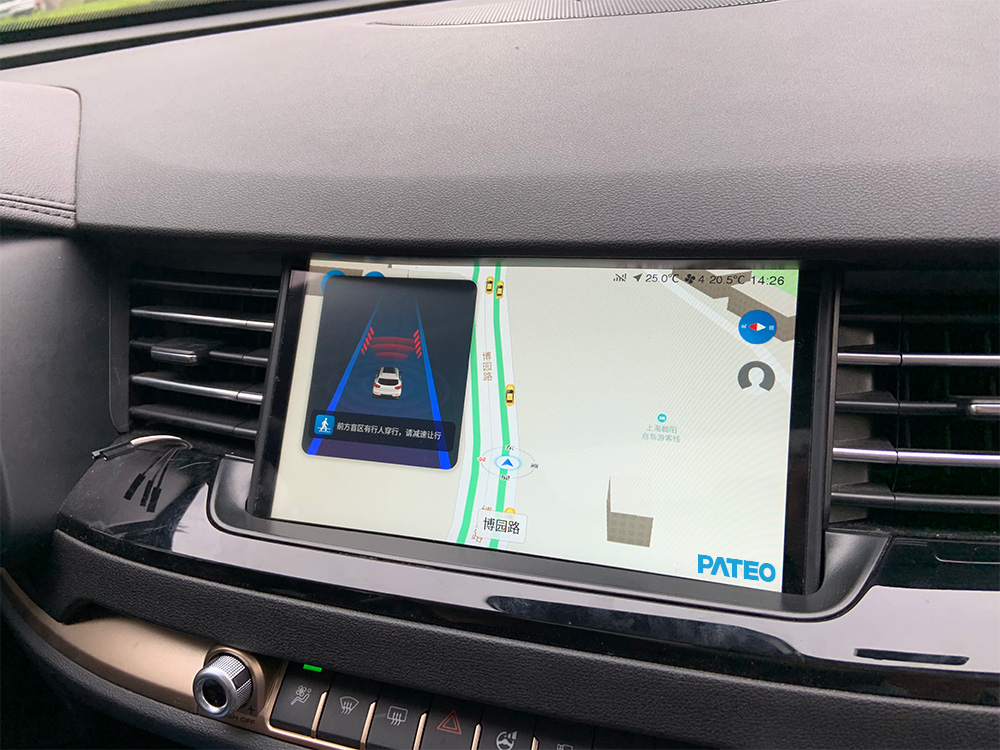 In the future, the car is about to undergo earth-shaking changes. More and more people will sit in the car, and expect more experience from it. It will become not only a conveyance, but more an intelligent terminal on the wheels. The C-V2X communication security is a key precondition and important guarantee for the commercial deployment of the IoV.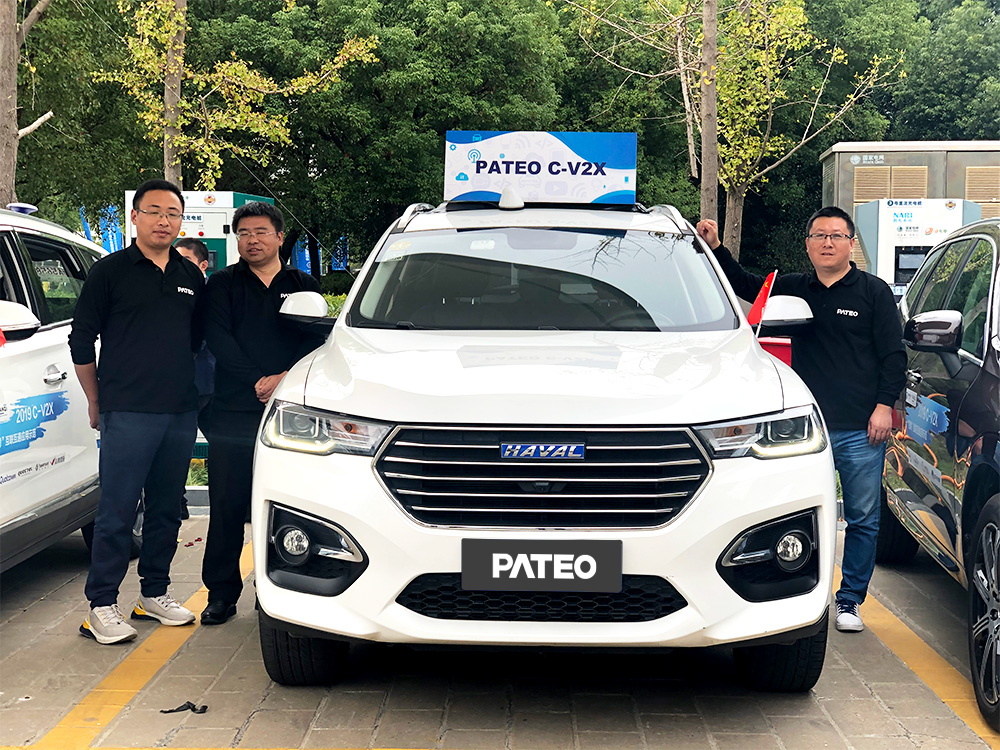 C-V2X communications technology allows the ICVs to be not only observant by "keeping an eye on the four directions", but also alert by "keeping the ear out for the eight directions". By virtue of the characteristics of 5G, such as high speed, low latency and long distance communication, the IoV (C-V2X) will bring the car user more personalized information services together with numerous upgraded and enhanced experiences, e.g., safer and more reliable driving assistance.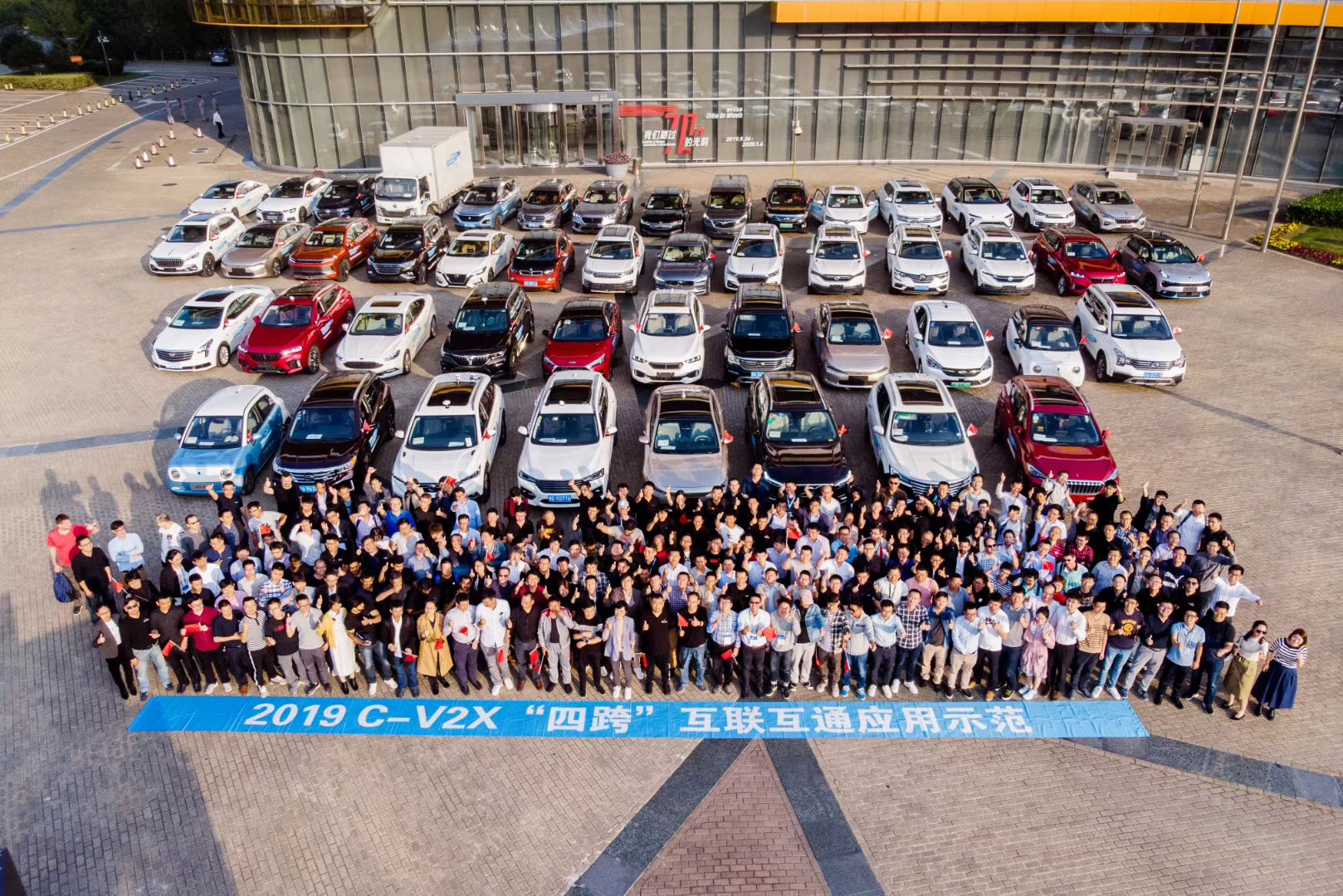 In such high-end, precision and sophisticated industries as the IoV, cutting-edge products need to rely on the hardcore support of technology, especially the cross-border application of Internet technologies in all walks of life. Beneath the C-V2X technology implementation and scenario verification this time lies PATEO's aspiration that it is to realize a deep integration of technology and vehicle, and contribute smarter driving solutions to the entire automotive industry through the C-V2X vehicle terminal products.