In Successive CCTV Reports on ICV PATEO Qing Mobile IoV Steals the Limelight with Strength
Recently, CCTV has made a succession of reports on the intelligent connected vehicles (ICV): First came the news report titled "NEVs Attracting Attention, Intelligentization Becoming the Trend" in the Morning News program on CCTV-NEWS channel on the morning of Sept. 7, highlighting Chengdu Motor Show 2019, at which the
New Baojun RM-5 and RC-6, an achievement of independent R&D, were given a lot of attention
, and became the top priority of this coverage at the beginning of the program.
These two vehicle models are equipped with nothing else than the latest PATEO Qing AI 2.0. Then what does the PATEO Qing Mobile IoV look like, and what capabilities distinguish it from other IoV products? Let's check it out through the camera of the CCTV reporter!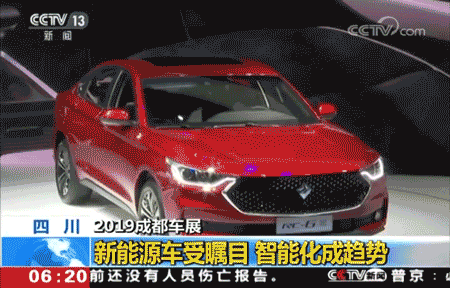 ▲ Source: Screenshot of the Program
It allows the vehicle owner to issue commands, either intermittently or continuously, to set navigation destination, change radio music at will, control vehicle and realize other switches.
▲ Source: Screenshot of the Program
The person-in-charge told CCTV reporter that most of the basic operations can be implemented via voice and in an incredibly fast way, which could be described as the fastest IoV in history – Approximately 25-30 navigation change operations can be completed within one minute, which is impossible for the traditional IVIs. This system can also quickly match frequent contacts by virtue of its memory feature. Even if the user speaks softly, multiple steps including contacts search, content input and content transcription can be completed during one round of interaction; and even in an environment disturbed by different noises from both inside and outside the vehicle, input in a soft tone can still be recognized in a sensitive and responsive way.
▲ Source: Screenshot of the Program
More importantly, the PATEO Qing Mobile IoV is not only equipped with all features of the IVI, but also enables the mobile phone to replace the car key. Without having to unlock the phone, click on the App, enter the password, or wait for several to several tens of seconds, the user only needs to gently "shake" the phone, the vehicle will be locked or unlocked, which has properly resolved the issue of opening access to the user.
▲ Source: Screenshot of the Program
Later, on the evening of the same day, another report titled "From the Internet of Everything to the Intelligent Internet of Everything – An Accelerated Upgrade of the IoT Industry" was shown in the Economic Information Broadcast program on CCTV Business channel, in which the PATEO Qing Mobile IoV once again stole the limelight with its capability of "seamless integration with various applications to facilitate the driver in searching and navigation". However, this is just the beginning. It's believed that with the gradual building of the 5G IoV system model, together with the overall infusion of the PATEO IoV as well as the deep cooperation with mainstream mobile phone manufacturers, New Baojun will in real time unlock more new IoV experiences that are more worth anticipation.
Please stay tuned!