Step up Commercial Use of Iteration of Speech Technologies — PATEO Qing Cloud – Private Cloud Platform for Voice AI Released
In the future, voice may become one of the major ways for drivers to control their vehicles, whereby your eyes will be truly liberated, and safe driving will be ensured. So presently, the R&D of AI voice platform has become one of the key components of "military competition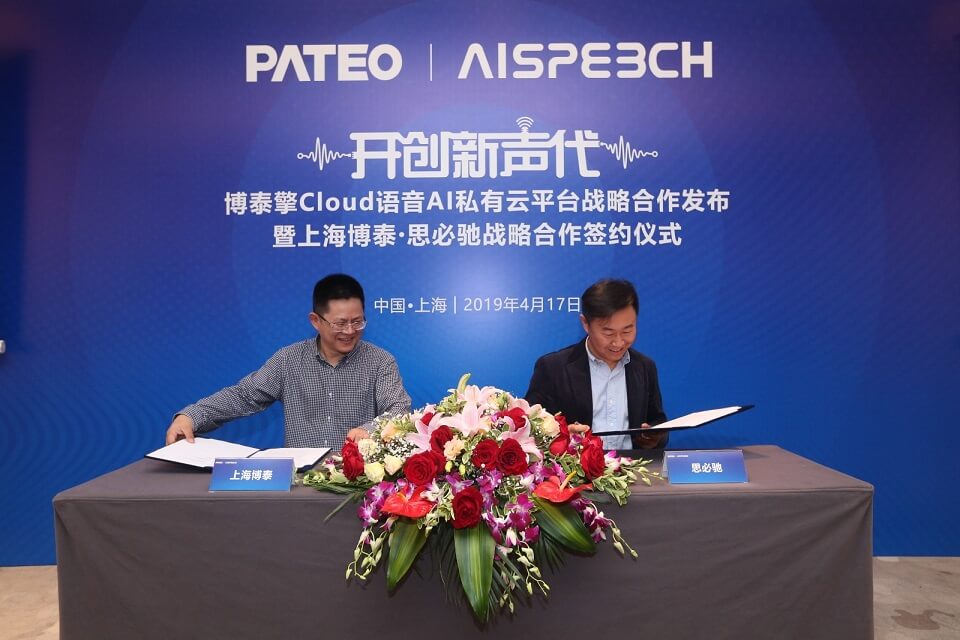 Take a recent event for example, observant fanciers have found a series of new voice command prompts from the newly released firmware of Tesla, indicating that Tesla has once again involved itself in the independent development of core intelligent network connection technologies after declaring its self-developed chip for self-driving cars.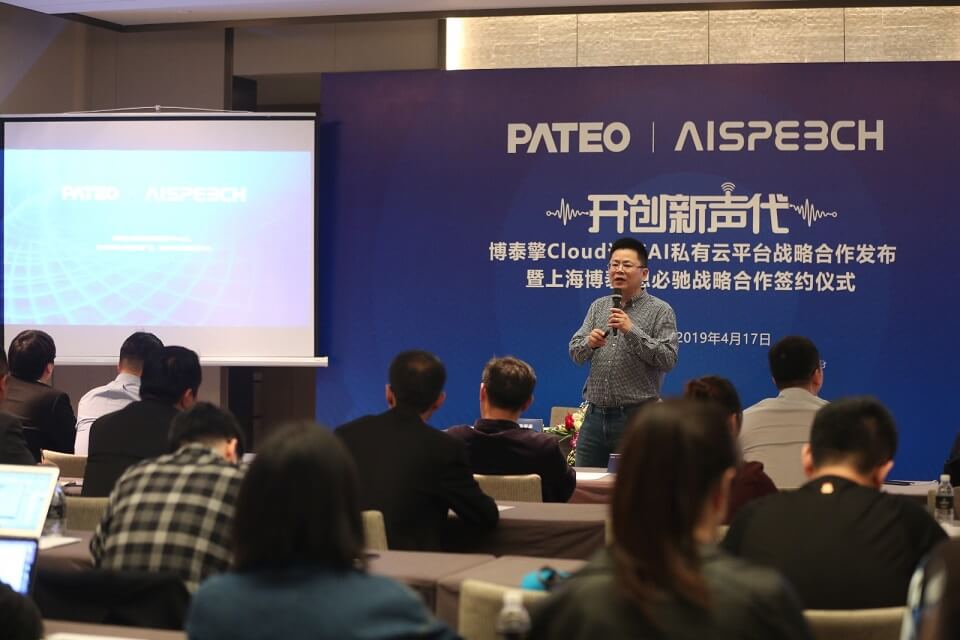 Not just Tesla, Benz, BMW, Audi, Chrysler, Daimler, Ford, Hyundai, SAIC and many other car companies have all initiated or are preparing to launch their AI voice system project. However, many technical thresholds have to be overcome, and higher requirements for voice-processing technology and data processing capabilities have to be met before this system can gain popularity. Car companies also hope to gain more customization capabilities, and realize a balance between high-quality user experience and data independence to reflect the uniqueness of the brand.
Domestically, PATEO, a well-established IoV enterprise, has been cultivating the voice interaction field in a profound manner.
At Auto Shanghai 2019 - The 18th International Automobile Industry Exhibition on Apr. 17, PATEO took a further step by signing an agreement with AISpeech to launch PATEO Qing Cloud Plus, a customer tailored AI voice platform, to help automakers customize distinctive intelligent voice based IoV system.
I. The Earliest Pioneer
Founded in 2009, Shanghai PATEO is an integrated IoV service provider, boasting the fullest business scope, the longest history, the most patents as well as the most extensive cooperation and the closest relationship with auto enterprises in China, together with an entire set of qualifications for IoV operation in the China market. But what many people may not know is that as early as 2011, PATEO worked with iFLYTEK to launch the first onboard voice system in the world, which was 9 months earlier than Siri.
In this day and age, the product planning department of a voice company plays the integrator role. When reviewing and summarizing its own growth process, PATEO jokingly describes itself as a "six-without person" during the initial stage – an entity without data, content, service, capability, core value and initiative.
Later on, PATEO has been growing rapidly with every two years as a development stage.
In 2013, it created the only API based cloud platform in the industry, and thus solved the content and service problems by calling through the cloud the hotel, air ticket, airline, scenic spot and other data needed by the voice companies.
Then in 2015, the third stage of its development, PATEO and Nuance entered into a strategic cooperation in nine months to realize the four capabilities of "voice planning + voice content + voice service + voice data analysis" through voice cloud data analysis and acquisition.
At the fourth stage up to 2017, through deep cooperation and joint development between the two parties, PATEO Qing Cloud and Baidu DuerOS interfaces were connected and mutually accessible, full AI-empowered voice-activated operation initially came true, user needs could be heard, understood and satisfied, and "planning + content + service + data + connection between clouds" were completed. Vehicle models using PATEO voice system, such as Dongfeng Fengshen (Aeolus) AX7, also won multiple awards in 2018.
At the fifth stage with 2019 as a banner year, PATEO invested heavily in building a team of hundreds of people, and established its own ASR & NLU platforms and private cloud platform for voice that are compatible with the plug-ins of Baidu DuerOS and Baidu AIG at present and the voice capabilities provided by Huawei, Alibaba, Tencent, Didi, Xiaomi, etc., as well as various voice features for mobile phone (e.g., Xiao Ai and Siri) in the future; the same period also witnessed the establishment of cloud data analysis & acquisition capabilities and the formation of core technological engine of PATEO Qing AI voice.
The PATEO Qing Cloud Plus customer-tailored AI voice platform launched this time has precisely incorporated AISpeech voice technologies into this engine to form PATEO's own middle-end service center; in the future, plug-ins can also be used to access other partners' technologies and applications. According to persons concerned, PATEO hopes to build a voice platform that can gain access to various voice providers to serve auto companies.
Founded in Cambridge high tech cluster, the UK in 2007, AISpeech is one of the few intelligent voice technology solution providers in the world that boast ownership of independent property rights, independent voice chips and full-link Chinese-English integrated voice technologies from wake-up, recognition, understanding to dialogue.
The DUI platform it launched in 2017 to open core technologies not only offers its own intelligent voice dialogue feature, but also provides developers with ultra-highly customized voice technology and customized dialogue services, e.g., GUI customization, version management and private cloud deployment, to promote customization at scale.
The cooperation between Shanghai PATEO and AISpeech this time will deliver a better application experience to IoV users, accelerate the promotion of the IoV systems, and provide auto companies with superior and flexible options with regard to the application of in-car voice technology; also, the open platform is beneficial for the numerous voice providers to join hands to form a win-win ecosystem in the IoV field.
II. Bringing Voice into a New Era
PATEO is making an attempt: to bring voice interaction, the field it has been cultivating for years, into a new era.
The first step is to get rid of the inflexible machine-made communication style, and allow the driver to "chat" with the vehicle instead of "commanding" it. PATEO will use cloud services to collect and calculate a large number of speech recognition data, and rely on the network computing technologies to build a unique voice platform engine in the mobile Internet environment, thus enabling the IVI to understand human speech and identify multiple languages and even dialects, and empowering the driver to issue voice commands, receive services by ear, and carry out natural language communication with the IVI.
The second step is to enrich the eco services. In addition to the car navigation, voice interaction and OTA update features, PATEO platform is expanding in multiple directions, including vehicle control, hotel reservation, mobile payment, auto insurance, energy industry and auto finance. More mobility services will be realized through a content-rich application ecosystem. Such needs as finding and reserving a parking space, finding a charging pile, and paying the toll can all be addressed by applications specifically designed for automobiles, and the experience will also be more convenient than that delivered by mobile phones.
The third step is to further grasp vehicle data to make driving safer and more convenient. The said platform can help automakers and voice companies make use of the cloud data by virtue of its cloud data acquisition and analysis capabilities, and obtain valuable outputs of driving behavior, driving characteristics of groups, vehicle operating conditions, auto parts tracking, Fault Hazard Analysis (FHA), and vehicle energy consumption by means of data consolidation & processing approaches, such as 3rd party data exchange, data sharing and exchange, and data cooperation model study.
In short, owing to its integrated software and hardware service capability, this platform is able to empower auto enterprises with voice system planning capability, and allows them to base on their own market and technology insights to establish a set of made-to-order system featured by functionality customizable, data / product planning / iteration / personalization controllable, and easy integration with various applications of other companies.
Meanwhile, through bidirectional data, it can narrow the gap between the product and the user, and respond more quickly to the rapidly changing market demands and user feedback; based on the understanding of the needs of auto enterprises and consumers, it could guide the direction of voice technology development in the future; and what's more, it enables the car companies to continuously upgrade their Voice Interaction System (VIS).
In the recent past, PATEO has brought very distinctive products by leveraging its own advantages.
The Dongfeng AX7 equipped with WindLink 3.0 system and the BAIC BJEV EU5 equipped with Darwin System have been selling like hot cakes since their launch, as their powerful voice features empowered by AI come as a breath of fresh air to the consumer. According to the statistics in a JD Power report in 2018, 91% of Chinese consumers prefer Intelligent Connected Vehicles (ICVs), 51% of the respondents are willing to spend an additional 20% of the total price to purchase ICVs, and 39% of consumers are willing to spend an extra 10%. Intelligentization and interconnection are gradually entering the period of explosive growth in the wake of the general acceptance by the user from the incubation period. In this new era of voice interaction, PATEO may help auto companies create more "hot sellers".
III. Empowering Automaker
Ken (Yilun) Ying, Founder and Chairman of Shanghai PATEO, once said that "PATEO does not conflict with other companies. It has its own core technology advantages." As the owner of the only enterprise in China that boasts the end-to-end capabilities and links the Internet with the automobile, the concept of "value sharing" is exactly what he has been strongly advocating and practising.
Auto companies pay attention to safety and stability, but show insufficiency of software and cloud capabilities; Internet companies lay stress on user experience and update & iteration, but are not well-versed in the channels and operation of automobile. Therefore, discrepancies exist between them in terms of concept, technology and demand: the auto companies feel that the IoV systems created by the Internet companies could not fully satisfy their needs, while the Internet companies consider the auto companies conservative and close-minded, as they are not given access to many of the auto companies' underlying resources and data, hence their unsynchronized pace of development in the IoV field.
PATEO has always been playing a key role of integrating various functions and capabilities in between auto companies and Internet companies: integrating IoV related resources to develop various functions that are closer to the user's driving scenarios, to form an iOS system for cars and assist the auto companies in building the competences in intelligentization, core platform and operation.
The practices of PATEO are: after communicating with the auto company on the product plan, co-build a platform with it, then jointly develop, and grow together; or locking in the cooperative relationship through agreement, and sharing intellectual property and profits; or setting up a joint venture to build a stable cooperative relationship between the two sides based on mutual trust, and try to avoid the negative factors that affect the automaker's motivation for innovation.
After the decade-long exploration and accumulation, PATEO has equipped itself with the capability of integrating services in the four fields of automotive electronics, software, cloud platform and business model innovation, carried out strategic cooperation with a range of strategic partners, including UAES, China Telecom, Baidu, AISpeech and CATARC, in numerous technical aspects, such as vehicle infrastructure data, AI, smart cockpit and national standards for intelligent vehicles (IVs), and conducted business cooperation with a number of domestic and foreign auto brands that cover nearly 100 vehicle models.
Different from conventional vehicles, the ICVs involve many non-automotive fields, calling for the participation of not only automotive manufacturing and transportation industries, but also sectors ranging from mobile interconnection, information & communications to AI and infrastructure construction, therefore cross-border integration and coordinated development are indispensable.
Ken said that due to its absorption of various external technical capabilities coupled with its years of eco construction, PATEO is in a position to achieve what it called "helping auto companies transform into the ones focusing on IV business, and helping them become profitable on account of software and data".
Today's intelligent IoV is much more than a provider of basic services like information, security, entertainment, navigation and vehicle diagnostics; it has become a core driver of the R&D, finance, parts, production, sales and trade in services segments of the whole auto group. 
Building an intelligent IoV requires a lot of AI technologies (e.g., speech recognition, semantic understanding and knowledge graph) as well as services and products behind them (e.g., cloud computing, map, payment and E-commerce), so auto enterprises need to increase fresh R&D manpower on the basis of traditional supply chain, so as to create their own IoV system.
During its decade-long experience in the industry, Shanghai PATEO has always been leading the development of the industry, turning the IoV from a passive safety feature into a configuration item of a vehicle model. From the ultimate user experience centered products, to the hardware-software-cloud-and-ecosystem-based platforms, then to the current middle end for enterprises to deliver services around New Retail, New Finance, New Manufacturing, New Technology and New Energy, it continues to be the trendsetter of the industry.
In the future, with the development of chip, 5G communication, big data, cloud, edge computing and blockchain technologies as well as the maturity of OTA and FOTA technologies, users can absolutely put forward their requirements for vehicle personalization in different scenarios, while the auto enterprises can also perceive users' implicit demands from the IoV use data; by then, a new age featured by user-defined automotive R&D and design will be ushered in.
What changes will happen to the AI-based IoV in the future? At present, it's still unknown, but one thing for sure is that customizing products according to user needs, progressively realizing continuous update of the existing services, and bringing conveniences to user's work, life and recreation, just like what PATEO has been doing, will definitely make an enterprise remain invincible, and thereby promote the progress of the entire industry.