Breaking News! Again, PATEO Makes the Leading AutoTech 50 List by KPMG China!
Since KPMG launched the "Leading AutoTech 50" selection, its neutral and objective professional insights have attracted widespread attention within the industry. By continuing to uphold its original intention of facilitating the development of auto tech enterprises, KPMG visited more than 100 auto tech companies in six months, and finalized the selection of "2018 Leading AutoTech 50" by following the coherent rigorous & meticulous screening criteria.
On Mar. 28, KPMG released the second selection list of the Leading AutoTech 50 companies in China. Shanghai PATEO made the list once again, demonstrating its strong core technology capabilities, vast customer resources, excellent user experience, numerous in-depth partners, international advanced level of IP & innovation capabilities as well as its distinctive leading IoV services and products.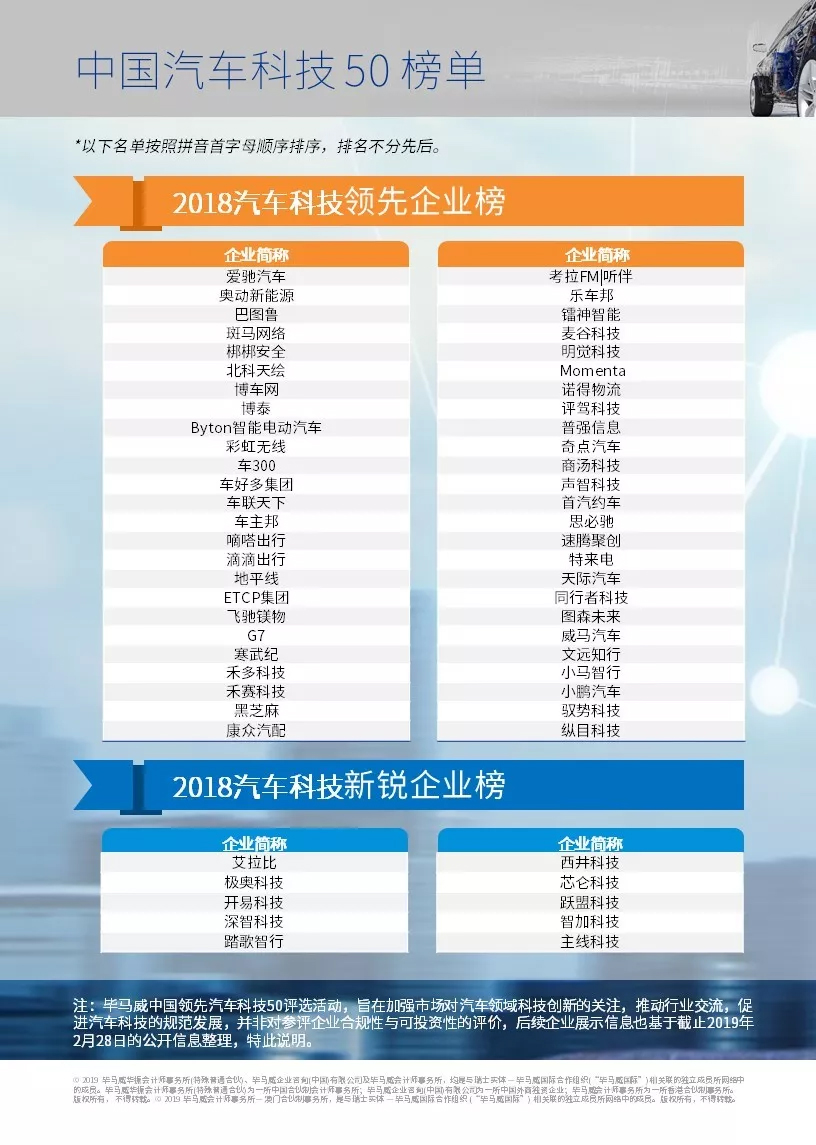 Founded in 2009, PATEO adheres to the core concept of "Ultimate Quality & Ultimate Experience and Ultimate Interaction", and is able to provide comprehensive IoV services, including intelligent operating system, big data, content service integration & operation, map engine software & cloud architecture, embedded voice and cloud platform solutions. As a National High-tech Enterprise, a Shanghai enterprises with IP advantage and a Shanghai Patent Demonstration Enterprise, it has successively won the two honors of "Shanghai Enterprise Technology Center" from Shanghai Municipal Commission of Economy and Informatization (SMCEI) and "Shanghai ICV On-board Terminal Engineering Technology Research Center" from Science and Technology Commission of Shanghai Municipality (STCSM) in 2018.

PATEO is a leading IoV enterprise that attaches great importance to IP and science & technology innovation. When interviewed by CCTV Business Channel, Ken (Yilun) Ying, its Founder & Chairman, said, "For so many years, we have invested approx. RMB 1.2 billion in R&D, with a continuous input of 30% of our annual revenue in R&D in the future, which represents a relatively high proportion."
In the near future, intelligent vehicles (IVs) will interact with people not only via the screen, but also by the more acceptable means, such as voice, gesture and biometrics, and will understand the human mind through AI (artificial intelligence).
While the IoV will enable not only communication and information exchange among intelligent vehicles with deep learning capabilities, but also interaction and traffic information sharing between IVs and transportation facilities, cloud servers and even pedestrians and bicycles, so as to improve traffic efficiency, thereby not only bringing unprecedented mobility experience to mankind, but also reshaping the transportation system to build a true intelligent transportation era.