Number "1637" Is the Key for PATEO to Get the Future under Control
Nowadays, which words appear most frequently in the auto industry? They are "open" and "sharing", and almost all participants are carrying this banner on their shoulders.
This makes the onlookers very much puzzled: who is the real artisan equipped with the special expertise? The same is true with the field of auto intelligentization. What on earth are true "opening" and "sharing"? Who are passers-by in the tailwind, and who fears the tide might recede? However, both you and I want to know who will be the winner in the future.
Toyota Motor — a global auto sales champion for N years in a row, with a more evenly distributed business across the globe. What is more incredible is that as a latecomer, this automaker did not start its pursing steps until 1945, but reached the pinnacle of global auto industry by surpassing the US auto in only 40 years, and then Volkswagen in another 10 years.
Mentioning Toyota is just throwing out a minnow to catch a whale. Have you ever wondered, of all the people who are at the pinnacle of any industry, what do they have in common?
The automotive industry in China and the whole world is experiencing an all-new pattern. Over the past 130 years since the invention of the internal combustion engine, automobile has transformed from a personal conveyance to a symbol of status, and then to the "big guy" who is always around you, and filled with "cultural blood".
In the current brand new pattern, the vehicle no longer simply performs tasks as it used to, but will become smarter, and truly blend in everyone's life as a solution to personal mobility in the future.
The whole industry is undergoing changes on a global scale – Germany has introduced "Industry 4.0", the US has come up with "Industrial Internet" and China, "Internet+", under the scenario of which, the vehicle needs to develop towards the four new trends, i.e., Connected, Autonomous, Shared and Electric.
Forecast for the Future of China's Auto Industry
Amid the current changes, Chinese automakers have one thing significant in common, that is, strongly calling for "opening and collaboration". There are a total of nearly 500 new vehicle building forces, big or small, which can be said to be rather diversified. However, behind such a macro-environment of collective calling for opening, a lack of core technologies is being reflected. To put it negatively, among those who are calling for opening, most of them are more like huddling up together for warmth, due to the lack of core technologies.
Almost everyone is chanting opening and win-win, but for those who are hopeful about China's auto industry, they wonder – more specifically – who the genuine artisans are.
You know, all these global giants who have left an impression on you with a worldwide presence, such as Toyota, Volkswagen, GM, Ford, Benz and BMW, were depending on innovation on their way to become a giant.
Unfortunately, from some perspective, currently China's auto industry does not pay much attention to innovation during its development, because traditional auto enterprises care more about their own profit statement, sales volume and market share, while the new vehicle builders care more about how to survive first and then how to obtain financing, which in return, makes SOP and normal delivery to the customer the most difficult links in the vehicle building system.
To sum it up: our automotive industry is too impetuous and too money-oriented.
Among the nearly 500 new vehicle building forces in China, either big or small, who will represent the top level of China to compete in the world arena in the future? I think, Toyota is exactly a great example.
From imitation in the initial stage, to fast innovation of current technologies, to realization of self-development, and then to innovation at the production and manufacturing level, Toyota has made its lean production and lean thinking another golden key that changes the global auto industry again following the Ford's assembly line.
With regard to the future auto industry of China, innovation is a must for it to rank among the world's best.
Globally, it is a common practice to take patents as the criteria for measurement of technical innovation.
Unveil the Key to the Future of China's Auto Industry
Who is making concentrated efforts to earn itself a place on top of the world? It is recently that discussions in this regard appear to be all too often. Intellectual Property Branch of China Society of Automotive Engineers (SAE-China) has published an authoritative article: Who on Earth Is Doing Intelligent Vehicle R&D and Who Is Staging Publicity Stunts? Let the Patent Data Speak! (https://mp.weixin.qq.com/s/fFNEoesg-aoWiPYMGry_zg, providing data support for all the speculations.)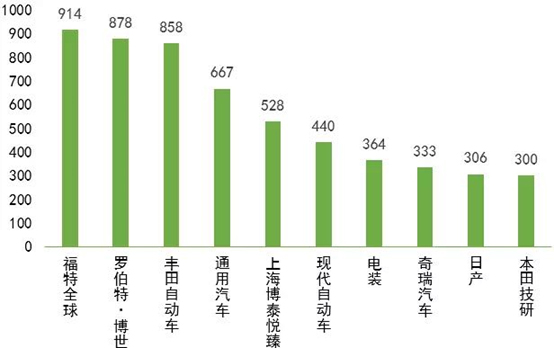 According to the statistics released by AutoPat (www.autopat.cn), as of Jul. 31, 2018, the top 10 enterprises by number of patent applications in China in the intelligent network connection field are respectively Ford, Bosch, Toyota, GM, PATEO, Hyundai, Denso, Chery, Nissan and Honda, among which only PATEO and Chery are independent Chinese enterprises.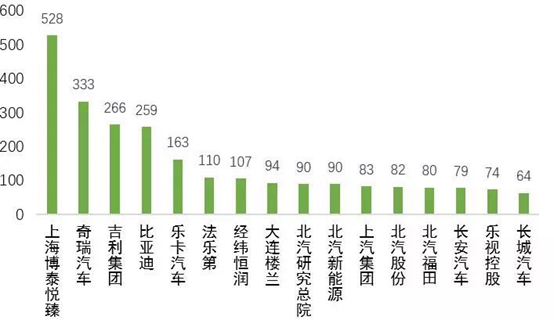 Also, let's take a look at another set of data: among all Chinese enterprises, who are truly working on the R&D of intelligent and connected vehicles (ICVs)? As of Jul. 31, 2018, the Top 10 independent Chinese enterprises by patent disclosures in the ICV sector are respectively: PATEO, Chery, Geely, BYD, LeEcosystem, Faraday, Hirain, Dalian Roiland, BATC and BAIC BJEV;
That is to say, PATEO securely ranks number one among independent Chinese enterprises, and number five among worldwide brands in China;
World's Number Five: Only Ford (914), Bosch (878), Toyota (858) and GM (667) rank before PATEO;
China's Number One: PATEO has secured the first place with regard to IPRs in the intelligent network connection field among independent Chinese brands.
However, the number 528 is insufficient to act as the key to unlock the future of China's auto industry.
Will you be startled by PATEO?
Today, as many people sees it, is not the era when "good wine needs no bush". After earning certain achievements or becoming somewhat characteristic, almost every enterprise will hold a series of large-scale press conferences as their next step.
No more talking about specific cases, but it roughly means the same as the aforementioned words indicate – the industry players around us care more about money, so they seek fast monetization after certain technical breakthroughs.
In such a context, you will find it astonishing if you settle down to look at PATEO. The three-year period from 2015 to 2017 have reported substantial performance growth in succession thanks to its accumulative input of nearly CNY 700 million and continuous input of 28% of its annual revenue in R&D.
Please refer to the following information for the reason why we say the number 528 is not sufficient to be the key. Up till now, PATEO possesses a complete set of qualifications for IoV operation in China market, and has applied for 1,637 patents, 80% of which are invention patents. It's not only one of the enterprises with IP advantage and undertaking a strategic emerging project in Shanghai, but also a "National High-tech Enterprise". Meanwhile, it has also been actively engaged in the establishment of China IoV standard in the capacity of Head of IoV Standard Working Group.
Currently, PATEO is in possession of 1,637 patents and has broken through the barriers between the traditional OEM, communication, Internet, software & cloud and many other industries, and thus become a hub platform for the development of global intelligent vehicle (IV) industry, with data and software as drivers.
Underpinned by its technical strengths, PATEO now boasts globally leading hardware, software and cloud platform capabilities; has pioneered more than 32 international and domestic innovations, created many firsts in the industry; developed the "Qing Series" core technology platform, and is now constructing the next-generation IoV ecosystem, in a bid to incorporate automobile, Internet, mobility, home and entertainment into the ecosphere, lead the overall planning and arrangement of IoE, and thus change the future of the auto industry.
Ken (Yilun) Ying, Chairman of PATEO Group, has revealed that the current R&D team of PATEO is distributed in the 17 most promising areas of IoV, including software, hardware, cloud, ecosystem application and finance & payment security. They hold in their hands not only the present, but also the future of IVs, which will ensure that PATEO possesses the leading capabilities to empower vehicle OEMs in a continuous manner.
From this, we can also tell the reason why Ken has the courage to accurately position PATEO as the "Assembly Workshop with Internet Capabilities"; at the same time, it is more of pride in PATEO securing a place among the world's best.
The Calm PATEO and the Stable System
The innovation system of PATEO is anything but ordinary.
The company has set up a 3-level IP work management system with the Founder and Chairman as the person in charge, and promulgated and implemented internal regulations and systems for IR work, including dozens of management systems for patents, trademarks, copyrights and standards, so as to guarantee the effective operation of the patent management and achievement transformation mechanism.
Organize IP training for relevant personnel and discuss to confirm the objectives, key products and technologies for corporate patent strategy on a regular basis; establish and complete corporate patent database, and perform tasks like document retrieval and analysis; also develop and refine corporate patent strategy to form a sustainable innovation mechanism according to the patent layout of competitors, as well as the patent ownership and R&D capabilities of the enterprise. In the meantime, create an incentive mechanism for IP, to encourage and motivate the innovation potential of each employee, including rewards for patent application / implementation, which not only have made a substantial contribution to the protection of corporate rights and interests, but also helps drive the scientific research and technological breakthroughs by multiplying the creativity in IP.
Under such an incentive mechanism, PATEO has been growing rapidly. Meanwhile, by virtual of its self-positioning, PATEO is not a simple technology firm, but rather an enterprise that is capable of two-way empowerment, i.e. empowering the Internet / communications and technology companies. In other words, it will be narrow if PATEO is simply defined as a connector between the Internet and the automobile.
It is able to not only cover the main vehicle models in the future by leveraging its own vehicle infrastructure, auto electronics, communications, software, cloud and operation services, as well as the product- / platform-based mindset (as opposed to that based on project delivery), but also achieve business expansion and radiation when faced with radical changes of the market and the times, e.g. its continuous integration in the areas of New Retail, New Finance and New Service, and such advance integration and arrangement will all become efficient tools for PATEO to tackle future challenges.
Conclusion:
After reading the novel Demi-Gods and Semi-Devils, who impresses you the most? Qiao Feng, Xu Zhu, or Duan Yu?
I've asked countless people, and their answers are surprisingly the same: it's the Sweeper Monk. Because it's the persistence and determination, as well as the unmatched immersion in the essence of martial arts that enable his self-enhancement.
Superficially, the auto industry is a business and a trade, but what is it in the depth? To any country that owns it, the auto manufacturing industry is a synthesizer in the field of civil industry (it can even access to many high and new technologies of the military industry), covering the development of upstream / downstream industries together with a series of technological innovations.
In the future, China's auto industry is bound to keep striving for a place among the world's best. The unveiling of the key to the IV era has to depend on the 1,637 model of PATEO, i.e. the continuous self-enhancement process through genuine concentrated efforts and technical exchanges.
The success of PATEO should be attributed to its complete IP system, and its attention to talent and basic R&D. The number 1,637 demonstrates PATEO's respect to the era. Innovation requires not only cultivation of internal strength, but also the protection of one's own rights and interests. It is understood that currently PATEO has hired at a high price a renowned law firm who serves global tech giants to take charge of the overall IP-related contents and the protection of all the IPRs. As is clear to you and me, almost everyone is chanting opening and win-win, but PATEO is the only one that has obtained the key – "1,637". Later, this number will get bigger and bigger, and become the best interpretation of why PATEO will grow into an IoV giant.