Intelligent Connectivity & Peace-of-mind Mobility Again, PATEO Wins "China Best Customer Contact Center of the Year" Award
On 13 Nov., 2018, the Awards Ceremony for the 16th China Best Customer Contact Center & Best Manager series awards selection event was hosted by the Customer Contact Center Standards (CCCS) Committee in Kuntai Hotel Beijing, at which, the Volvo On Call Customer Contact Center operated by PATEO won two team awards – "China Best Customer Contact Center" and "Best Service Experience of China Customer Contact Center", while Jessen (Hui) Mao, person in charge of PATEO Customer Contact Center business, was awarded "Best Manager Award of China Customer Contact Center".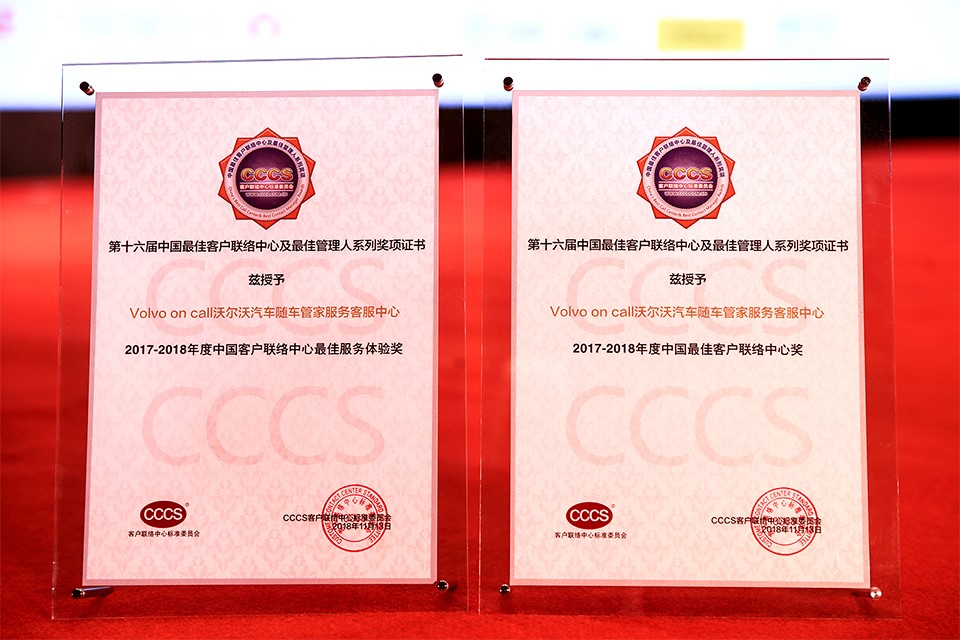 In the "Golden September and Silver October" period which used to be a high season for vehicle sales, China's auto market has ushered in the bitter winter. October passenger vehicle sales witnessed a 13.2% YoY decrease, and cumulative passenger vehicle sales from Jan. to Oct. dropped by 2.1% YoY. But in contrast to the general trend in the market, Volvo sales in China increased by 15.2% over the same period last year.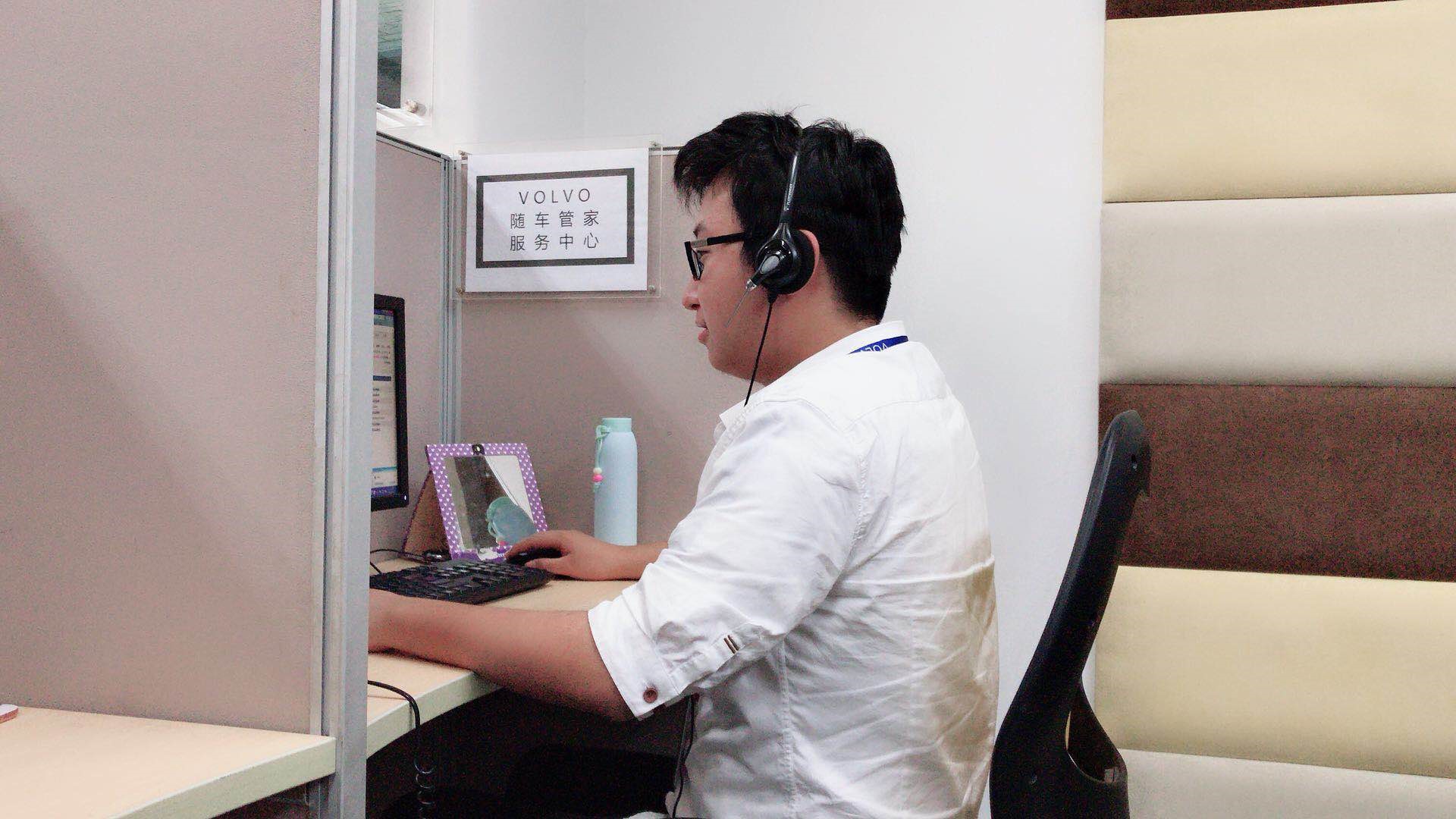 The current auto market has long been the buyer's market. The growth against the general downtrend in the market should be attributed to not only the pride-worthy product performance and quality control, but also the Volvo customer service team who have apparently made a crucial contribution. Being awarded "China Best Customer Contact Center" is obviously the most proper recognition for their efforts.
The Genuine "Oscar" in the Field of Customer Contact Center (CCC)
This selection event, first initiated by the CRM Committee of the China Federation of IT Promotion (CFIP) in 2002, is always known as the Grand "Oscar" Party in the CCC field, while also being the first best award selection event in the CCC and CRM fields of China. Up till now, 16 sessions have already been held.
The Customer Contact Center Standard (CCCS) established by the Committee is not only China's first operations management standard system in the call center and CRM fields, but also the only Chinese standard that has gone global to become an international standard. Now, as a golden benchmark adopted by leading CCCs in various fields, it also serves as the main reference and assessment tool for this selection event.
The "China Best Customer Contact Center Award" is the very core award of this year, while the "Best Service Experience Award of China Customer Contact Center" is a very important annual team award.
This year marks the second time that PATEO has won the "China Best Customer Contact Center Award". Last year, the FAW-VW Audi POI Call Center operated by PATEO took home the "2016-2017 China Best Customer Contact Center Award".
Winning the "Oscar" award of the industry for two years in a row - plus the additional "Best Service Experience Award of China Customer Contact Center" and "Best Manager Award of China Customer Contact Center" this year - is by no means a coincidence, but a reflection of PATEO's solid strength.
IoV Makes CCC More Comprehensive and More Efficient
Founded in 2009, PATEO Group, as the most representative IoV company in China, has created many firsts under the leadership of Ken (Yilun) Ying, its soul & founder & Chairman, while strongly believing that PATEO's future only lies in value creation and value sharing.
With original innovation as well as the platforms, products and services that offer ultimate quality, ultimate experience and ultimate interaction, PATEO has always been leading the industry, and is trusted and supported by each side by virtue of its low profile, pragmatism, attention to execution and the result-oriented culture, thus able to create and share more value.
Today, PATEO has become an enterprise undertaking a strategic emerging project in Shanghai, a National High-tech Enterprise, "Double Soft" Enterprise certified by National Intellectual Property Administration of PRC, member of 863 Project Team and strategic special pilot enterprise for key patents, as well as one of the 21 initiators of the National New Energy Vehicle Technology Innovation Center and the Head of IoV Standard Working Group who has been directly involved in the establishment of the more than ten national standards for automotive informatization, while leading the establishment of multiple industry standards.
PATEO, who is in possession of a full set of IoV operation qualifications in the Chinese market and 1,637 pieces of intellectual property, is one of the few integrated IoV service providers in the industry with offerings ranging from intelligent OS, big data, CP / SP service integration & operation to map engine software & cloud architecture and voice embedded & cloud platform solutions.
Serving as the bridge linking the enterprise and the customer, the CCC of an OEM is an important department that ensures highly efficient communication between the OEM and the customer, while providing thoughtful services for them. At present, the advanced CCCs have started to integrate IoV technologies, in a bid to offer services to users through massive data processing and cloud computing, which is exactly the field that PATEO is intensively cultivating.
Through integration of various interactive products, PATEO is able to offer one-stop IoV services to OEMs by leveraging the platforms for IoV / big data / AI / voice / map / mobile communication / IoT / OTA / security / account / deep third-party interface as well as hundreds of CP / SP platforms.
By making use of cloud, system level packaging, 4G mobile wideband, social media and traditional call center technologies, PATEO enables the CCC to realize omnimedia interaction in a real sense, i.e. unified interactions between traditional voice, SMS, video, Internet, social media, mobile phone and email, as well as interactions with OEM website, auto sales company website, office automation & CRM systems, while supporting various new IoV businesses, so as to provide all-around, multi-channel and personalized comprehensive services for OEM customers.
IoV Makes the CCC Better-Performing and More High-tech
With outstanding CCC solutions, PATEO is able to help partners realize distributed deployment & management functions of their CCCs, as well as seamless integration with business applications, making upgrade, expansion and deployment rather simple, convenient and flexible.
The CCC operated by PATEO allows for service diversity, able to provide not only sales, aftersales, complaint and technical support, but also personalized services, such as emergency rescue service, traffic violation information inquiry and traffic violations agency. And, through cooperation with Baidu, the intelligent speech recognition technology is able to understand various dialects, which not only guarantees user experience, but also lowers operation cost.
Employing the GPS navigation technology, PATEO has effectively resolved the issues lying in vehicle information security, and communication blind zone when the vehicle is in a location without communication signals, so positioning accuracy is greatly improved. As a result, the Volvo Customer Contact Center is allowed to provide more efficient services and create a better luxury vehicle service experience for vehicle users.
Through its in-depth Internet-based cooperation with the string of industrial giants, including Baidu, Suning, Huawei, ETCP and UAES, PATEO is now transitioning from the traditional IoV field to the phase of intelligent interconnection with Internet giants, so that the CCC under the operation of PATEO will be characterized by a faster reaction, more comprehensive functions and more human-oriented services.
Volvo on Call (VOC) operated by PATEO is driver-centric, synchronizes with hand-held mobile devices, and offers 22 vehicle management functions that include safety, security and vehicle condition inspection, while also providing humanized service for drivers, such as navigation and life service reservation. With the application of globally leading intelligent interconnection technologies, Volvo on Call (VOC) allows Volvo users to keep abreast of vehicle status more conveniently, and makes mobility much safer, more effortless and more pleasant with the 24/7 convenient services.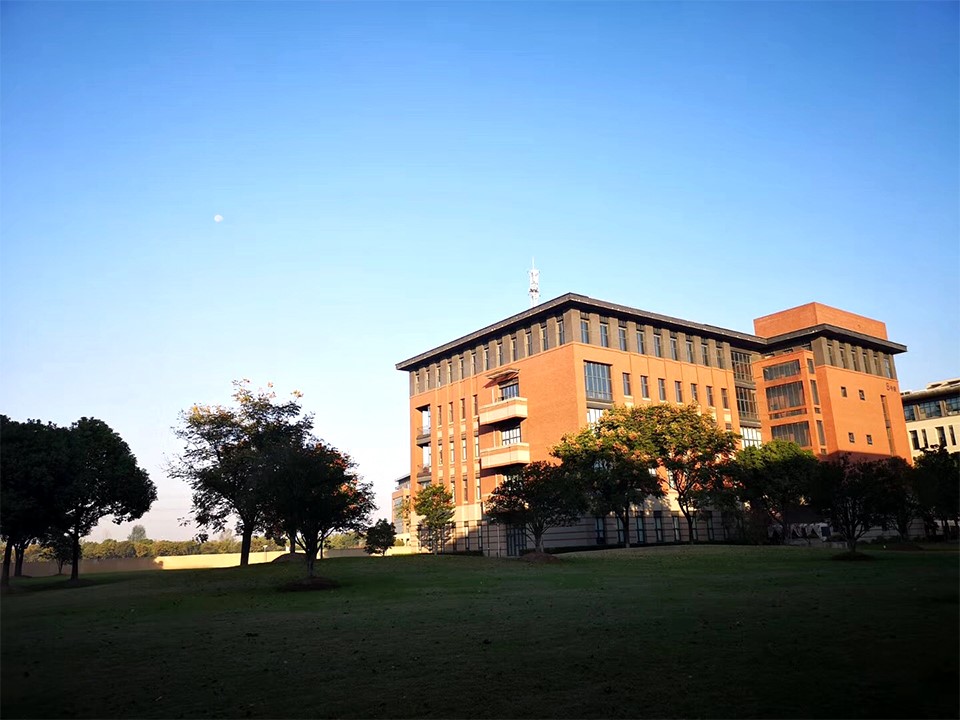 Currently, the big data cloud service platform and the IoV services built by PATEO cover many international, JV and Chinese domestic auto brands. Winning the awards this time demonstrates the recognition from the industry for PATEO's previous achievements. PATEO will carry forward its cause into the future and further intensively cultivate the industry to become an enterprise equipped with first class capacity for innovation, while actively carrying out industrial cooperation, so as to offer more ultimate products and services to users.