Qing OS + Eco-Cloud Platform + Voice AI: PATEO Exemplifies "Success Often Comes to Those Who Dare to Act"
The Fourth Step in the Evolution of "Car on the Internet" – Creation of a "Workshop for Final Assembly of Internet Capabilities" by PATEO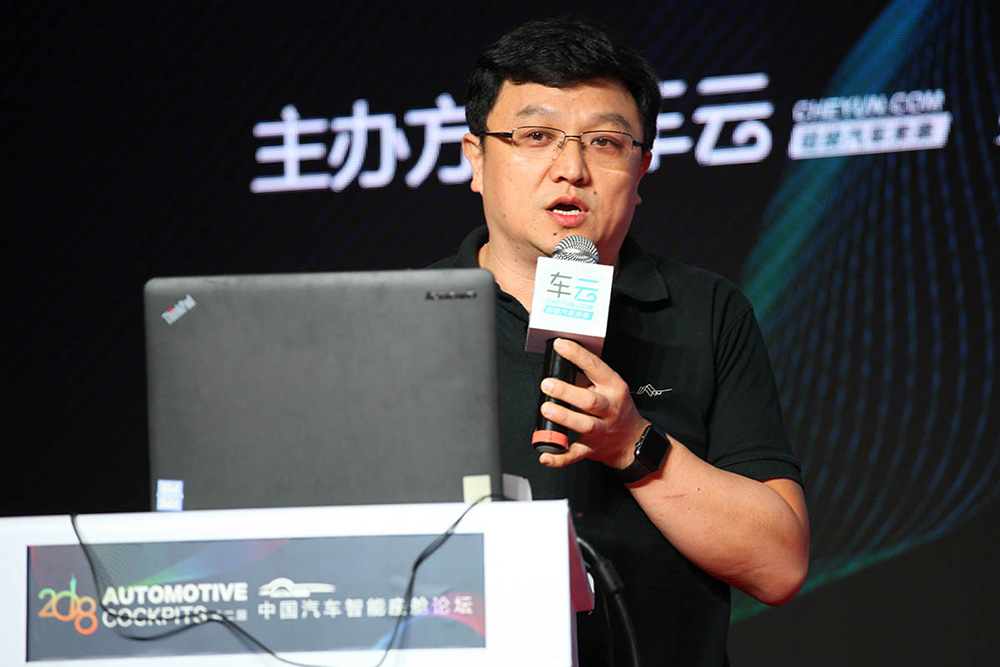 Creation – Following – Development – Peak – Re-innovation: such a wave graph applies to almost all known processes in human evolution.

The year 1885 witnessed the birth of the first automobile in the world, the so-called "innovation"; then this sunrise industry was overflowed by all sorts of brands, and fuel vehicles reached their peak; now another innovation stage has been ushered in.
Nowadays the concept of "vehicle" has already evolved from a pure means of transport to intelligence. In this all-new era, almost all the participants have been thinking about this question: What do we want to do and how do we do it?

Unstoppable Evolution
Combining automobile with internet and self-driving technology with AI, all tech companies are integrating into the last piece of soil of this large-scale industrial revolution, and the last mobile terminal will bring about huge changes.
With such a consensus reached, almost all the industry players have chosen openness, cooperation and joining hands.
Recently, a piece of big news on auto industry came that BAIC, one of the biggest groups in Chinese automobile sector, had joined hands with Magna International, the world's largest automotive supplier, to set up a joint venture, signifying that automakers have started to try a new model, aimed to take the lead in transforming to the contract manufacturing mode. Similarly, more attempts are being made in the connected car industry. During the present stage of practice, more auto enterprises have been focusing attention on their mature partners, e.g. PATEO Group in China – "The Magna in the Connected Car Field".

Practice: Exactly the Solution to the Future
Articles about new technologies without vocabularies like "Solution" will inevitably appear outdated to some extent.
Presently automobiles are evolving from traditional ones to connected ones, towards the ultimate goal of becoming intelligent ones.
Evolution requires continuous practice and persistent trial & error.
On July 28 this year, the 2nd China Automotive Smart Cockpits Forum 2018 was held in Guangzhou as scheduled, all the participants of which are unexceptionally steadfast doers during the evolution of the age of intelligence.
Before the event, almost everyone was anticipating new partners joining hands here to enter into cooperation; but in essence, more attention was drawn to one of the topics suggested in this forum – practice & solutions that can really be put in place.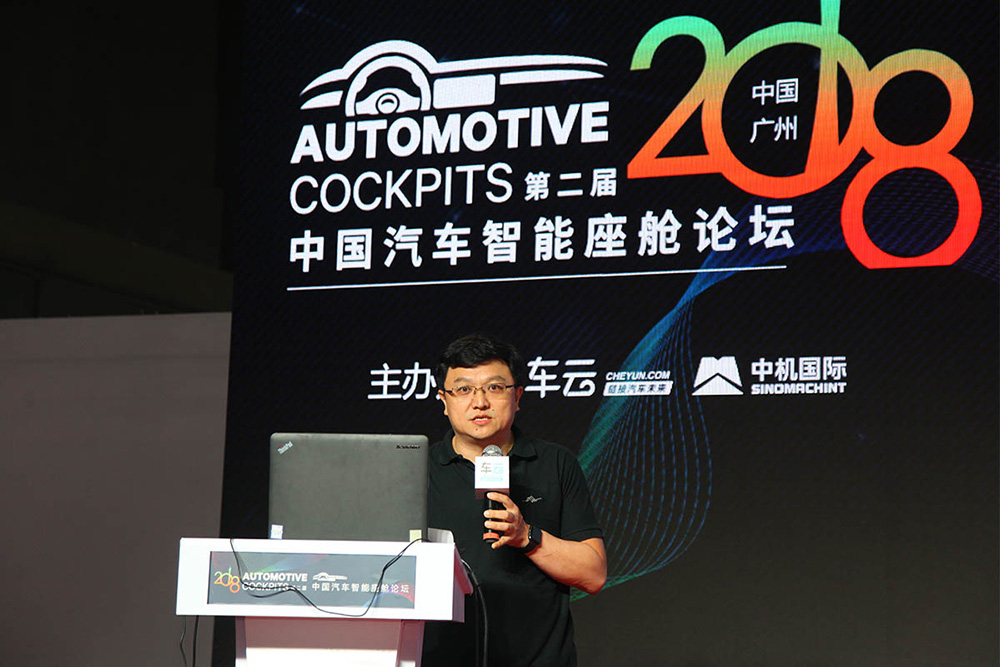 When speaking of the practice of connected car intelligentization, Dr. Bill (Yi) Zhang, Vice President of Business Operations of PATEO – a front-runner in the industry that stays committed to practice and openness & cooperation, indicated that "in this evolution, a telematics solution for proactive eco-interactions will be needed, which will not only enable human-vehicle interactions to be more proactive, but will also provide eco-friendly life services."

To PATEO, Qing OS + eco-cloud platform + voice AI is the core of the whole solution.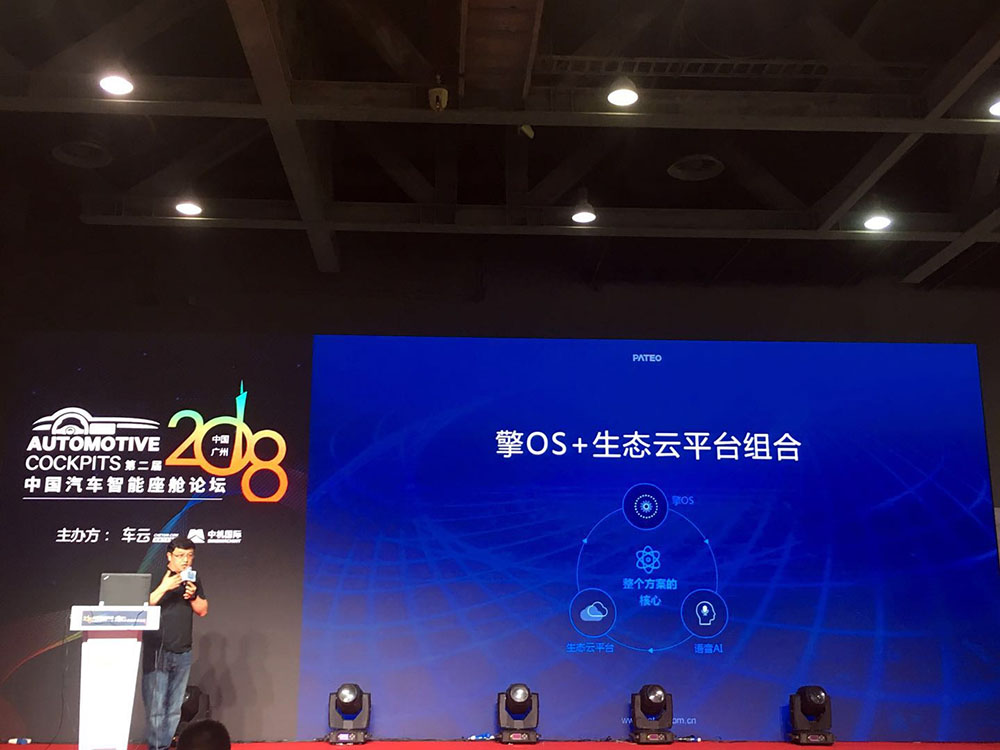 In the course of evolution from conventional cars to connected cars, motor companies will have to address four needs, namely 1) internet; 2) capabilities in vehicle infrastructure / automotive electronics / OS / software / communication / cloud platform; 3) capability for deep integration with the internet / automobile / smart phone industry chains; 4) capability of in-depth integration in other fields; and internet firms will also require eight capabilities, i.e. 1) integration with vehicle infrastructure; 2) automotive electronics; 3) OS; 4) deep automotive user scenario; 5) integration with channels of a dozen departments of auto enterprises; 6) the overall user scale & data value of third party platforms; 7) automotive ecosystem; 8) integration with ecosystems other than those of this internet firm itself.
Generally speaking, PATEO solution has managed to give Qing OS access to vehicle infrastructure data, user data and cloud interface, thus laying a strong foundation for the implementation of the entire ecosystem; while the cloud platform, by virtue of consolidating cloud data from all walks of life, will entitle users to ecosystem services for their mobility life; and voice AI technology will enable services via speech interaction.
Besides, it's worth mentioning that Qing OS, due to its openness, will be able to access the OEMs' own ecosystem data, and allow them to customize their own business models, which represent greater value for them.
Qing OS: An In-depth Customized Onboard Operating System
It has been nine years since PATEO input nearly a hundred engineers in continuously developing OS in 2009; up to now, the team has grown to 150 members. As the first Android based in-depth customized onboard OS in the world, Qing OS was put into commercial use 5 years earlier than other OEMs.
In 2014, PATEO Qing OS passed the certification of CQC (China Quality Certification Center) in compliance with the standard onboard OS rules. It supports OTA iteration and upgrade at OS level during the 10-year life cycle of a car, and fully complies with automotive security requirements by delivering chip-level & software encryption security; furthermore, it is not only compatible with the interfaces of QNX & Linux operating systems, but can also operate in multiple modes like silent / enforcing / upgrade by factory / upgrade by user, be it upgrade of OS, application, HMI, BUS, map, engine or the cloud, to make sure user's OS is kept up-to-date, and hence superior user experience.
What User's Appeals Will Be Addressed by the Smarter Cars in the Solution?
The most significant variation trend is represented by the smart digital cockpit concept and the development of the in-car display from big size to "irregular" shape, into which PATEO has gained an insight since a long time ago. The all-new conceptual smart cockpit for Hongqi models, rated as "the most streamlined, the smartest, and the most elegant" by the media at Auto China 2018, was exactly jointly created by PATEO design team and FAW Hongqi.
In the coming days, revolutionary changes will also take place in Human-Vehicle Interaction (HVI). The texture of interior used to be unchanged, but in the future the cockpit interior could vary with different personal preferences: perhaps a gesture of vehicle owner is all that is needed for the virtually presented brushed steel plate to change into peach wood; there used to be physical buttons, whereas in the future, the interactive modes will be diversified, and the various functions will be achieved by virtue of chips, software and cloud.
Eco-friendly mobility experience will turn into reality. In the future, user will experience on the Internet of Vehicles (IoV) not merely music, navigation, online map and voice services, but rather a complete combination of telematics and the entire sales system of OEMs to form an ecosphere, through which most ideas will come true, and consumption, catering, accommodation and the like will be integrated.
The big data generated from High Frequency Trading (HFT) in the ecosphere will bring vehicle owners more benefits. In the internet market, the more users you share with, the more rebate you will get; and in the intelligent vehicle era, with the development of IoV and the increasing user count, a variety of business models are coming into being.
How Much of a Difference will This Solution Make to Intelligent Vehicles?
The case of Dongfeng Fengshen WindLink 3.0 could provide some clues to this. As the first AI-empowered IVI system in China, it will help motor companies leap to the forefront of the AI era.
It has set a record with six "firsts" and four "ultimate" features, thus hailed as the most advanced IVI system at present.
It also illustrates the openness of PATEO ecosystem. By virtue of strategic cooperation with global top partners on tech ecosystem, PATEO has empowered its service ecosystem to cover all trades and professions like hotel and travel.
With the implementation of the eco strategy, the boundary of PATEO's eco business is progressively extending, e.g. creation of the first connected car payment solution across the world in the new finance field; and retail collaboration in multiple scenarios in the new retail field to deliver brand-new user experience.
Afterword:
All these cases not only indicate a higher level of openness aimed to help China's automotive industry rank among the top in the world, but also reveal PATEO's strategic move to take the opportunity of industrial transformation to gain more advantages.
In fact, the point I'm emphasizing throughout the whole article is nothing else but practice.
We have seen too many concepts and PPT documents, however, be it car building, other auto fields or other industries, practice is always the most difficult step to take.
And the reason that I cite PATEO as an example is that it is maintaining consistently high performance and has achieved outstanding results in the practice field.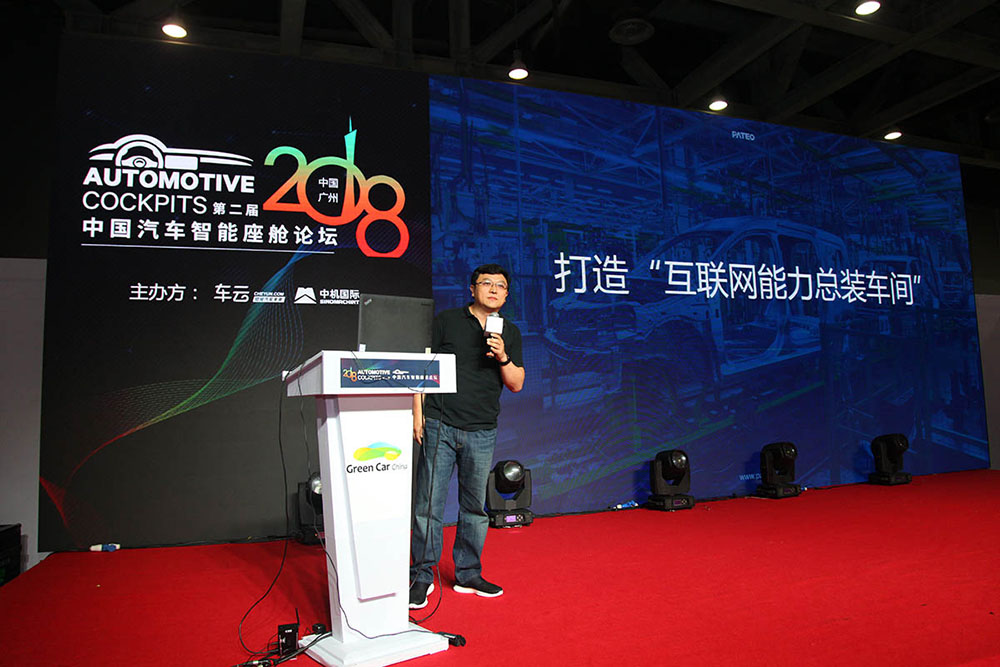 In 2018, PATEO clearly proposes to create a "Workshop for Final Assembly of Internet Capabilities", that means no matter which ecosystem and domain an internet CP/SP belongs to, as long as this vertical category could satisfy OEMs' needs, bring value to users, provide best user experience, and win favor with users, it could be incorporated.
For PATEO, this means merging various kinds of interaction products together, including platforms for telematics / big data / AI / voice / map / voice communication / OTA / security / account / third-party deep APIs as well as hundreds of CP/SP platforms covering IoT and mobile phone, so as to provide one-stop T services for OEMs. Owing to such seamless integration, the future automobiles will offer user supreme experience and optimal intelligence, thereby assisting auto companies in creating value and seizing opportunities.
On a final note, those who unswervingly take the path of practice are usually geeks.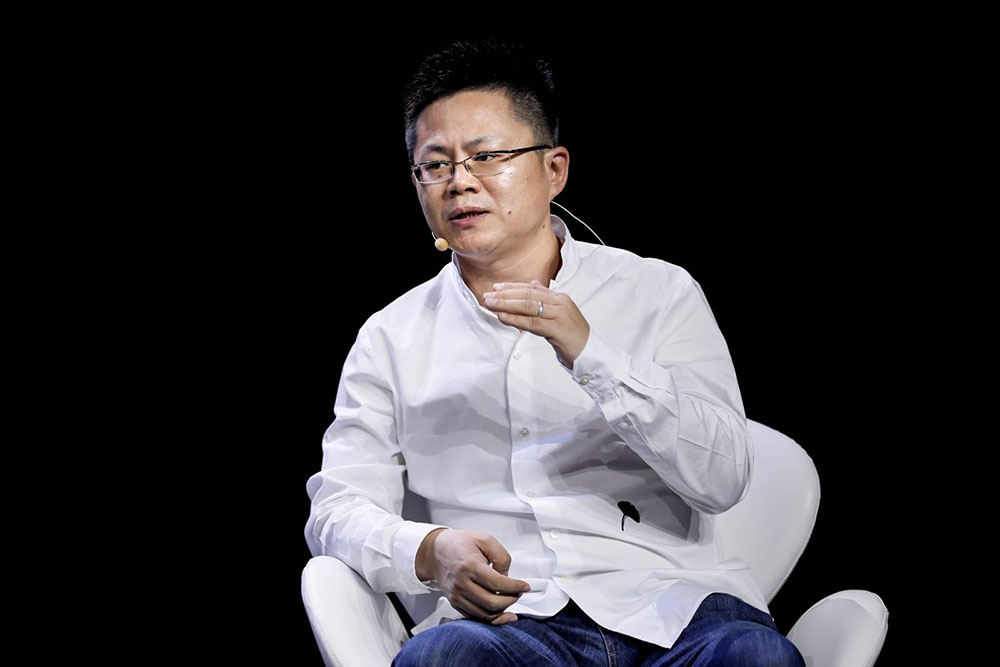 When it comes to the future of connected car and transformation of the auto sector, not long ago, Ken (Yilun) Ying, Founder & Chairman of PATEO Group, said that: "The connected car industry is about to transit from the hardware / software / cloud product era to a leaner big data era characterized by a combination of deep marketing / user / sales / vehicle data, against the backdrop of which automobile sector will undergo changes to achieve open cooperation and continuous innovation."
Steadfast doers need support from belief. Ken and PATEO team's yearning for goal achievement, as I understand it, is a manifestation of their aspiration and eagerness for success.
We've seen too many concepts in each era, but real success always belongs to those who firmly follow the path of practice.