PATEO Joins Hands with New Business Partner - JLR for Exploration into Auto Intelligent Connectivity Technology Innovations
On Apr. 22 Beijing Time, Shanghai PATEO and Jaguar Land Rover signed a memorandum of understanding (MoU) for strategic cooperation in Beijing, with the aim of jointly exploring cooperation in the area of onboard applications. Mr. Qing Pan, Member of the Global Board of Management of Jaguar Land Rover and Executive Director of Jaguar Land Rover China, along with Mr. Ken Ying, Founder and Chairman of PATEO Group, attended the signing ceremony and signed the MoU on behalf of their respective companies.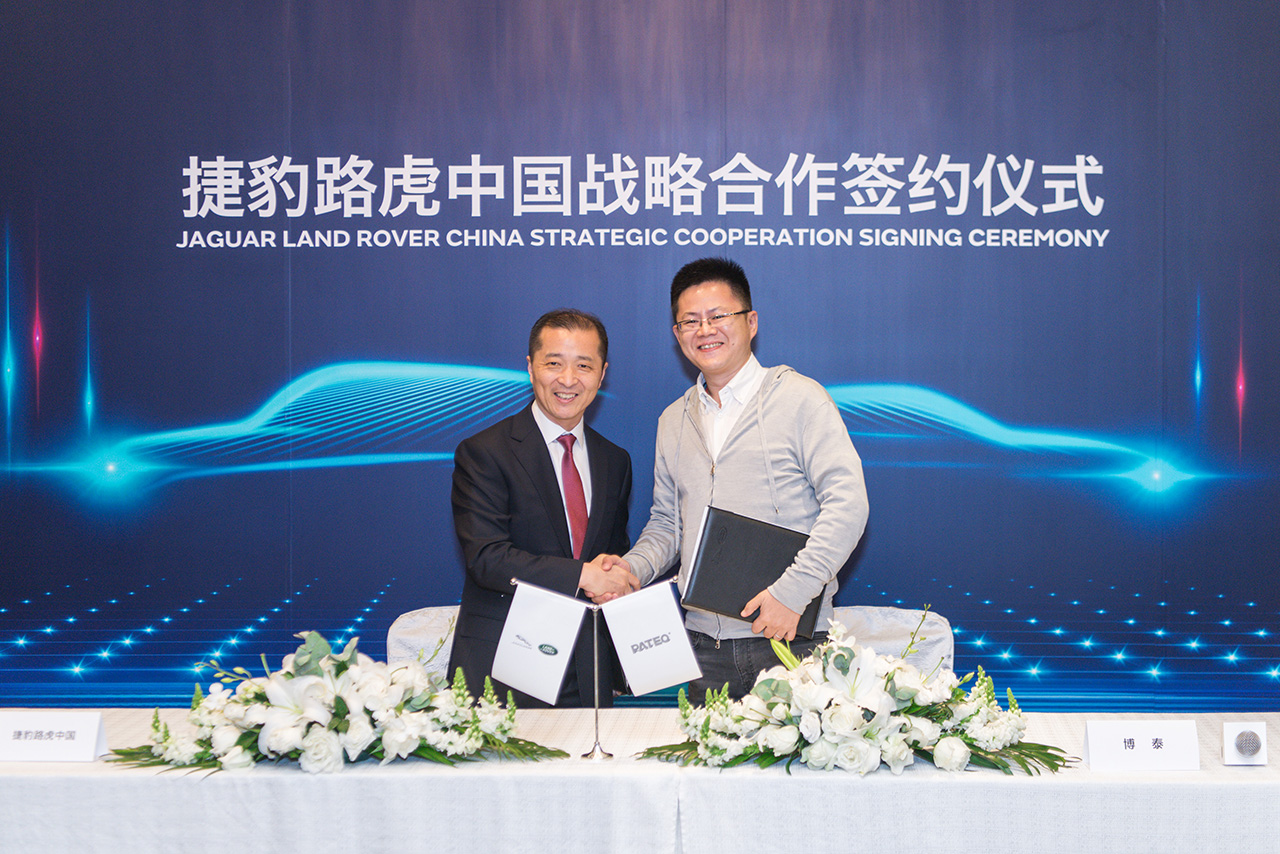 At the same time, PATEO was also invited to the "Jaguar Land Rover Night" Event taking place on Apr. 23, at which Mr. Ken Ying participated in the dialogue session themed "Embracing Future Mobility" and expressed opinions on topics that included the intelligence of luxury vehicles.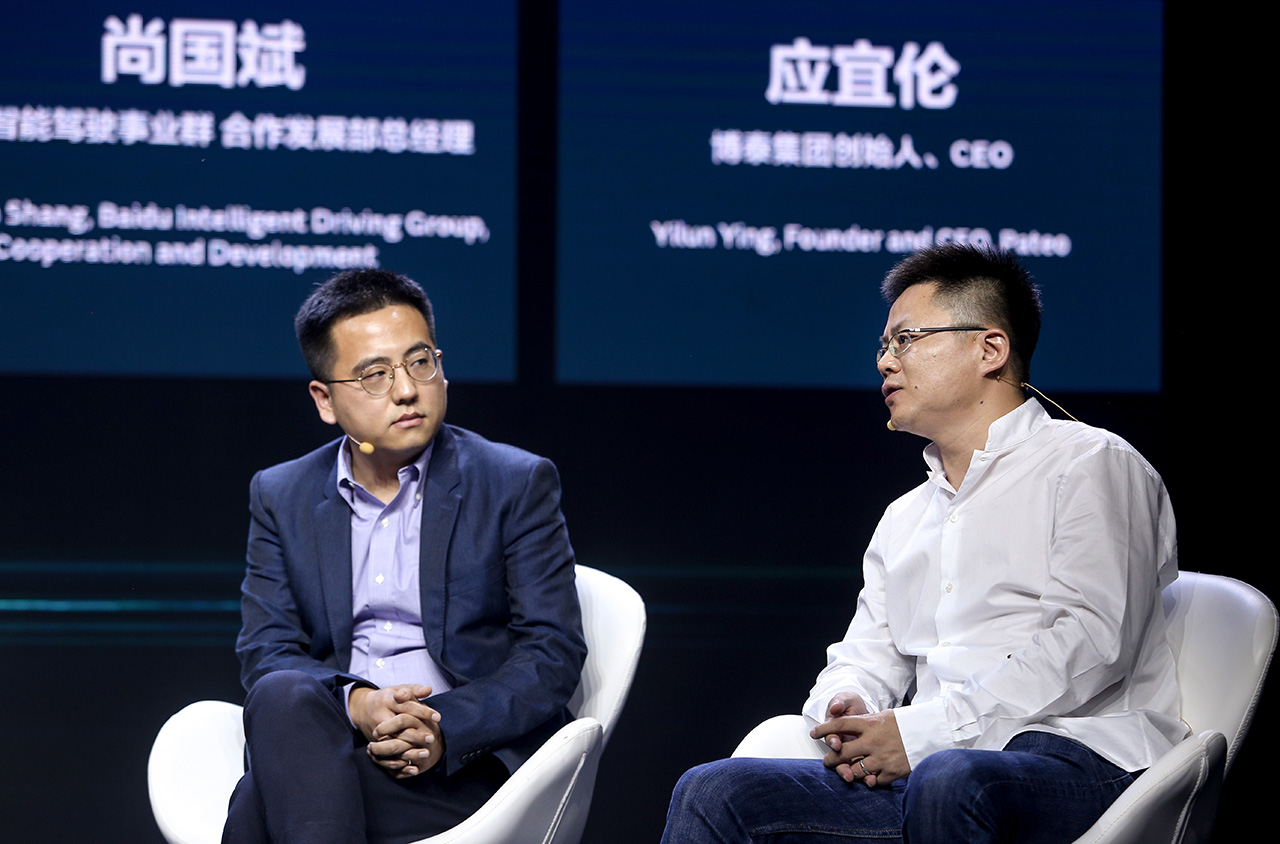 It's known that both parties will be devoted to jointly exploring the innovations in connected car technologies and business models by leveraging the resource integration services of PATEO's telematics platform and cloud ecosystem to make future smart mobility come true, including ecosystem services and abundant application scenarios of PATEO, which will see an all-round optimization of user experience in intelligent voice interaction, in-car entertainment, intelligent navigation, social networking service, mobile payment, secure application, account system and other telematics service fields.
PATEO Empowering the Luxury Brand to Embrace the Path to Intelligence-Based Transition
As the largest automaker of UK, JLR boasts Jaguar, an epitome of splendid history, and Land Rover, a leader of global luxury SUV. Due to their charming design, leading-edge technologies and fantastic performance, both brands have become trendsetters of modern luxury vehicles; while keeping bringing global consumers brilliant products, they have been upholding the spirit of continuous innovation to take the initiative to embrace the future and also make overall planning and arrangement for the future.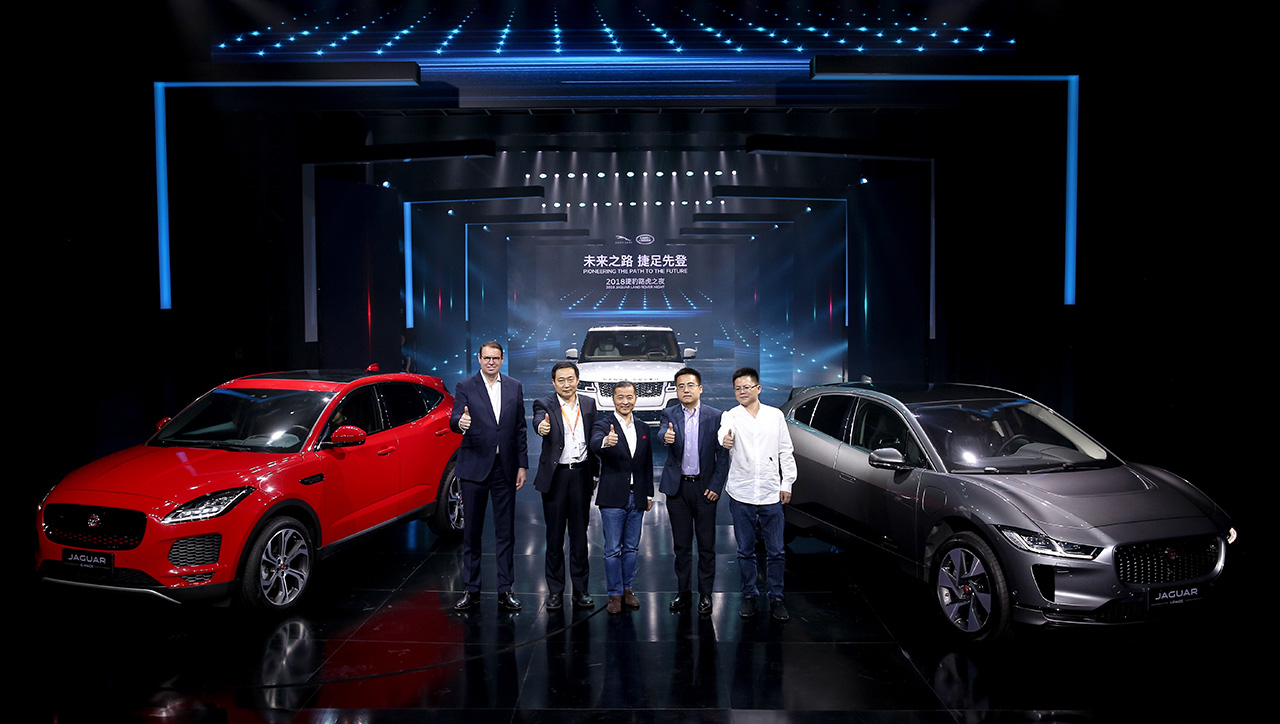 The biggest difference between a premium brand automobile and a common means of transportation is that luxury brand often symbolizes a culture, represents a life style and manifests an attitude towards life, creating a unique sense of pride and belonging within brand owners. For example, Jaguar interprets a fascinating British gentleman style, while Land Rover displays a courage to conquer the nature.
Today, internet, cloud computing, big data and intelligentization are embracing an overwhelming trend. As one of the leading premium auto brands, JLR is trying to achieve the transformation from ICE (Internal Combustion Engine) to ACES (Automated, Connected, Electric and Shared), in an attempt to create a cleaner, safer and more high-tech future mobility life for global consumers.
JLR, a luxury auto brand from the UK, declared that it has signed MoU for strategic cooperation respectively with three industry-leading Chinese enterprises that include PATEO Group (PATEO), with which it will pursue deep cooperation in multiple areas to jointly explore and drive technological advancement in connected car, big data, 5G communications and more.
As a connector between internet and automobile and a company empowering traditional auto groups, PATEO has developed a clearly defined positioning, i.e. more of an expert in internet than automakers and more of a specialist in automobile than internet companies. It always perseveres in providing customers with the best quality, i.e. "Ultimate" Quality; the best user experience, i.e. "Ultimate" Experience; and the best intelligentization, i.e. "Ultimate" Interaction. PATEO will jointly explore with JLR to endow luxury vehicles with an intelligent experience by creating a richer and more engaging new in-vehicle experience. With the empowerment of PATEO, a company that enjoys profound experience in the connected car domain, there is no doubt that the intelligentization journey of JLR will be made more intelligent than ever.
Win-Win Cooperation – Creating a New Future Mobility Pattern
With regard to the intent for this exploration of cooperation between PATEO and JLR, both Mr. Qing Pan and Mr. Ken Ying offered their comments.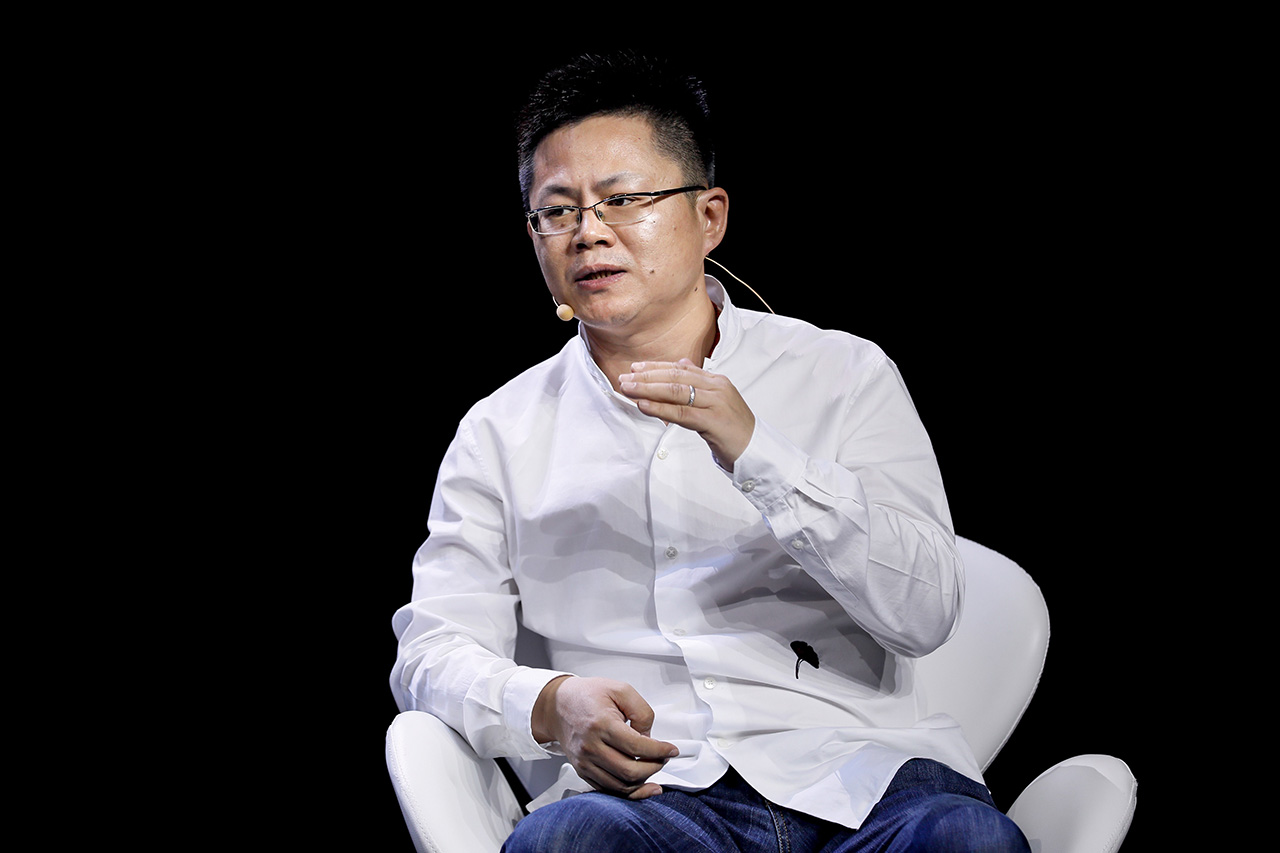 Mr. Ken Ying said, "Today, new momentum has been infused into premium vehicles by the overwhelming trend of internet, cloud computing, big data and intelligentization. The powerful alliance between PATEO and JLR will allow JLR to leverage PATEO's powerful technology resources for realization of the revolutionary transformation, i.e. turning into a technology firm. PATEO is willing to march hand in hand with JLR towards the new era of intelligent vehicles."
Mr. Qing Pan said that "We have full confidence in the innovative power of China. In the future, we will continue to embrace the philosophy of scientific & technological innovation and open collaboration, and work with top cooperation partners to jointly explore the development of future mobility, create a first-class user experience and help build China into the largest market for automotive technological innovations in the whole world.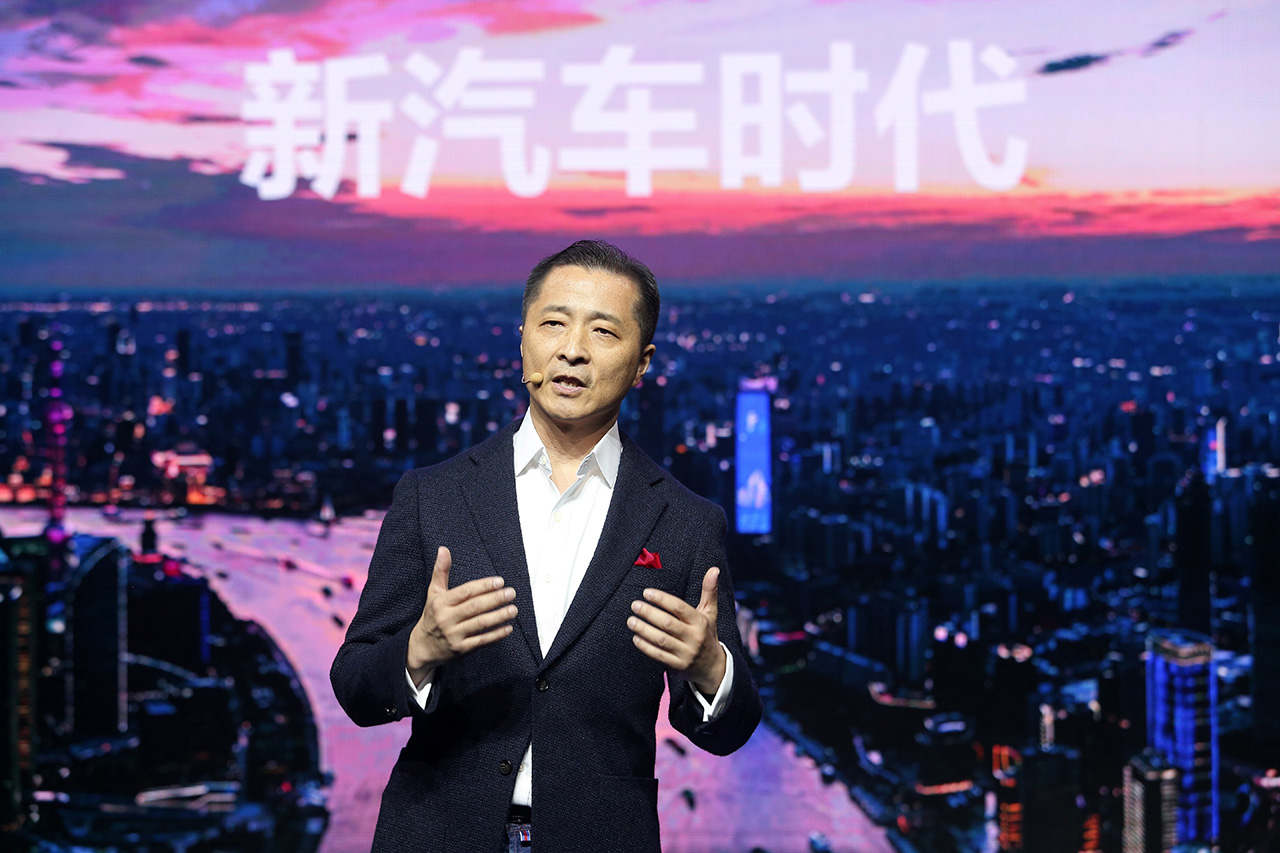 PATEO - Dedicated to In-depth Cultivation of Connected Car in an Open Manner
As the earliest connected car enterprise in China, after nearly ten years' development since its founding in 2009, PATEO has now become an intelligent vehicle & connected car company with the largest capital structure & business scale and automotive customer base in Mainland China.
Up to now, PATEO has been focusing on the 17 core areas of connected car and accumulated 1,050 pieces of intellectual property, far outnumbering others in this field.
PATEO provides services for nine auto groups nationwide covering dozens of models of luxury, joint venture and self-owned brands, boasting more than 1.1 million pre-installation users and embracing the annual high growth rates of user scale & activeness both at 100%.
PATEO always believes that connected car belongs to all the participating enterprises and belongs to the whole society. In this day and age, win-win is needed, but multi-win is more needed. Therefore, PATEO is willing to establish open in-depth cooperation with all traditional auto groups, internet companies, internet ecosystem / the whole auto value chain ecosystem / vehicle mobility IoT / Smart Home ecosystem suppliers, as well as all the upstream/downstream partners of PATEO that cover the technological fields of auto data, software & OS for automotive electronics, cloud big data and AI. It has been PATEO's constant pursuit to seek cooperation in an open manner for continuous in-depth cultivation of connected car.
As a matter of fact, the current development of intelligent connected vehicle is just the first step in the "Long March". The potential space of the industry is so huge that it's even vaster than we could have ever imagined, lying far beyond the original automotive scope. We believe, the cooperation between the two parties will lead to the overall transformation and upgrade of personal mobility system, providing safer, more comfortable, more energy-saving and more ecofriendly mobility ways for people and thus bringing about changes to our lives and our society.
We believe, the cooperation between PATEO and JLR will open up more possibilities for auto intelligentization!