Dr. Zheng Hongjiang, Senior Technical Expert of Shanghai PATEO, Confirmed as Keynote Speaker at GGAI Annual Conference
Principals from more than 150 startups & leading enterprises in autonomous driving, connected car and intelligent cockpit fields together with over 150 leading enterprises as links of the traditional auto industry chain (OEM, Tier 1, Tier 2) will participate in the conference, and there'll also be onsite presentation & exchange of new technologies and products in the aforesaid three fields simultaneously.
Also, the First GGAI Automobile Golden Globe Awards Selection & Presentation Ceremony will take place in the evening of Jan. 24, 2018. [Click to view the final shortlist of enterprises for the Golden Globe Awards]
It was learnt from the Organizing Committee that Dr. Zheng Hongjiang, Senior Technical Expert of Shanghai PATEO, will attend this conference and give a keynote speech.
Personal Profile: Dr. Zheng Hongjiang, Senior Engineer, member of PATEO core technology team and V2X expert, in charge of PATEO V2X R&D and capacity building; PATEO Intelligent Drive Team under his leadership won the Second Prize of Scientific and Technological Progress Award issued by GNSS and LBS Association of China (GLAC).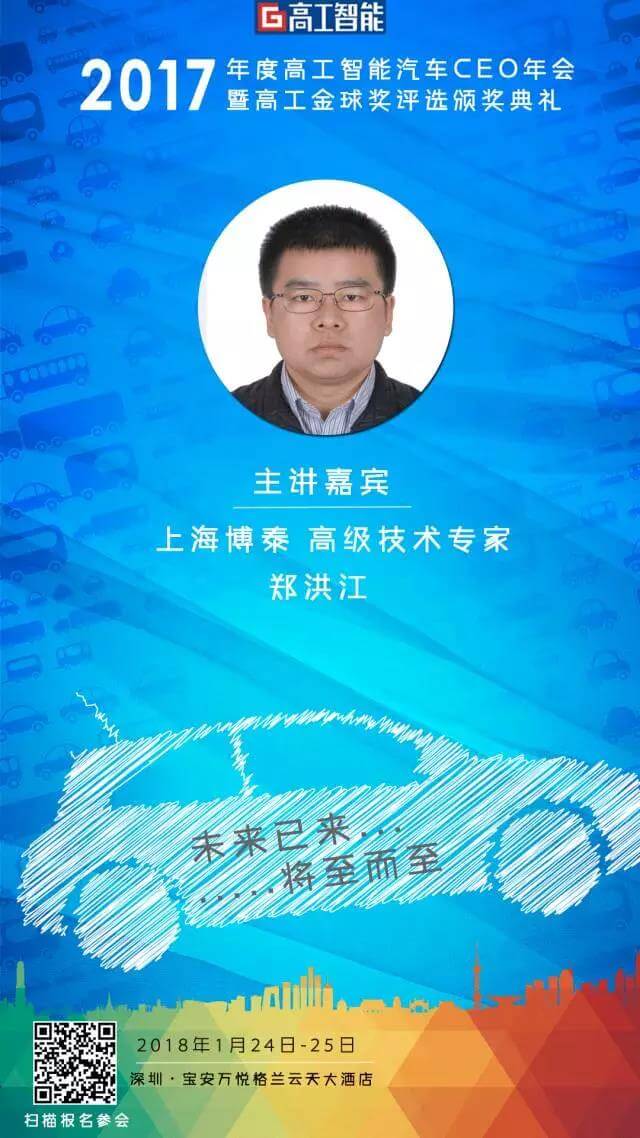 PATEO, founded in 2009, as one of the most influential enterprises in China's connected car industry, has participated in the drafting and formulation of MIIT Connected Vehicle Standards, directly engaged in the setting of ten plus national standards for automobile informatization and played a leading role in the development of multiple industry standards.
So far, PATEO has served various self-owned, joint venture and import brands covering Audi & FAW-Audi, PSA Peugeot Citroën & CAPSA & Dongfeng PSA Citroën, Volvo China, GEELY, SAIC MOTOR and Dongfeng Peugeot-Citroën.
Also PATEO has won the TSP businesses of the luxury car brands of Porsche and Bentley, thus building a solid customer base and business foundation for PATEO's upcoming AI (Artificial Intelligence) business.
Presently PATEO has established brand new platforms covering PAAS, communication operation, big data, map & traffic information, voice, AI, third party content services data interface & third party data exchange, payment & Internet finance, OTA upgrade and other basic management fields.
PATEO Qing Cloud not only encompasses the aforesaid ten platforms and supports technical achievements of hundreds of millions of research & development costs, but also supports IoT fields including wearable products, Smart City, Smart Mobility, Smart Home and Smart Home Appliances at data layer with large-scale automobile user scenarios covering city, mobility and home.
After several stages of development cycle, connected car industry has ushered in new opportunities and an entirely new age.
When connected vehicles mushroom, the computing capacity will be far from enough. E.g. OEMs today may only support the concurrency of a million vehicles in networks, but in the future the magnitude will be very likely to surge to tens of millions.
What's more, OEMs nowadays still stay at the low-level application when making overall arrangement for the industry chain layout, e.g. embedding CarPlay and more handy maps into IVIs, but as a matter of fact, connected car industry has already got to the intelligent layer of vehicle infrastructure such as chip, VCU (vehicle control unit) and communication.
For Internet firms boasting a large number of users and mass data, PATEO's value lies in its capabilities in hardware, scenario and integration and to connect with multiple departments of OEMs.
While for OEMs, PATEO's value lies in that it will not only help create more leading-edge & differentiated connected car products to enhance user experience, but will also empower OEMs to discretionarily control the TSP platforms.
Owing to its proactive overall planning & arrangement for V2X & 5G connected car in recent years, PATEO won "The Second Prize of 2017 China Satellite Navigation & Positioning Science and Technology Award" at the 6th China Satellite Navigation & Location Service Annual Conference this September.
And as one of the first partners of Project Apollo, PATEO has stepped from the traditional connected car field into a new stage marked by the in-depth strategic partnership with giants of Internet like Huawei and Baidu, of automobile like BAIC and Dongfeng MOTOR, and also of industry segments including UAES, ETCP, NXP and Nuance.
PATEO has positioned itself in a clear and distinct way as "more of an expert in Internet than automakers and more of a specialist in automobile than Internet companies".