【Video】LINC 2016: Ken Said: "For Entrepreneurs, Follow the 9 Steps to Win the Battle."
    2016 LINC Carsmas Day Global Auto Maker Carnival was held in Shanghai Automobile Exhibition Center on January 17. Carrying onward the innovative spirit, this year's LINC contest has again been upgraded in scale, contents and form.
    Ken Ying, the chairman of PATEO, shared his experience that accumulated through his own career. Key points of his speech is recorded as follows:
    "We all need to gain a lot of experience to become the final survivor. In this regard, I would like to share 9 things with you:  
    1st: Be loyal. Stay loyal to your company and share common values.
    2nd: Be simple. Our company should be simple. Many companies set their positions in mess.
    3rd: Identify and keep talents. "blood-generating cells" should be highly valued and "result-oriented" cultural must be advocated.
    4th: We won't be able to be fully prepared. When we are intended to do something, maybe you need lots of core technologies and resources. But it is impossible to grasp all.
    5th: We have to keep innovating. What a small company should do is innovation. A small company must integrate various resources concerning the Internet and automotive companies to go ahead. Also, you must do it very efficiently.
    6th: It is always possible to make friends. It's not an either-black-or-white world. We need to guarantee that we can share common benefits Also, we should have a clear idea about what are the do's and don'ts.  
    7th: Think about our channels, threshold and eco-system.
    8th: Meditative mind. Namely, you should keep your heart with awe.
    9th: Dedication. We should be dedicated to what you are doing.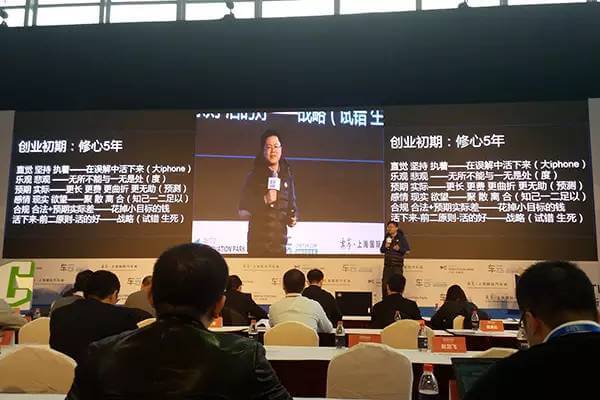 In simple words, as an entrepreneur, we should define our original intention in preparation stage, cultivate our mind in the early phase, foster our craftsmanship three years later and keep a meditated mind about six years later. Maybe it is not very suitable for copying, but it is at least what we have learned from our efforts in building PATEO over 15 years.