PATEO CONNECT+ and Ruian People's Government Sign Agreement on "Smart Auto Parts & Components Manufacturing Base Project" to Promote Industrial Upgrading of China's Smart Parts & Components Sector
On Nov. 2, PATEO CONNECT+ Technology (Shanghai) Corporation (hereinafter referred to as "PATEO") and Ruian People's Government signed an agreement on the "Smart Auto Parts & Components Manufacturing Base Project", by which the two sides will work around the improvement of the intelligentization level in the automotive smart cockpit field, the comprehensive layout of the smart cockpit domain controllers, as well as the research & development (R&D) and production of various smart auto parts & components, so as to promote the industrial upgrade of China's smart parts & components sector. The total investment of the project is nearly CNY 2 billion, with a land area of 100 mu. It is learned that Ruian has participated in this round of financing of PATEO by investing CNY 300 million in it, which also marks another round of investment secured by it following those from Dongfeng Motor Corporation (DFM), China FAW Group Corporation (FAW), Shanghai Guosheng Capital and other investors.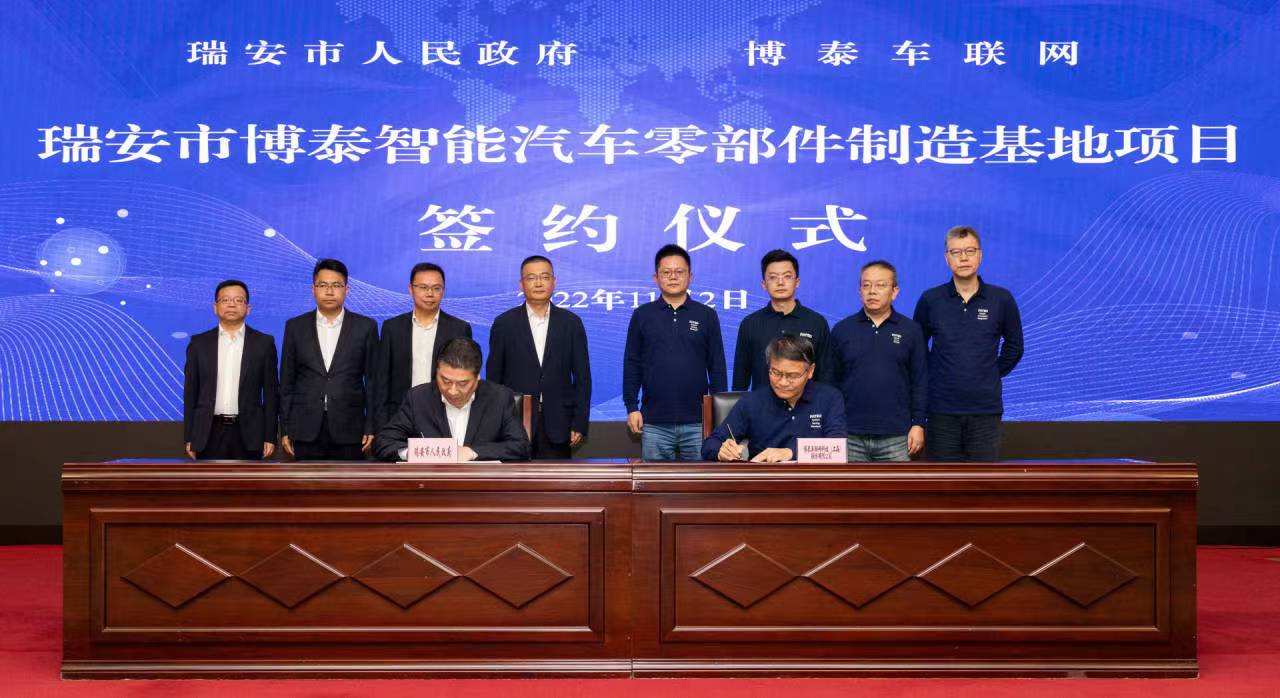 At the just concluded 20th National Congress of the Communist Party of China (CPC), Xi Jinping, general secretary of the CPC Central Committee, emphasized that the development program of improving the scientific & technological innovation system and promoting new industrialization will become a key guideline for the future; to build a modern socialist country in all respects, we must, first and foremost, pursue high-quality development, which requires taking both development and safety into consideration and putting effort into improving the resilience and safety of the industry chain and supply chain. In context of the new situation, as one of the founding units of the National Intelligent Vehicle Innovative Development Platform established by National Development and Reform Commission (NDRC) of the People's Republic of China (PRC), PATEO will, based on its profound understanding of the national mission, center around the goal of being "independent, secure and controllable", maintain the strategic focus on "applying unified blueprint and making cohesive planning for consistent development", focus on the key development issues and urgent needs in the journey towards auto intelligentization, strengthen the synergy in resources and forces across all sides, devote itself to providing an impetus for the construction of a world-class intelligent vehicle (IV) industry ecosystem, systematically set Chinese standards for smart cars that are of global influence, and explore the formation of an IV development model with Chinese characteristics.
Ruian has always been known as the "Automobile & Motorcycle Parts Capital of China", whose automobile and parts & components industry has started since the 1970s, and grown into an industrial cluster boasting an output value of more than 60 billion yuan and a regional brand value of more than 10 billion yuan after more than four decades of vigorous development. As the automobile industry is changing towards intelligentization, the traditional parts & components industry is striving to transform and develop into an intelligent one.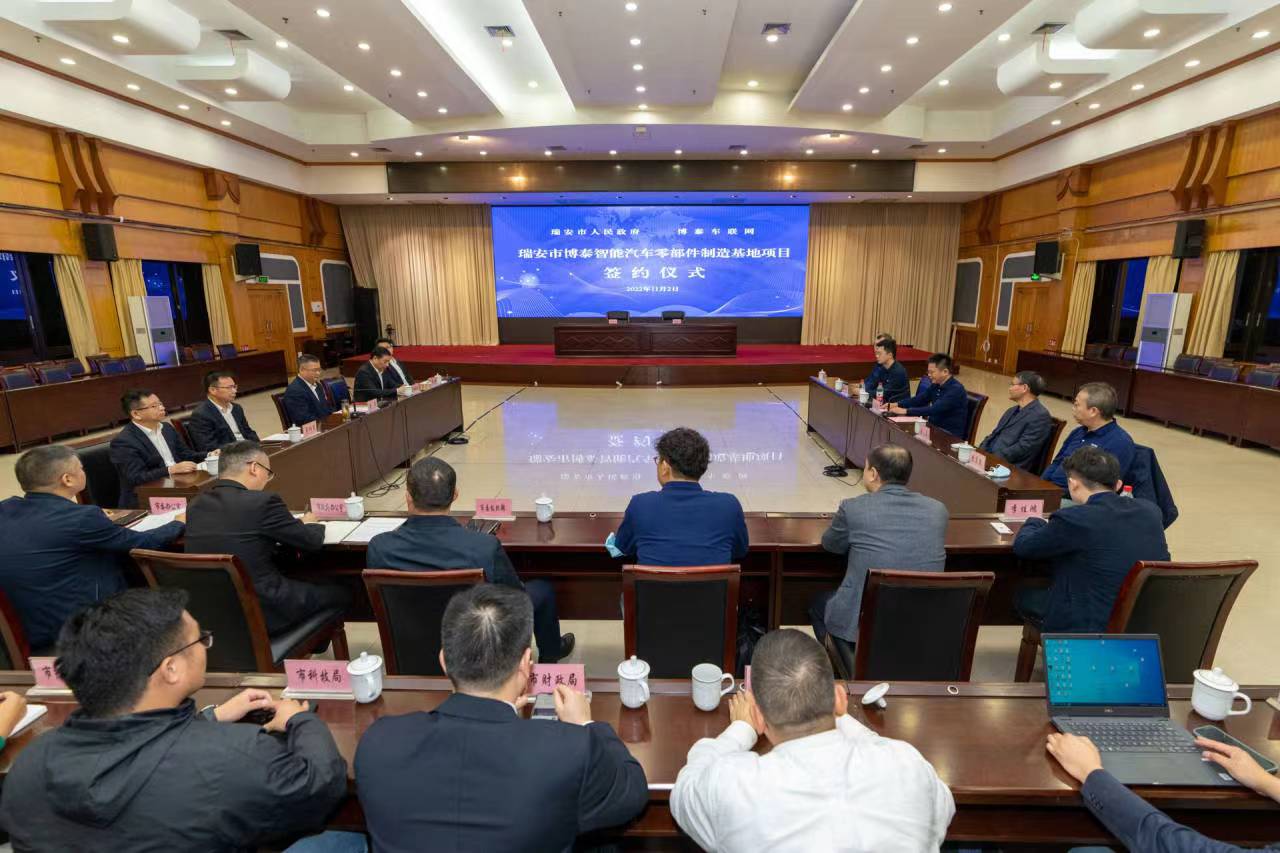 As an industry leader in automotive intelligence, PATEO has accumulated a wealth of technical experience in business areas like smart cockpit (human-machine interaction [HMI] hardware + R&D services and solutions), intelligent connectivity, and smart parts & components. The "Smart Auto Parts & Components Manufacturing Base Project", upon completion, will mainly produce a new generation of automotive smart cockpit related products.
Regarding the cooperation, Ken (Yilun) YING, founder & Chairman of PATEO, said, "In the report to the 20th National Congress of the CPC, general secretary Xi proposed to act with resolve to win the critical battle for making breakthroughs in core technologies in key fields, and accelerate the implementation of a number of major national forward-looking science and technology projects of strategic & overall importance. PATEO's deployment of the smart auto parts & components business unit (BU) in Ruian is exactly an active response to this strategy. We'll work closely with Ruian Government to implement the national strategy for the integrated development of the Yangtze River Delta, fueling the growth of smart auto parts and components, and form a localized closed-loop industry chain covering links ranging from 'R&D and innovation' and 'production & manufacturing' to 'industrial upgrading'."
"Ruian gets prosperous because of the car, so our partnership is based on local conditions and can be called a 'perfect pair'; PATEO gets famous because of the car, so our partnership comes at a right time and the right occasion; we get together because of the car, so our partnership will achieve mutual benefits and win-win results with bright prospects," said Xiao QIN, Deputy Secretary of the CPC Ruian Municipal Committee and Mayor of Ruian. "Since PATEO has chosen Ruian to implement the project, from now on you can take here as your home. We hope that PATEO will increase investment, speed up the construction progress, and press for the early completion and start of operation of the project, while actively serving as a bridge to promote more cutting-edge technologies to be adopted here, and technical talents and superior enterprises to settle here. All departments should uphold the pro-business and commerce-valued concept, build the best atmosphere, create the most favorable environment, and provide best services for project construction, so as to truly realize rapid implementation, high-quality construction and secure development of the project."