PATEO CONNECT+ Makes It to KPMG China Leading Autotech 50 for Four Years in a Row
The meeting of the Political Bureau of the Communist Party of China (CPC) Central Committee held on 30th Jul., 2021 set the tone to put the pedal to the metal, and for the first time, massively put forward "acceleration": tap the potential of the domestic market, support the accelerated development of new energy vehicles (NEVs), and peak carbon dioxide emissions and achieve carbon neutrality in a coordinated and orderly manner; accelerate the construction of major engineering projects in the "14th Five-Year Plan", and offer guidance for enterprises to increase investment in technological transformation; strengthen scientific and technological innovation as well as the resilience of the industry chain and the supply chain, strengthen basic research, promote applied research, carry out special actions to shore up weak links in the chains to consolidate them, accelerate the resolution of "bottlenecks", and develop small and medium-sized SRDI (specialized, refined, differential and innovative) enterprises.
On 4th Aug., the KPMG China Leading Autotech 50 – 4th Edition list was freshly released. PATEO CONNECT+ has again made it by virtue of its continuous innovation capabilities and outstanding market performance in the field of intelligent connectivity, becoming the only IoV company that has remained on the list for four consecutive years.
As an authoritative list widely recognized by the industry, it covers four sections: electrification, mobility, innovative services and connectivity, and the selection criteria involve six dimensions, including technological innovation, financial health, market performance, and capital recognition. The selected companies are considered to be a concentrated reflection of the ones that carry the creativity and the hope for change of the industry, representing an important part of the future of the automotive sector.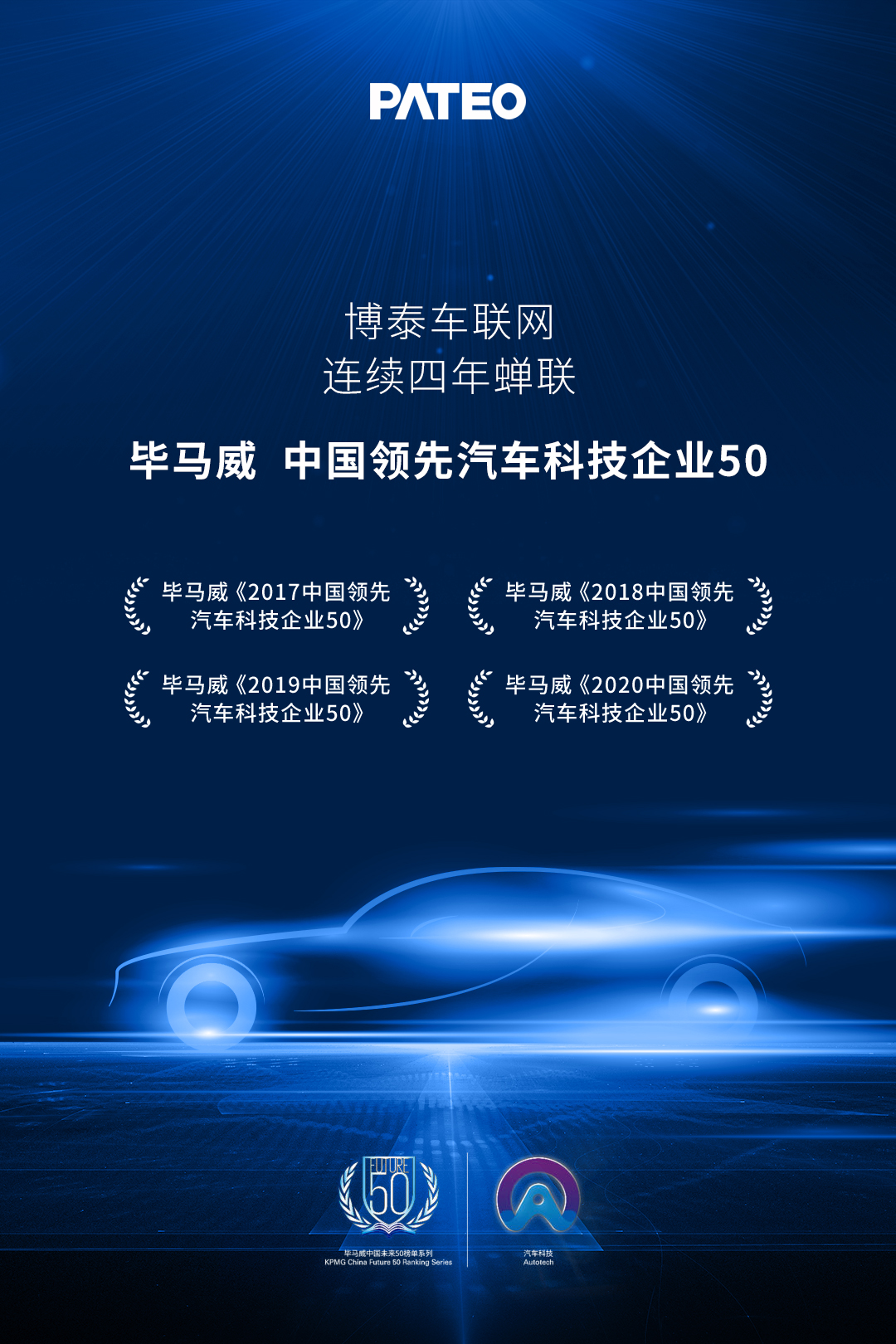 Ten-Year Deep Cultivation in the Field of Intelligent Connectivity Loaded with a Continuous Stream of Honors
After deeply cultivating the intelligent connectivity sector for more than a decade, PATEO has developed into an IV (intelligent vehicle) and IoV (Internet of Vehicles) enterprise with an industry-leading capital structure and business scale, as well as abundant resources of automotive clients in China, providing R&D, manufacturing and subsequent supporting services of intelligent telematics system, while offering user-oriented software application development and operation in the smart cockpit, autonomous driving & vehicle domains based on SOA (service-oriented architecture) and "software defined vehicle (SDV)".
As a representative of Shanghai's private high-tech & manufacturing industries, a leading enterprise during the construction of Shanghai Science and Technology Innovation Center, Shanghai Intelligent Connected Vehicle Terminal Engineering Technology Research Center, and Shanghai Intellectual Property Advantaged Enterprise, PATEO has always taken technology as a cornerstone, and focused on innovation and R&D: Since its establishment, the company has cumulatively invested more than CNY 1 billion in R&D, and been continuously investing more than 30% of its operating revenue in it, boasting a full set of qualifications for operations in China's IoV market; applied for a total of over 5,100 intellectual property rights (IPRs), 82% of which are invention patents, ranked 104th on the list of "China's Top 500 Companies by Patent" in 2019 and 403rd on the list of "2020 World IoT Top 500 Enterprises", securing sixth place on "China's Autonomous Driving Patent Ranking" and winning "Award for Excellent Enterprises in Automotive Intellectual Property" in 2021.
Build on the Foothold of Product Innovation to Create the Ultimate User Experience
On the strength of its technology accumulation and product delivery experience over the years, PATEO has in its possession the core technology platforms in operating system (OS), intelligent voice, hardware, high-definition (HD) map, cloud and so on, with R&D centers in Shanghai, Beijing, Shenyang, Dalian, Changchun, Wuhan and Shenzhen, among other places. Its client base covers 130-plus vehicle models of 36 luxury, joint venture (JV) & self-owned auto brands, with 360-plus vehicle variants iterated, nearly 1,000 projects implemented, and business extended to more than 30 countries and regions while maintaining a high growth rate every year. Among them, the intelligent terminal business has been cumulatively implemented with 17 brands, covering 33 models and 160-plus iterative variants, while the IoV cloud business 15 brands, covering nearly 100 models and 200-plus iterative variants.
In this ever-changing Internet era, extended thinking, fast-paced following, implementable solutions, and the creation of more user experiences are one of the secrets that have helped PATEO achieve success, but minimizing the complexity, clarifying the cumbersome logic, and allowing more common users to accept the information delivered by PATEO are the fundamentals of what it wants everyone to know.
PATEO believes that only by working with the various most innovative clients and partners to offer the 3U (Ultimate Quality, Ultimate Experience & Ultimate Interaction) products and services through 6- to 24-month of pragmatic implementation, can we win the favor of the user; and only when the user loves our products, can we win their trust and thus form a deep relationship of mutual trust and win-win cooperation.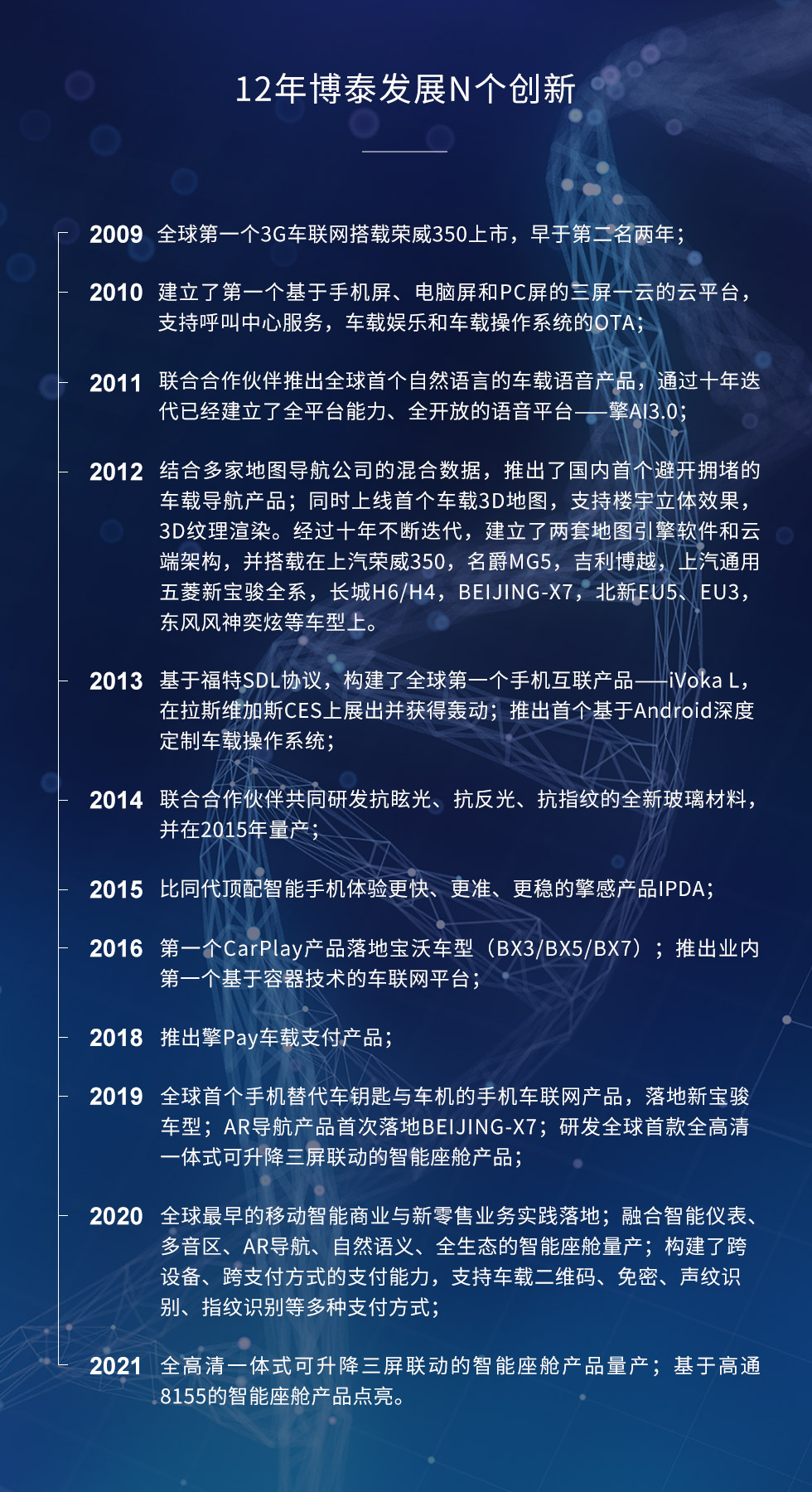 Speed up Deployment in Advanced Manufacturing Achieve Win-win Evolution with Industry Chain
For the automotive and the intelligent connectivity industries, advanced manufacturing technologies and industry chain integration capabilities are one of the keys to development. As an independent third-party IoV enterprise, PATEO has been attaching great importance to smart manufacturing, and while accelerating innovation, it ensures that the quality, procurement, supply chain, production and aftersales systems meet the standards of world-class automotive companies. As early as July 2020, its Xiamen Smart Manufacturing Factory had completed its first production.; one year later, the first of its second-phase production lines has also successfully reached the designed capacity recently.
It is an independent R&D base of PATEO, receiving a total investment of CNY 2.1 billion, and covering a lot area of 29,495m2 with a floor space of 63,456m2. As an important deployment for building a "moat" for PATEO technology R&D and implementation, it is not only a pilot R&D innovation center that could meet the current and future needs for the R&D, validation and evolution of intelligent connectivity technologies, but more of a smart manufacturing factory that integrates R&D, process design, supply chain, production & manufacturing, and quality assurance. It is estimated that the factory will achieve its annual production capacity target of 1 million sets by the end of 2021, with total annual production capacity expected to reach 2 million in 2022.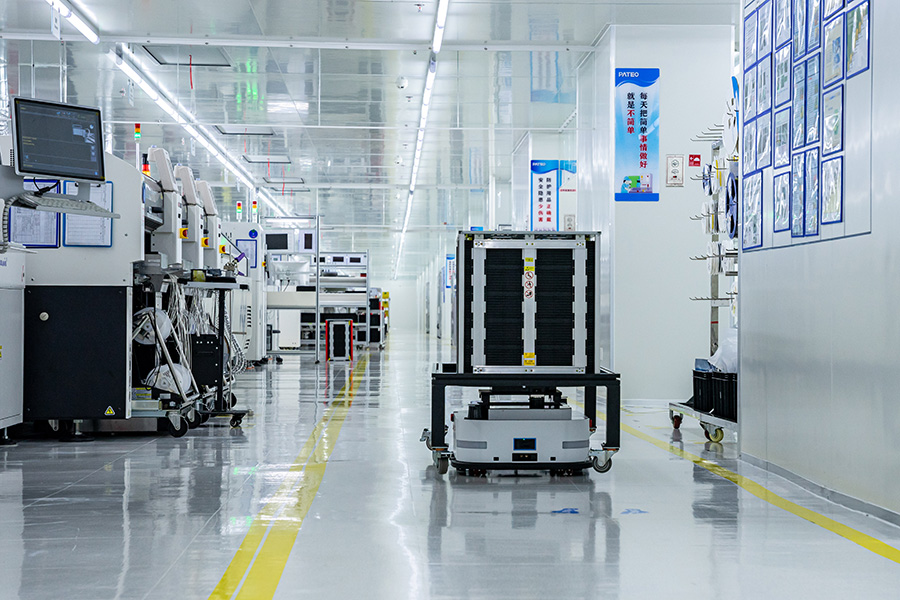 The year 2021 is not only the first year of the "14th Five-Year Plan", but also the year witnessing the surging tide of global automotive intelligence. In a boat race, those who row the hardest will win. PATEO will continue to uphold the "3I Spirit", namely "Insight, Innovation & Integration"; and with a "Specialized, Refined, Characteristic & Novel" business model as the direction, focus on the main business, work hard to build up internal strength, strengthen innovation, fully incorporate the new requirements of the "14th Five-Year Plan" as well as those for the medium and long-term development of advanced manufacturing industry, and closely follow the requirements of such initiatives as the "3+6" new industrial system (namely 3 pilot industries + 6 key industries), the growth pole of high-end manufacturing industry, the digital transformation of economy, green & low-carbon development, and the construction of five new cities, so as to help Shanghai quickly make a good start of the "Made in Shanghai" brand, and accelerate its move towards a global excellent manufacturing base!