PATEO CONNECT+ Passes Functional Safety Management System (FSMS) Certification of TÜV Rheinland, Germany
On Sep. 20, 2022, PATEO CONNECT+ Technology (Shanghai) Corporation (hereinafter referred to as "PATEO") was awarded the ISO 26262 Functional Safety Management System (FSMS) ASIL D (Automotive Safety Integrity Level D) certificate by the international independent third-party testing, inspection and certification body TÜV Rheinland, Germany (hereinafter referred to as "TÜV Rheinland").
Chen LIANG, CTO (Chief Technology Officer) of PATEO; Siesun (Shisong) CHENG, Deputy Director of Software, Quality Center of PATEO; Dr. Weikang CHEN, Vice President of Business Stream Industrial Services & Cybersecurity at TÜV Rheinland Greater China and Senior Engineer; and Jiayue YANG, Deputy General Manager of Business Stream Industrial Services & Cybersecurity at TÜV Rheinland Greater China, attended the certificate awarding ceremony.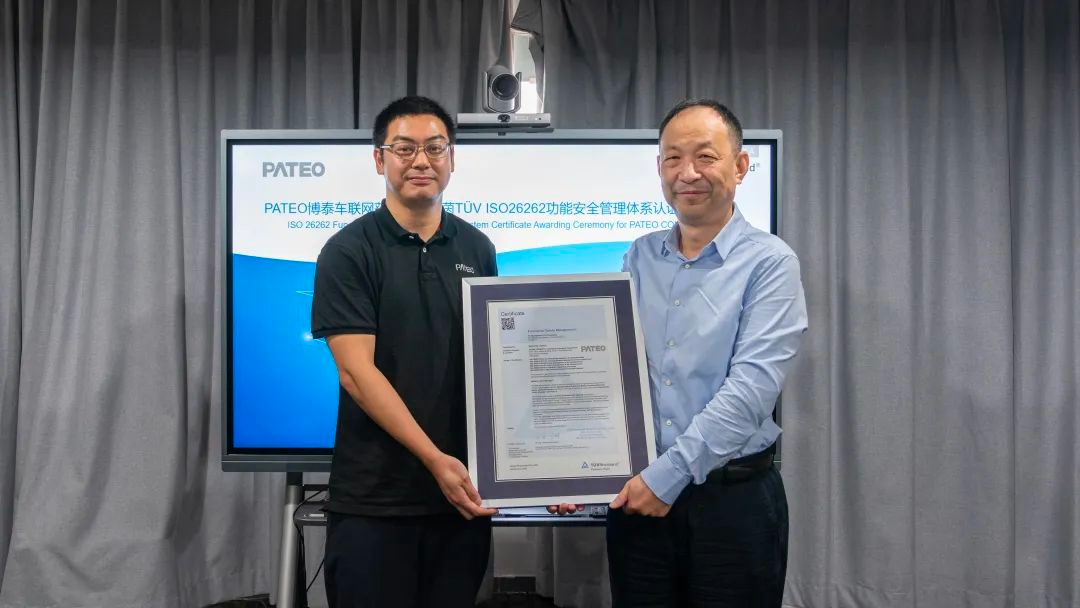 The ISO 26262:2018 Road Vehicles — Functional Safety is a global standard formulated by the International Organization for Standardization. Passing the ISO 26262 FSMS certification of TÜV Rheinland this time demonstrates PATEO's strength in safety development and management, representing another key milestone in PATEO's development in the field of automotive parts and components! The certification result not only indicates that PATEO is able to establish a complete product development management system that meets the highest Automotive Safety Integrity Level (ASIL D) in accordance with international standards, with the functional safety management process, functional safety analysis, system / hardware / software development process, support process, and others that are included in it all meeting the requirements of this standard, but also shows TÜV Rheinland's full recognition of the actual project operation and implementation result of the PATEO team, who is also going to take this opportunity to make continuous efforts in the field of product safety, to offer a solid and powerful guarantee for the development of advanced autonomous driving!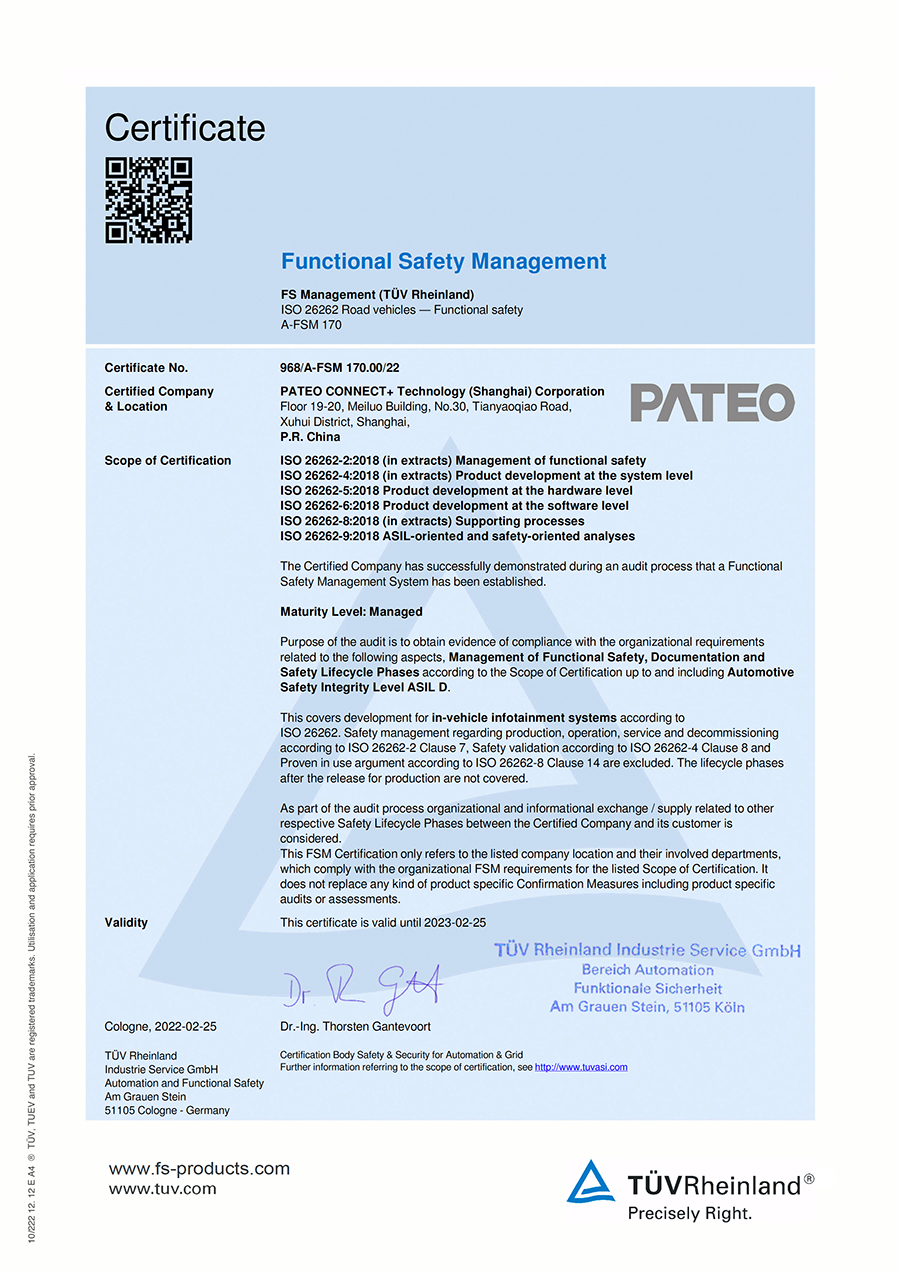 ▲ ISO 26262 Functional Safety Management System Certificate Awarded to PATEO
At the certificate awarding ceremony, Chen LIANG said, "Obtaining the certificate only serves as the first step in PATEO's functional safety capability building. In the days to come, we will increase investment, continuously enhance personnel capabilities, collect industry knowledge, and accumulate project experience, so as to build a PATEO functional safety system that is able to be implemented and continuously improved; we will continue to deeply cultivate the promising "fertile land" of vehicle networking, accelerate innovations in technology, product & model, and promote new concepts, new technologies and new models to empower the development of emerging industries, so as to — with a 'heart' that sticks to the right path and a 'soul' for making innovations lead the high-quality development of the enterprise." Besides, he expressed his gratitude to TÜV Rheinland for providing work support for PATEO, highly recognized it, and hoped that both parties would jointly fulfill their safety mission to protect safety in an all-round way in future.
Dr. CHEN extended his congratulations to PATEO on the successful establishment of a functional safety management system which has also reached the highest level, ASIL D. He said that while pursuing higher performance and more sophisticated technologies, PATEO has always put functional safety of products in the most important position. The acquisition of the FSMS certification evidences PATEO's determination and strength to practise international standards and pursue excellence. In the near future, the two sides will carry out deeper cooperation in the fields of functional safety products and vehicle cybersecurity, coordinating with each other to achieve mutual success.
About PATEO
As a leading enterprise in China's intelligent connectivity field, since its establishment 13 years ago, PATEO has cumulatively invested nearly CNY 2 billion in R&D, and applied for a cumulative total of over 6,000 intellectual property rights (IPRs), more than 85% of which are invention patents; possessed leading-edge technologies and products in the fields of smart cockpit, autonomous driving domain controller, etc.; boasted a complete team covering functions ranging from hardware and software to cloud; accumulated rich technical experience in the fields of OLED, autonomous driving domain, cockpit domain, software cloud, operating systems (QNX, Linux, Android & OpenHarmony), and smart parts & components (e.g., automotive lights and smart surfaces), among others; and completed a comprehensive industry chain layout.
Headquartered in Shanghai, PATEO has established R&D centers in Nanjing, Shenyang, Dalian, Shenzhen and Wuhan; branch offices in Changchun, Beijing and Regensburg, Germany; and a smart manufacturing base in Xiamen, demonstrating strong and complete R&D, production and delivery capabilities, and boasting a client base that covers nearly 100 vehicle models of close to 30 luxury, joint venture & self-owned auto brands, with fast-paced business growth maintained every year.
About TÜV Rheinland
As one of the first international third-party certification organizations to carry out functional safety & cyber security businesses in China, TÜV Rheinland has participated in the formulation of standards as a core member of the editorial board; it has always been a leader in automotive testing and certification, providing one-stop solutions for OEMs and parts & component suppliers, and services covering ISO 26262, Automotive SPICE, TISAX, ISO/SAE 21434, GDPR, penetration testing, etc., in the field of automotive functional safety and cyber security, to fully meet the needs of enterprises for " total safety & security".
All its functional safety & cyber security experts are elites with R&D background, who have won a high degree of recognition and trust in the industry owing to their years of experience in safety system R&D and functional safety certification as well as accurate understanding of standards.
By virtue of its adherence to the rigorous pursuit of technology, as well as fast response to new technologies, new standards and new trends, it will help PATEO develop rapidly in the field of automotive parts and components, while improving product safety and quality.