Consecutive Win! Again, PATEO CONNECT+ Makes Dual Lists of Top 100 Enterprises in Shanghai's Private Manufacturing and Emerging Industries
On Aug. 30, the 2022 Top 100 Shanghai Enterprises was released. After being selected in 2021, this year PATEO CONNECT+ (hereinafter referred to as "PATEO") has once again won the dual honor, ranking 75th among the top 100 in the private manufacturing industry and 85th among those in the emerging industries.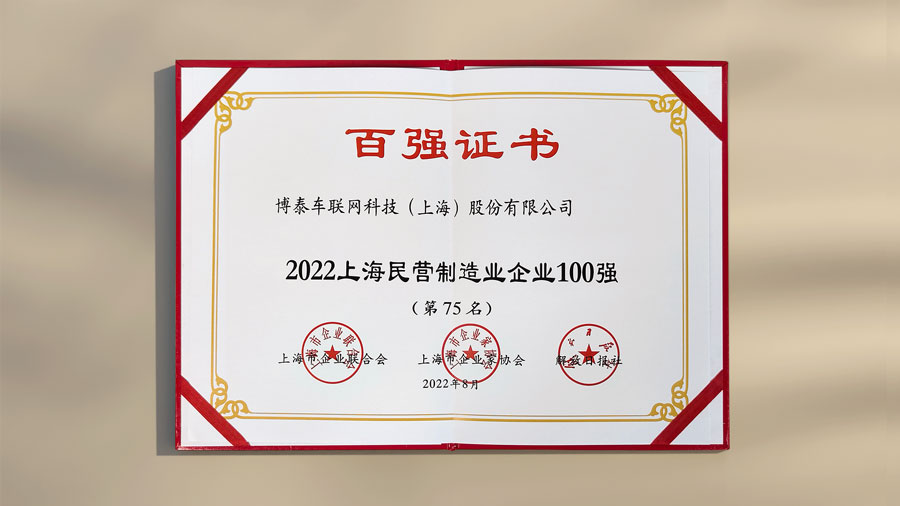 The ranking was jointly released by Shanghai Enterprise Confederation, Shanghai Entrepreneurs Association, Shanghai Federation of Economic Organizations (SFEO) and Jiefang Daily. The list together with the development report indicate that the top 100 enterprises in general demonstrated a good development trend of rapid growth in 2021: their main business indicators showed double-digit high growth, and the development of the emerging industries maintained high-speed growth, becoming an important driving force of their development; also, the top 100 in both the manufacturing and the service industries witnessed steady growth momentum.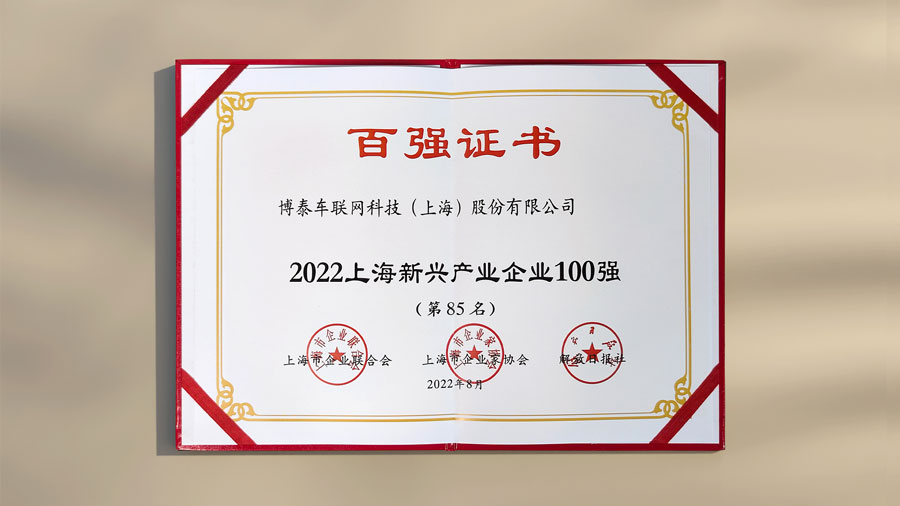 It is on the strength of its well-proven internal drive for technological innovation and credibility for delivery of what are ingeniously manufactured that PATEO has again made the cut. "In the past year, not a single client has stopped production because of PATEO. So far, our chips have never been in short supply. The company's system capabilities have been tested, and new business opportunities created," said Ken (Yilun) YING, the founder. By the end of July, its cumulative deliveries of smart cockpit products had approached 300,000 units, an increase of 116% year-on-year; its users had made 430 million trips, used navigation feature for nearly 137 million times, and covered 3.19 billion kilometers, equivalent to the distance of 29 round trips to Mars. Besides, in the first half of this year, PATEO even achieved a contrarian rise in revenue despite the frequent occurrence of various "black swan" events; also, in the first four months of this year, it realized a year-on-year increase of 82.7% in average monthly production and a 70% year-on-year increase in revenue, with current order amount exceeding CNY 15 billion.
As a leader in China's intelligent connectivity field, after 13 years of painstaking research, PATEO has become a provider of "hardware / software / cloud" technologies and services that cover the whole process of intelligent vehicles (IVs); applied for a cumulative total of over 6,000 intellectual property rights (IPRs), more than 85% of which are invention patents; possessed leading-edge technologies and products in the fields of smart cockpit, autonomous driving domain controller, etc.; boasted a full set of capabilities ranging from hardware and software to cloud; accumulated rich technical experience and completed a comprehensive industry chain layout in the fields of OLED, autonomous driving domain, cockpit domain, software cloud, operating system (OS), and smart parts & components, among others.
Being selected for 2 years in a row is not only a recognition of the past achievements of PATEO, but even more of a driving force for its future development. In the days to come, the company will continue to cultivate the promising "fertile land" of vehicle networking, accelerate innovations in technology, product & model, and quicken up the promotion of new concepts, new technologies and new models to empower the development of emerging industries, so as to —— with a heart that "sticks to the right path" and a "soul" for making innovations —— lead the high-quality development of the enterprise, and boost the vigorous & upward momentum of China's auto industry in an intelligent way, for it to change the game and get under way.