PATEO CONNECT+ and T3Go Reach Strategic Cooperation to Jointly Build New Smart Mobility Ecosystem
On Jun. 21, PATEO CONNECT+ (hereinafter referred to as "PATEO") announced that it has entered into a strategic partnership with Nanjing Lingxing Technology Co., Ltd. (hereinafter referred to as "T3Go"), through which the two sides will carry out in-depth cooperation in smart cockpit, High-Precision Positioning (HPP), user operation, forward planning and other fields. Kai CHENG, CSO (Chief Strategy Officer) of T3Go, together with Bill (Yi) ZHANG, EVP (Executive Vice President) of PATEO, were present at the signing ceremony, and Dayong CUI, CEO of T3Go, along with Ken (Yilun) YING, founder & Chairman of PATEO, attended online.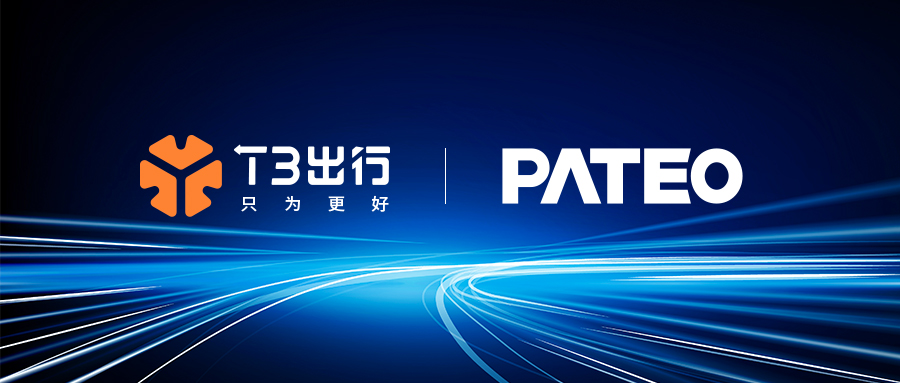 According to the cooperation agreement, PATEO will conduct long-term strategic cooperation with T3Go in relevant subsectors around the IoV industry chain, establish a smooth collaboration mechanism, and build multi-level communication channels in the fields of strategic planning, innovative R&D, and business collaboration, among others.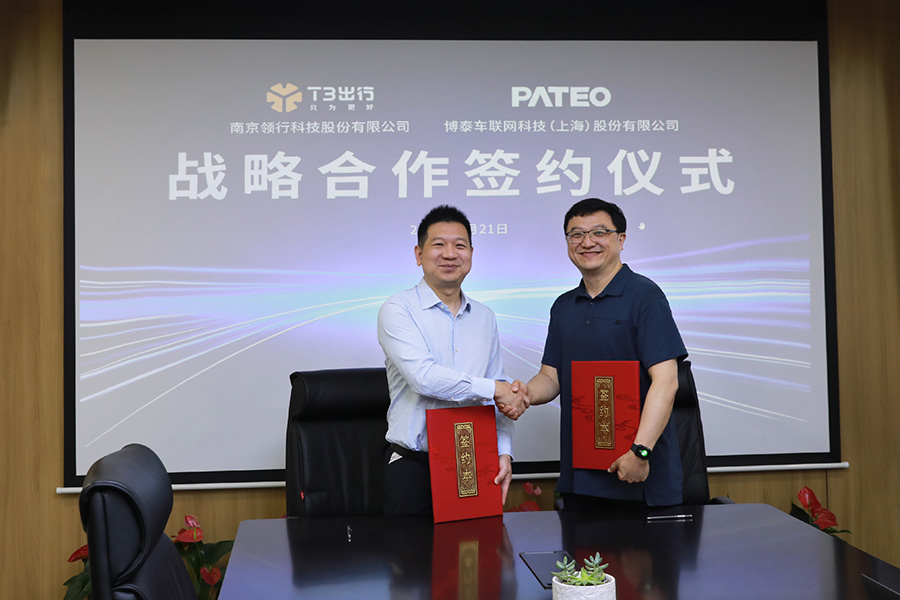 Left: Kai CHENG – CSO, T3Go Right: Bill ZHANG – EVP, PATEO
As an IoV enterprise boasting practical experience in the whole process of automotive connectivity in the smart cockpit field, PATEO will work with T3Go on innovative design and R&D by giving full play to its technological innovation strength as well as complete production and delivery capabilities, and centering on the next-generation smart cockpit that is based on the domestic self-developed chip platform, equipped with V.D.R (Vehicle-Driver-Road) Pro Max system and suitable for mobility service scenarios, with the aim of maximizing the integration of their respective advantages in the mobility service scenario and the AI algorithm fields, crafting more intelligent and standardized smart cockpit hardware products, and promoting the industrialization of key smart cockpit technologies for online ride-hailing service scenarios.
PATEO will also leverage its technological superiority in HPP modules to join T3Go in taking a deep dive into the potential for increasing data value, and exploring the role of HPP in data monitoring and positive guidance of driving behavior, thus enhancing the overall market competitiveness of both sides.
Regarding this strategic cooperation, Dayong said, "PATEO possesses full-stack software / hardware / cloud / system development capabilities, and has made a lot of achievements in building platforms on the bottom layer (for Software-Defined Hardware [SDH], data service, information security, and operating system [OS]), middle layer (for middleware, AUTOSAR, and chip adaptation), and application layer (HMI [Human-Machine Interaction], algorithm, and software stack), so on and so forth. On this account, T3Go is to cooperate deeply with PATEO in forward-looking areas. We'll base on the HMI and the Internet of Everything (IoE) concepts of robotaxi, to explore the forward planning & design of smart cockpit scenarios in future mobility sector, facilitate the iteration of core technologies, application ecosystem, etc., and enhance the capability of collaborative application of autonomous driving."
Ken said, "In the days to come, the cooperative relationship between PATEO and T3Go will also extend to the user operation field. We'll combine the real mobility scenarios and the huge amount of scenario data of T3Go with the unique 'Smiling Curve' of PATEO that links up 'Design / R&D + Marketing / Operation', to convert user needs into innovation highlights, create highly adaptable products and services, thus continuously improving user experience, and promoting the mutual benefit & win-win outcomes for both of us."