Debut of Voyah (Lantu) Dreamer Powered by PATEO CONNECT+ Qualcomm 8155 Smart Cockpit Platform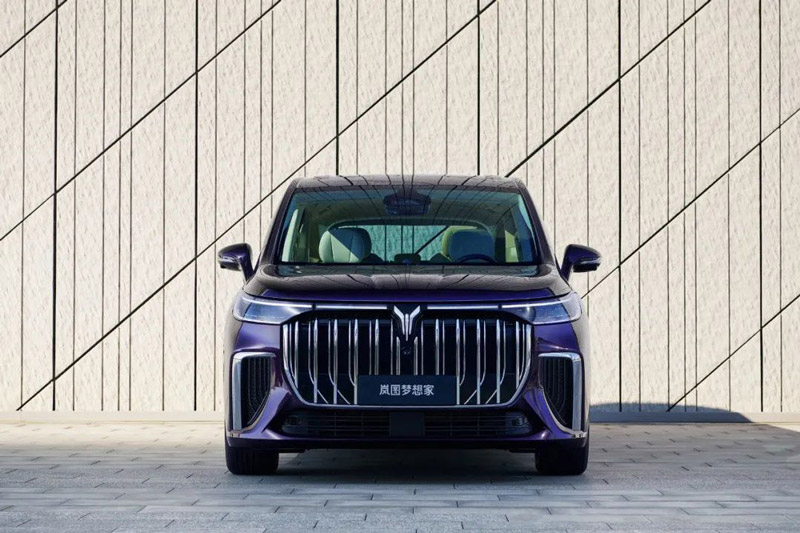 On Apr. 7, Voyah (aka Lantu) Dreamer officially launched advance sales. The new model is positioned as the first large-size luxury flagship MPV under Voyah, and equipped with a smart cockpit newly designed by PATEO CONNECT+ (PATEO), which is based on Qualcomm Snapdragon 8155 automotive chip to achieve unprecedented higher performance and lower power consumption, and thus bring the user a smart cockpit experience that surpasses its peers. As the second mass-produced cooperative model between PATEO and DFM (Dongfeng Motor Corporation) VOYAH after VOYAH FREE, the launch of advance sales of Voyah Dreamer marks a new chapter in the strategic cooperation between the two sides, thanks to which, the product strength and competitiveness of VOYAH Automobile have witnessed substantial enhancement, manifesting the confidence in technology brought by domestic independent R&D.
Empowered by Qualcomm 8155 Automotive Chip, Ultra-High Computational Power Brings Futuristic Experience
As the first MPV model equipped with Qualcomm 8155 chip by PATEO, the intelligent experience of the cockpit of Voyah Dreamer has, so to speak, ushered in unprecedented improvement. This Qualcomm 8155 automotive chip, or SA8155P by full name, is manufactured with the 7-nanometer (7nm) process, boasts eight compute cores, and is generally considered to be the most powerful cockpit SoC (System on a Chip) currently available for mass-produced vehicles in terms of performance, bar none. The basis for this judgement is obvious:
• First, the 84 GHz ultra-high frequency of its eight compute cores coupled with the 105K DMIPS super-high computing power of its neural networks will present the user with an unparalleled information processing speed and cockpit interaction experience;
• Second, due to its unique "1+3+4" tri-cluster architecture, its computing performance has improved by nearly 3 times that of the 820 platform, hence better performance and lower power consumption of the automotive cockpit applications;
• Furthermore, its efficient deep learning capabilities will also bring "real lifelike" natural interaction experience to the cockpit.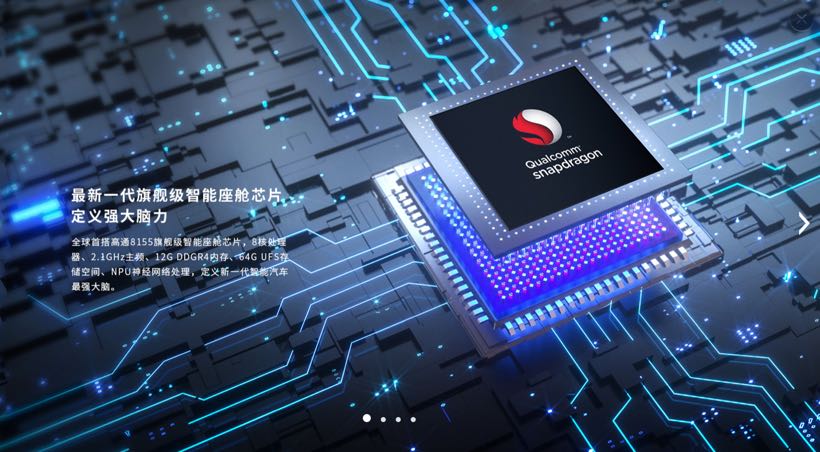 Multimodal Interaction and All-Scenario Ecosystem Help Intelligent Experience Upgrade
• The PATEO team integrates the design concepts of "Dawn & Sunrise" and "Chasing the Light & Soaring to the Skies" into the visual HMI (human-machine interaction) interface of Voyah Dreamer, to present all users with a refreshing design pattern of the next generation intelligent cockpit, and provide the driver screen with a full range of interaction experience covering navigation, multimedia entertainment, as well as mobility & life services;
• The front passenger screen is dedicated to multimedia entertainment and life services;
• By realizing the seamless flow of navigation, multimedia and phone information between the cluster and the center console, the "intelligent experience" permeates every cell of the Dreamer's cockpit.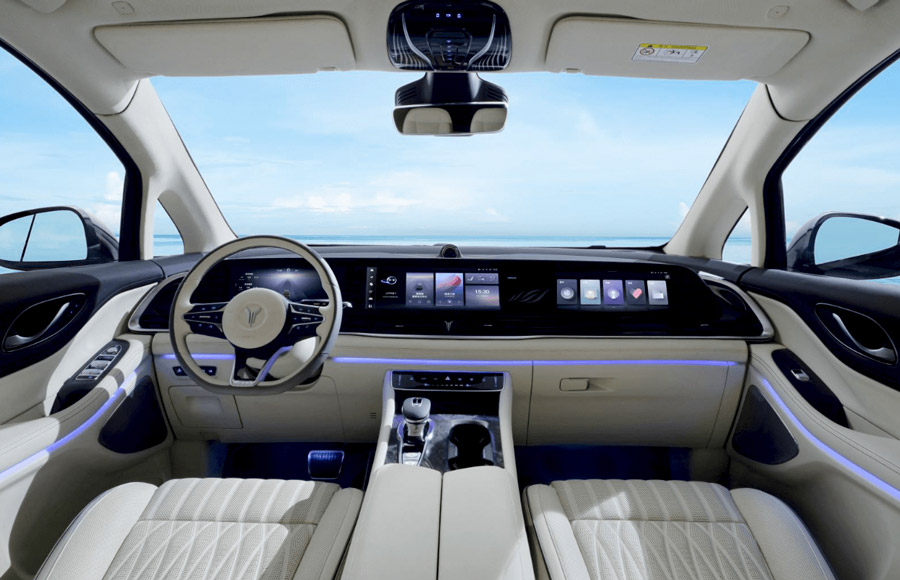 The enhancement of the interaction experience not only comes from the more optimal visual and functional design, as well as the multimodal interaction that is not confined to a single method, but is also an indispensable requirement for next-generation cockpit:
• First of all, in addition to traditional touch control and buttons, the intelligent cockpit of Voyah Dreamer also allows the user to perform multimodal interaction in various ways, such as touch screen gesture / air gesture / facial / voiceprint recognition and intelligent voice;
• The distinctive intelligent four-zone voice interaction system by PATEO offers a wider-range and higher-precision voice recognition capability, allowing the user to realize barrier-free communication in any corner of the cockpit;
• And the powerful features of PATEO voice system, including global wakeup-free, multi-round voice interaction, contextual vehicle control, personalized TTS, and custom scenario, have truly enabled "See It, Say It in All Scenarios" during cockpit interaction, and help the intelligent cockpit become a "smart companion" that keeps engaging in a "lively conversation" with the user.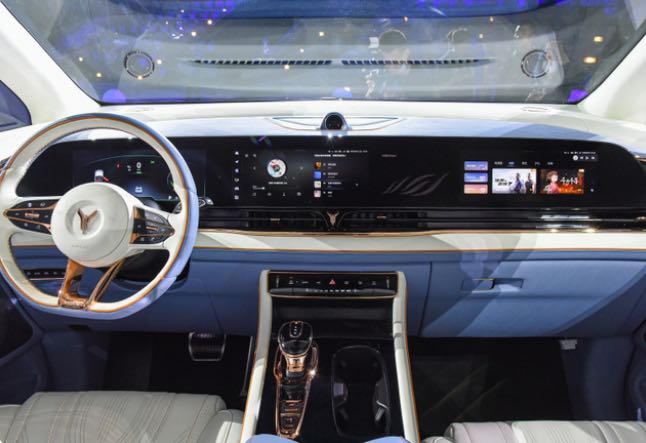 For the intelligent cockpit experience to tend towards perfection, besides natural and smooth interaction, a rich variety of driving pleasures are also essential. PATEO has equipped the smart cockpit of Voyah Dreamer with eco services that cover all scenarios, including entertainment service content encompassing music, radio, video and KTV; mobility services represented by gas station inquiry, car parking & wash, and airport parking; as well as life services represented by schedule management, hotel booking, food inquiry, and flight ticket purchase.

What's more, the automotive OTA updates make the intelligent cockpit full of vitality and stay at the forefront of technology, thus helping the Voyah Dreamer to become a "vessel" that never stops for the user to "chase dream".

As an IoV enterprise boasting a leading capital structure & business scale and a rich source of automotive clients in China, PATEO has made its smart cockpits widely equipped on the star models of many mainstream car manufacturers. Currently, it has possessed five core technology platforms in operating system (OS), intelligent voice, hardware, high-definition (HD) map and cloud, and completed the implementation of smart cockpit on multiple mass-produced models based on the 8155 platform, and is committed to empowering the development of the intelligent vehicle (IV) industry with the unique model of combining design, R&D and marketing operations, while offering user-oriented software application development and operation in the smart cockpit, intelligent drive & body control domains based on the SOA and the "Software Defined Vehicle (SDV)" concept. In the days to come, it will continue to devote efforts based on the 8155 platform, to build an even brighter future of smart mobility for OEMs and industry chain partners.