On Dec. 21, the 2021 Huawei IAS (Intelligent Automotive Solution) Ecosystem Forum & Huawei Intelligent Cockpit Ecosystem Industry Conference were held in Suzhou. On the theme of "Get Together to Share the Ecosystem & Co-create the Future", and focusing on the topic of sector-specific ecosystem, the forum gathered multiple partners in the automotive industrial ecosphere to deliver speeches on multiple topics, for a collision of ideas and sharing of wisdom & insights.
Huawei has always been adhering to the "Platform + Ecosystem" strategy, committed to "Bringing Digital to Every Vehicle", while working sincerely with partners in the industry to build a cooperative ecosphere, promote standard development, joint innovation, talent cultivation and industrial cooperation, and co-build an open, win-win & flourishing ecosystem.
Nowadays, the automotive industry is undergoing unprecedented changes: with the advent of the era of electric, connected & intelligent vehicles, the "Software Defined Vehicle, SDV" has become the core theme of the future transformation of automakers and suppliers, and the decoupling of hardware and software is expected to fundamentally change the players & value pattern of the auto industry and reshape the landscape of the industry chain. At this conference, PATEO CONNECT+ brought along its innovations in enterprise digital service solutions and reflection on the future development of intelligent vehicles (IVs).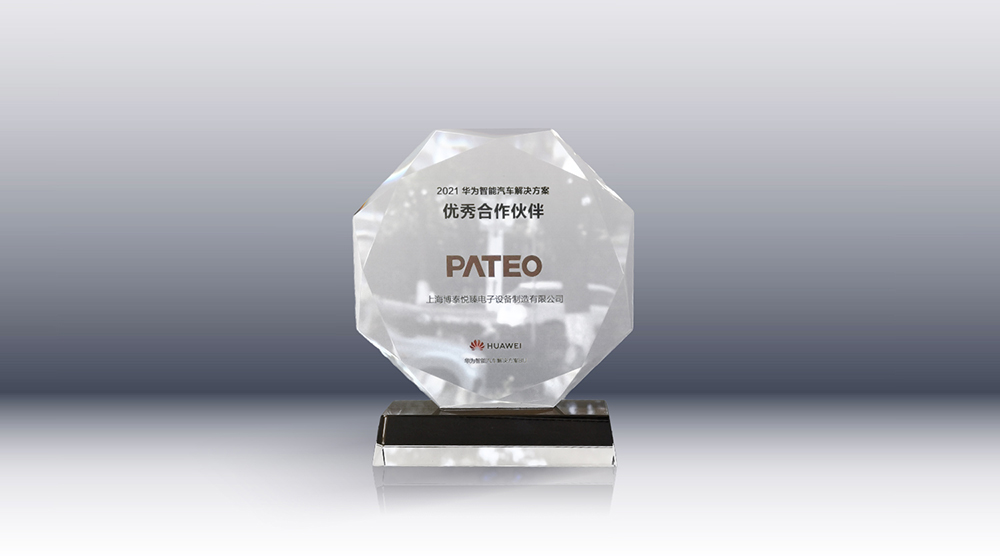 PATEO Wins "2021 Huawei IAS Excellent Partner Award"
PATEO was invited to attend the forum as a strategic partner of Huawei IAS BU in the intelligent cockpit domain controller field and selected as "2021 Huawei IAS Excellent Partner". It adheres to the "User First" strategy, and has been gradually transforming from an OEM partner to a partner with independent production capabilities in a continuous manner.
Since the first workshop between PATEO and Huawei IAS BU took place in 2020, the two sides have rapidly expanded their business coverage to multiple product lines and service areas, and reached an effective consensus on business model and division of responsibilities: Huawei puts its strategic focus on the chip, operating system (OS), and application ecosystem, and devotes attention to platformization and AppGallery, while PATEO provides custom software and hardware services for it.
In Feb. 2021, PATEO joined Huawei in participating in Volkswagen 2021 MMD, responsible for software development; at Auto Shanghai 2021 held in Apr. this year, the intelligent cockpit demo and the concept video of the next generation cockpit product jointly developed by the two were presented; in Jun. 2021, PATEO, in the capacity of a strategic partner, worked with Huawei IAS BU to develop new projects; in Nov. 2021, the first designated project with PATEO as a tier 1 and Huawei as a tier 2 supplier, was officially debuted.
Join Hands to Co-create a New Pattern for the IV Parts Industry Ecosystem
After constant upgrade of software, hardware, cloud services and other solutions, PATEO has, through continuous enrichment of cooperation models and business scenarios, achieved win-win cooperation with Huawei in the digital field. Currently, the high-end intelligent cockpit domain based on HarmonyOS and IVI module has become one of the important product solutions of PATEO.
In the future, the two sides will work in collaboration to co-construct a software application development ecosystem, generate large-scale backward revenue, and be committed to developing and controlling core technology capabilities. Against the backdrop of the vigorous development of digitalization and new infrastructure, PATEO will continue to revolve around Huawei to carry out systematic cooperation, deeply cultivate the practice in industry scenarios, and optimize user experience, so as to cooperatively drive the digital development of China's automotive industry.