Twelve years ago, Shanghai PATEO set foot in the IoV field of China, and created the 3G connected car based on Android OS.
Twelve years later, Shanghai PATEO has become one of the IoV enterprises with a leading capital structure and business scale in China. At the same time, based on its years of technology accumulation and product delivery experience, the company is already in possession of core technology platforms in operating system (OS), intelligent voice, hardware, HD map, cloud and other fields, with R&D centers established in Shanghai, Beijing, Shenyang, Dalian, Changchun, Wuhan, Shenzhen and other places.
Last year, it built an independent R&D base in Xiamen. It is learned that PATEO Xiamen factory is not only a leading R&D and innovation center that meets the current and future needs for the R&D, validation and evolution of intelligent connectivity, but also an intelligent manufacturing factory that integrates process design & R&D, production & manufacturing, and quality assurance (QA).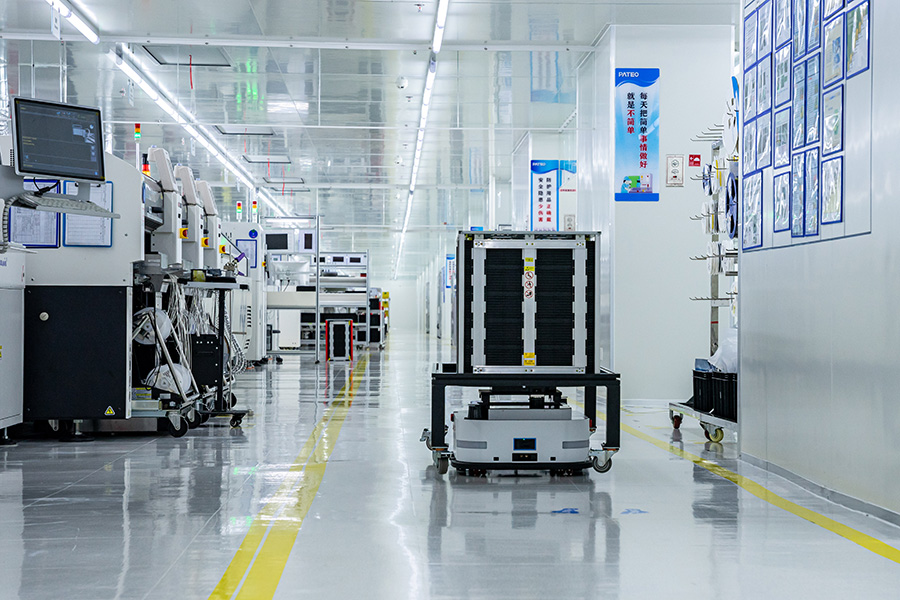 On the strength of its well-proven QA and delivery capabilities, PATEO boasts a client base covering 36 luxury, joint venture (JV) & self-owned auto brands and over 130 vehicle models, with 360-plus vehicle variants iterated, nearly 1,000 projects entering mass production phase, and business extended to more than 30 countries and regions, while maintaining a high growth rate every year.
As a delivery oriented R&D company with product innovation capability, PATEO owns a professional software and hardware technical team of 1,200 members, and has always maintained the "geek" spirit: not only has it independently developed full-stack solutions involving hardware, software and cloud of intelligent / smart cockpit, but also taken the preemptive opportunities in the integration of three domains (smart cockpit / vehicle control / autonomous driving domains), and even started the research of Central Processing Unit (CPU) in a forward-looking manner.
Furthermore, as an explorer, PATEO has been collaborating deeply with Huawei, CAIC (China Automotive Innovation Corporation), LingHang Technology (Nanjing LingHang Technology Co., Ltd.), Neta (Nezha) brand under Hozon Auto, etc., to accelerate the expansion of the intelligent / smart cockpit sector, and provide integrated three-side (hardware, software, cloud) solutions for the intelligent / smart cockpit, from the domain controller and OS to the application layer, with the aim of helping more partners to create a personalized driving / ride experience for the user with its open ecosystem.
Tripartite Cooperation between PATEO, Huawei and OEM to Create a Differentiated User Experience
Geely Geometry is PATEO's first major project based on HarmonyOS and the Kirin chip, scheduled to enter the mass production (MP) phase in mid-2022. During its cooperation with Geely and Huawei, PATEO is responsible for overall project management & control, user interaction design, custom software services, overall system integration, as well as the overall solution, delivery and production of hardware, including PCB and structural components.
In Dec. 2020, seven units, namely PATEO, Huawei, JD.com, Hoperun (Jiangsu Hoperun Software Co., Ltd.), ECARX (ECARX Technology Co., Ltd.), ISCAS (Institute of Software, Chinese Academy of Sciences) and Chinasoft International (in alphabetical order by the initial letter of their abbreviations), established the OpenAtom OpenHarmony (hereinafter referred to as "OpenHarmony") Project Group Working Committee under the organization of OpenAtom Foundation, and began to conduct open source community governance on the OpenHarmony project.
To address the industry's pain points of long R&D cycle, multifarious custom apps, poor user experience, and slow system iteration of the automotive smart cockpit, PATEO leverages its innovative technology R&D and intellectual property (IP) accumulation as a means to integrate the strength of the open source community and actively participate in the related work of the OpenAtom Foundation.
As a member of the OpenHarmony Project Group Working Committee and a donor of the OpenAtom Foundation, PATEO CONNECT+ has conducted in-depth cooperation with the OpenHarmony project in the field of IVI-based smart cockpit, while planning to launch and open the source codes of basic solutions.
However, the vision of PATEO is much more than that. It hopes to co-build ecosystems with partners and developers and open them, which, in the end, is expected to accelerate the application of OpenHarmony in the automotive industry and thereby optimize the mobility experience of the user.
Strong Alliance — Pool Innovation Strength with CAIC
In Oct. 2020, Shanghai PATEO and CAIC reached all-round cooperation centering on full-stack basic R&D in fields like automotive operating system (AOS), vehicle electronic architecture, vehicle domain controller, IoV application & mobility, big data, AI and cloud services, as well as joint R&D of core technologies and core underlying platforms to facilitate the industrialized implementation of the whole smart cockpit value chain.
Recently, the two sides have reached another cooperation on L3 autonomous driving and automotive millimeter wave (mmWave) 4D imaging radar products, which are believed to be able to lay a good foundation for PATEO's innovation and implementation in the field of vehicle electronics. 
One-Stop Total Guarantee to Help LingHang Technology Tackle Safety Problems
VDR 2.0, a product independently designed by PATEO for LingHang Technology, has already been implemented, which, in essence, is a vehicle interior / exterior real-time monitoring and control system produced on the basis of the travel safety guarantee that the nation attaches great importance to and requires. Featuring a small size, rapid alarm and accurate detection, the product helps tackle the issues related to travel safety guarantee, with a full set of aftersales service and operation support provided by PATEO.
Consisting of interior / exterior cameras, an alarm system and a cloud platform, it fulfills functions such as audio / video / image uploading & destaging, local AI computing, wireless communication and positioning through the intelligent hardware core, while allowing for vehicle power management and external data collection, supporting firmware update, and providing stable internet access for the original IVI.
Besides, PATEO is also researching a safety data based product for LingHang Technology, which, based on edge computing for autonomous driving, offers the latter the ability to determine and identify the responsibility for traffic accidents in the scenario of autonomous driving operation.
Newcomer and the Next Generation IV — PATEO Joins Nezha in Co-creating a Future-Oriented Smart Cockpit
It is understood that PATEO has also joined the vehicle manufacturing newcomer — Nezha, in co-building the overall cockpit software & hardware of the future, and carrying out strategic cooperation on display device and cockpit domain controller. 
The so-called "domain" is to divide the automotive electronic system into several functional modules by function, with the system architecture within each module constructed on the basis of the domain controller. Generally speaking, a domain controller is able to divide various functions of the automotive electronics into multiple domains, e.g., autonomous driving / smart cockpit / powertrain / body electronics / chassis domains. Nowadays, the domain controller of smart cockpit is no longer limited to the realization of multi-screen connectivity, but also integrates the In-Vehicle Infotainment (IVI) system, Human-Machine Interaction (HMI) system, Advanced Driver Assistance System (ADAS), Driver Monitoring System (DMS), Head-Up Display (HUD), a terminal for intelligent & connected vehicles (T-Box), A/C controller, etc.