Shanghai PATEO Wins "Award for Excellent Enterprises in Automotive Intellectual Property"
Recently, the Intellectual Property Branch of China Society of Automotive Engineers (China-SAE) held a mid-term committee meeting. Based on the declaration of corporate and individual members, followed by the review of committee members, eight companies were finally selected as the winners of the "Award for Excellent Enterprises in China's Automotive Intellectual Property in 2021". Shanghai PATEO Electronic Equipment Manufacturing Co., Ltd. (hereinafter referred to as "Shanghai PATEO") is one of those making the list.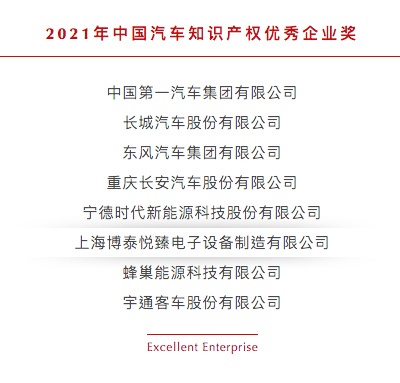 Shanghai PATEO has always been taking technology as the cornerstone, and laying stress on innovation and R&D. In the twelve years since its establishment, the company has invested more than CNY 1 billion in R&D, possessed a full set of qualifications for operations in China's IoV market, and applied for over 4,900 intellectual property rights (IPRs), 82% of which are invention patents, ranked 104th on the list of "China's Top 500 Companies by Patent" in 2019, and 403rd among the "2020 World Internet of Things (IoT) Ranking List Top 500".
It has set up a dedicated department to manage intellectual property (IP), established a three-level IP work management system with the founder & Chairman as the person in charge, and issued and implemented internal rules & regulations for IP work, including dozens of management systems for patent, trademark, copyright, and standard, to ensure the effective operation of patent management and achievements transformation work mechanisms.
It also regularly organizes relevant personnel to attend IP trainings, discuss and determine the goals of patent strategy as well as key products & technologies of the company, and set up & improve the company's patent database as well for document retrieval, analysis, among others.
At the same time, based on the competitors' patent layout as well as its own patent ownership and R&D capabilities, the company has developed a patent strategy and been improving it, with the aim of building an innovation mechanism for sustainable development; also, through the incentives for IP, such as rewards for patent application & exploitation, it encourages employee innovation, and stimulates their innovation potential. Currently, it's cooperating with a famous law firm for the lawyers to undertake the overall IP related work and protection of achievements.