PATEO CONNECT+ "Qing AI Voice Platform" Wins 2020 Lingxuan Awards
On 26 Nov., the China Auto Supply Chain Summit (CASCS) 2020 & the 2020 Fifth Lingxuan Awards Ceremony were held at Liantou Peninsula Hotel & Resort (in Wuhan).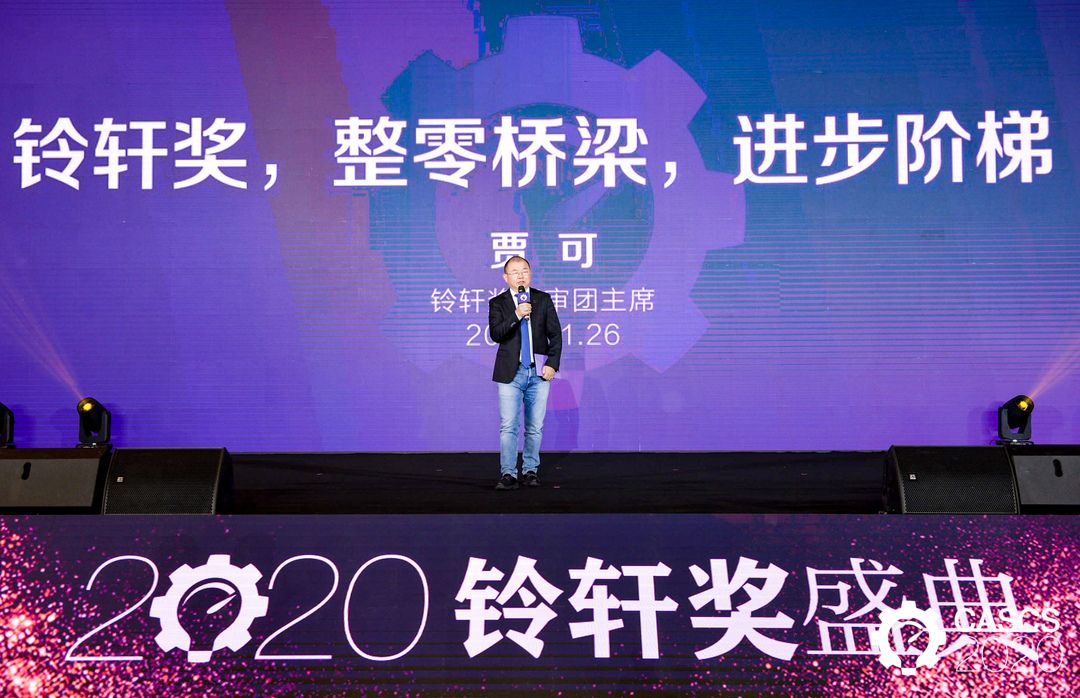 PATEO CONNECT+, by virtue of its "Qing AI Voice Platform", has once again won unanimous praise from the Lingxuan Awards Jury, and got a "best case nomination in 2020 — The 5th China Auto Parts Industry Awards (Lingxuan Awards) 2020 for Excellent Mass-Produced IoV Products".
The Lingxuan Awards, which was initiated and set up by Auto Business Review in 2016 in conjunction with relevant organizations, aims to discover and encourage the outstanding talents and emerging forces, as well as to commend the leading representatives in the auto parts industry, while providing automakers with technology-first supply chain considerations. It has grown to be the most authoritative evaluation agency of local parts industry in China, and gradually become the most valuable communication platform between suppliers and OEMs. Since 2020, more than 20 purchase heads from China's mainstream auto companies have joined the Lingxuan Awards Jury, making this most authoritative auto parts evaluation event of China more professional and practical.
This time, that PATEO Qing AI voice platform is able to stand out from the more than 100 domestic excellent parts companies not only affirms PATEO's R&D technology level and product innovation capabilities, but once again shows that the application prospects of the platform have been unanimously recognized by mainstream automakers.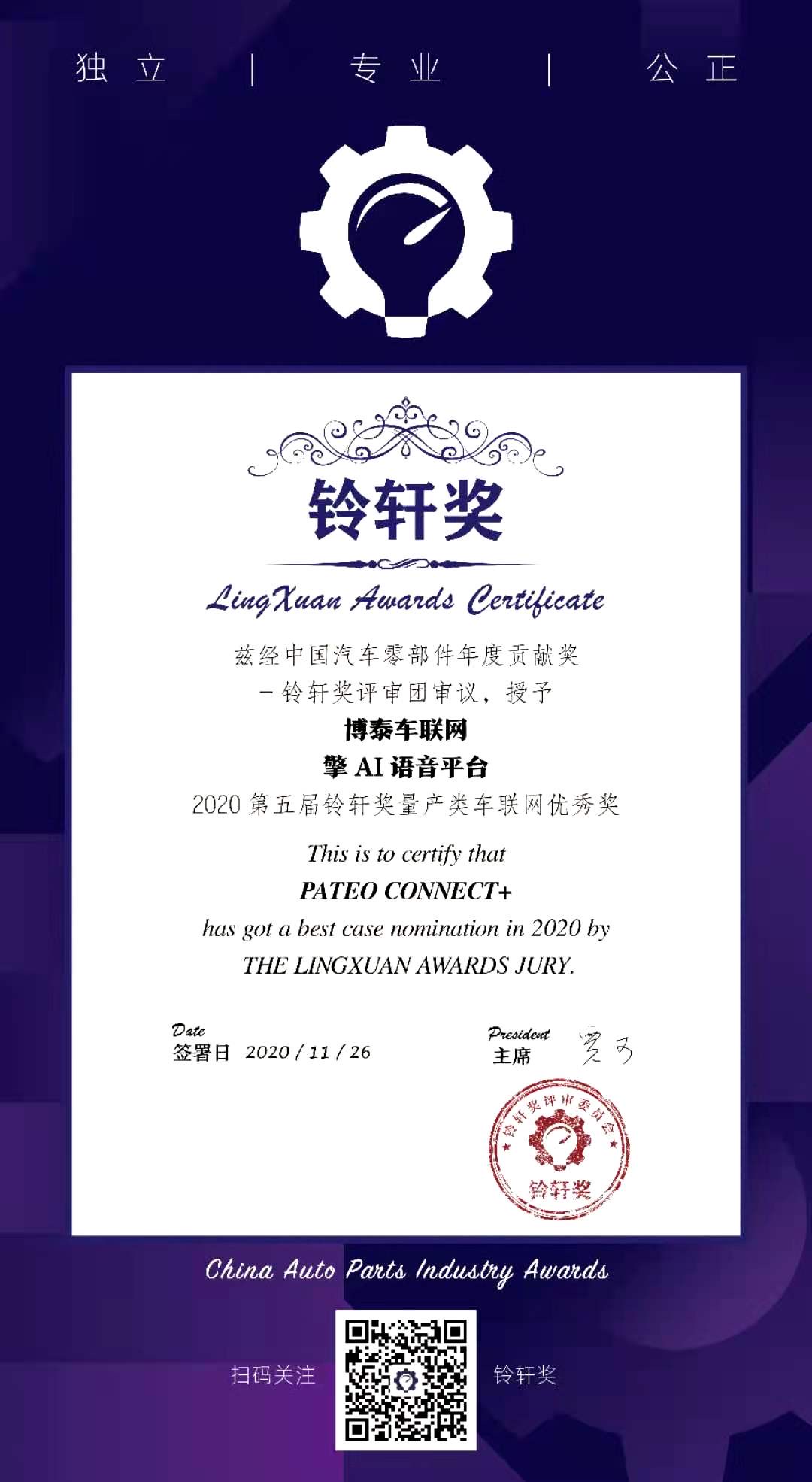 PATEO CONNECT+ is the first company in the world to work on in-car Chinese speech recognition, and also the only company in the IoV industry that owns a voice platform. After 6 iterations, the Qing AI voice platform has evolved to Qing AI 3.0, fully independently controllable, and capable of delivering an industry-leading user experience.
Based on its years of experience in voice R&D, PATEO believes that the ultimate voice interaction experience should be credited to its accumulation of industry experience and rigorous data over the past years, which will cover all user scenarios, be interconnected across multiple terminals, open and pluggable, and by no means closed.
PATEO Qing AI, the Lingxuan Awards winner, not only boasts the industry-leading voice experience featured by a fast speed, strong multi-turn dialogue capabilities, accurate speech recognition in high noise environments, high-accuracy recognition of low voice and precise recognition of ultra-long texts, but also supports the integration of offline and online voice services, realizing complex natural language dialogue scenarios with full-duplex interaction through efficient voice recognition, multi-dimensional semantic processing and personalized voice interaction, thereby an intelligent and human-like voice assistant for the user.
More importantly, it is an automotive AI product that comes with platform based capabilities, and supports custom configuration to create a personalized experience. Specifically, it has the following features:
1) Platform based: The Qing AI voice platform is a complete R&D system and configurable capability platform that is able to achieve accurate & efficient voice distribution and multi-skilled result arbitration. This platform-based Qing AI supports project-based pluggable custom services, while ensuring the iterative upgrade of the platform; currently, version 3.0 of the platform has been released.
2) Flexibility: It supports delivery of voice services providing different skills based on project and vehicle model and in accordance with the requirements of each project, thus meeting different business needs through a set of efficient and flexible custom services; it can be quickly applied to various OEM projects, supports multiple integration methods of different systems such as Linux and Android, and different terminals such as IVI and cell phone, and is therefore capable of quickly empowering AI-based interaction experience, and offering intelligent voice products that are competitive in the IoV industry.
3) All in Qing AI: The Qing AI voice platform provides services for more than 1,000 scenarios in 40-plus areas, covering all aspects of the user's daily life such as mobility, media, entertainment, business, dining, accommodation, and socializing. At the same time, it enables the interconnection between the vehicle and the smart home devices, TV, watch, sensor, drone and multiple other IoT terminals; that is, AI empowers the mobile space — All in AI.
4) Humanization: The Qing AI voice platform offers a voice soulmate, which pushes life reminders and recommends various life services to the user in real time, thoughtfully and attentively, through user preference analysis, in combination with the interaction mode that integrates multiple senses, such as image recognition, gesture interaction and emotion perception — in life, it is not only an assistant, but also a companion.
5) Ultimate experience: Qing AI provides a fast, accurate, stable and clear user experience, and creates voice products that deliver the ultimate experience and outperform their peers. Among them, the fast navigation search enables 22 POI retrievals in navigation system in 30s; the accuracy rate of one-shot recognition reaches 100% with a speech level of about 45 dB and an environmental noise level of 90 dB; when using voice to send a long text message, it is able to not only intelligently split sentences, but also well respond to your speech no matter how fast it is; also, the voice interaction design is clear and easy to understand.
In addition, to ensure the stability, usability and experience of the products and services of the Qing AI platform, PATEO has also built an automated test platform to conduct full-scale testing of the functional and non-functional requirements, consisting of data collection, recording generation, test framework selection, test case generation, and other sessions. Up to now, Qing AI has been mass-produced by being implemented on the various models of BAIC BJEV, BAIC, DFM, Geely, GWM, SGMW, Hongqi, etc.


It is learned that the next-generation Qing AI products will be based on big data, adopt deep neural networks (DNNs), enable continuous optimization and iteration, and integrate multiple interaction modalities such as voice, image, vision, gesture, emotion and more, so it will become a perceptive, emotional, caring, and self-learning partner who grows with you. In the future, all mass-produced vehicle models involved in PATEO's projects will be equipped with the Qing AI voice platform.
Founded in 2009, PATEO is mainly engaged in the R&D & manufacturing of intelligent telematics system and provision of subsequent supporting services. As an independent third-party service provider, it offers IoV products and services to mainstream auto groups in China as well as luxury brands like Bentley and JLR based on its commitment to building a cross-platform system that integrates vehicle, Internet and cell phone and centers on car life services.
In the eleven years since its establishment, the company has invested more than CNY 1 billion in R&D, and been continuously investing 28% of its annual revenue in it, boasting a full set of qualifications for operations in China's IoV market and owning nearly 4,000 IPRs, ranking 1st for two consecutive years in terms of intelligent connectivity patent, and 104th on the list of "2019 China's Top 500 Companies by Patent". In the meantime, it has not only been awarded as "Shanghai Intellectual Property Advantageous Enterprise" undertaking one of the strategic emerging projects of Shanghai, but is also a National High-Tech Enterprise.
According to its future plan, PATEO will step up its efforts on R&D, co-build R&D centers with leading car companies, and integrate multiple superior technologies, to create a leading AI voice experience for the user, as well as bring high cost performance and highly adaptive Quick Apps to auto enterprises with both quality and quantity guaranteed, thus contributing to the development of auto intelligentization in China.