PATEO CONNECT+ and FAW-AI Reach Strategic Cooperation
Oct. 23 witnessed the formal establishment of a strategic cooperative partnership between PATEO CONNECT+ and FAW (Nanjing) Technology Development Co., Ltd. (FAW-AI). The two sides will conduct long-term and in-depth cooperation in smart in-vehicle services, intelligent multimodal interaction, big data platform & product application, new retail, new mobility, smart transportation, smart city, smart value-added services, intelligent electronic products, etc., work together on the technology development and product innovation in these fields, and devote concerted endeavors towards the industrial implementation of related businesses.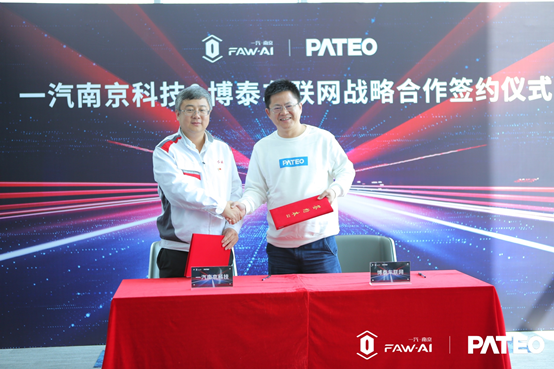 The two sides will carry out deep cooperation in the "Automobile + AI" field, and enter into a comprehensive, long-term and stable strategic cooperative partnership, so as to build a sound platform for joint development of new business and expansion into new market, and achieve mutual benefits and win-win development in more fields. In this strategic partnership, the two parties will co-build an all-round, wide-ranging and multi-level cooperation platform, and form a core "circle of friends", while striving to create a cooperative ecosystem for self-centered and pioneering new technological innovations by adhering to the principles of collaborative coevolution (CC) and open cooperation, and thus building a "big circle of friends".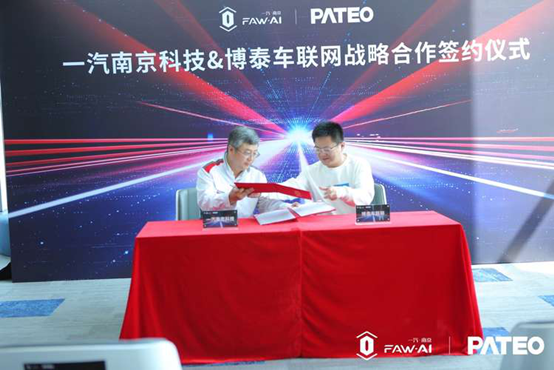 On this strategic cooperation with PATEO, CHEN Bo, GM of FAW-AI, has placed high hopes. He said, "FAW-AI is a wholly-owned subsidiary of FAW Group Corporation that focuses on the R&D in the AI field. Our cooperation with PATEO CONNECT+ this time is a significant part of the overall strategic planning of FAW. We'll join hands with PATEO to rely on our respective advantages in the AI and the intelligent connectivity fields, co-develop a future-oriented intelligent technology platform, and co-build ultimate products in the intelligent vehicle (IV) field, thus providing technical support and guarantee for the intelligent development of FAW."
With regard to the strategic cooperation with FAW-AI this time, Ken (Yilun) YING, founder & Chairman of PATEO CONNECT+, said that "it's with great pleasure that we go into a comprehensive, long-term and stable strategic cooperative partnership with FAW-AI. In the future cooperation between the two sides, we'll make joint efforts to integrate the high-quality resources and mature technical teams in our respective technical fields, so as to achieve mutual empowerment, joint development, co-management and close collaboration; through this partnership, we also aim to optimize the development process, improve the efficiencies of resource utilization and R&D, reduce R&D costs, achieve higher levels of technology & product innovation, and enhance the core competitiveness of both parties in terms of product and technology, thereby providing technical support and guarantee for the development of intelligence, and leading the technological progress of the automotive industry together."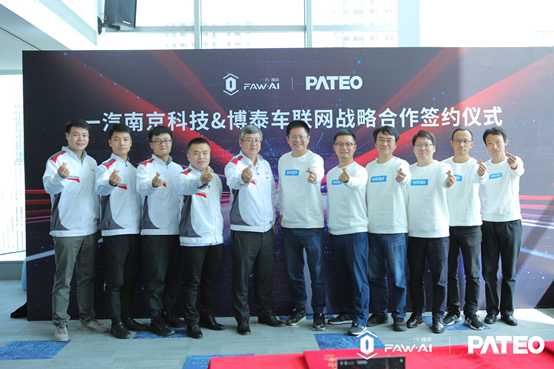 With advantages in industry resource, technology and capital operation in their respective fields, FAW-AI and PATEO, in their future cooperation, will be committed to establishing a long-term and win-win strategic cooperative partnership, and gaining a better grasp of the future direction of technology development to give an impetus to the high-quality development of China's economy.