PATEO CONNECT+ Honored to Receive Double Awards
The new economy represents China's most innovative force with the highest growth potential, while technological innovation is more an important factor that supports the high-quality development of China's economy. Recently, PATEO CONNECT+ was listed among "2020 King of China's New Economy – Most Influential Companies" and "China's Top 50 Enterprises with the Greatest Potential to Be Listed on STIB", which not only demonstrates that PATEO's core competitiveness in technology R&D and product innovation has won industry recognition, but also indicates an optimistic view about its capital value and future development prospects.
"2020 King of China's New Economy" – Most Influential Companies
To commend those new economy entrepreneurs who have been bucking the trend, forging ahead, and persistently making themselves heard, 36Kr Venture Capital Research Institute launched the "2020 King of China's New Economy" selection, focusing on the ten major areas of the new economy — medical & comprehensive health, consumer brand & life, new cultural recreation & media, corporate services, new technology, automobile-based transportation & mobility, smart logistics & supply chain, education, finance, and real estate & home. The criteria for this selection are stringent, requiring participants to have at least one financing record in the course of development, and enter the public popularity voting session; followed by a comprehensive appraisal by 36Kr analysts on each track and over 10 industry experts and investors on the basis of their investigation into and evaluation of these thousands of candidate enterprises.
Winning this award signifies that PATEO CONNECT+ has strong growth potential and immense capital value in its industry segment, while coming out on top in the industry in terms of inputs in R&D and innovation. In such an industry as the IoV that is featured by a particularly long industry chain and a particularly large number of players, it requires solid strength to keep brand building and technology & product advancing side by side and gain high recognition from the industry, which is really not easy.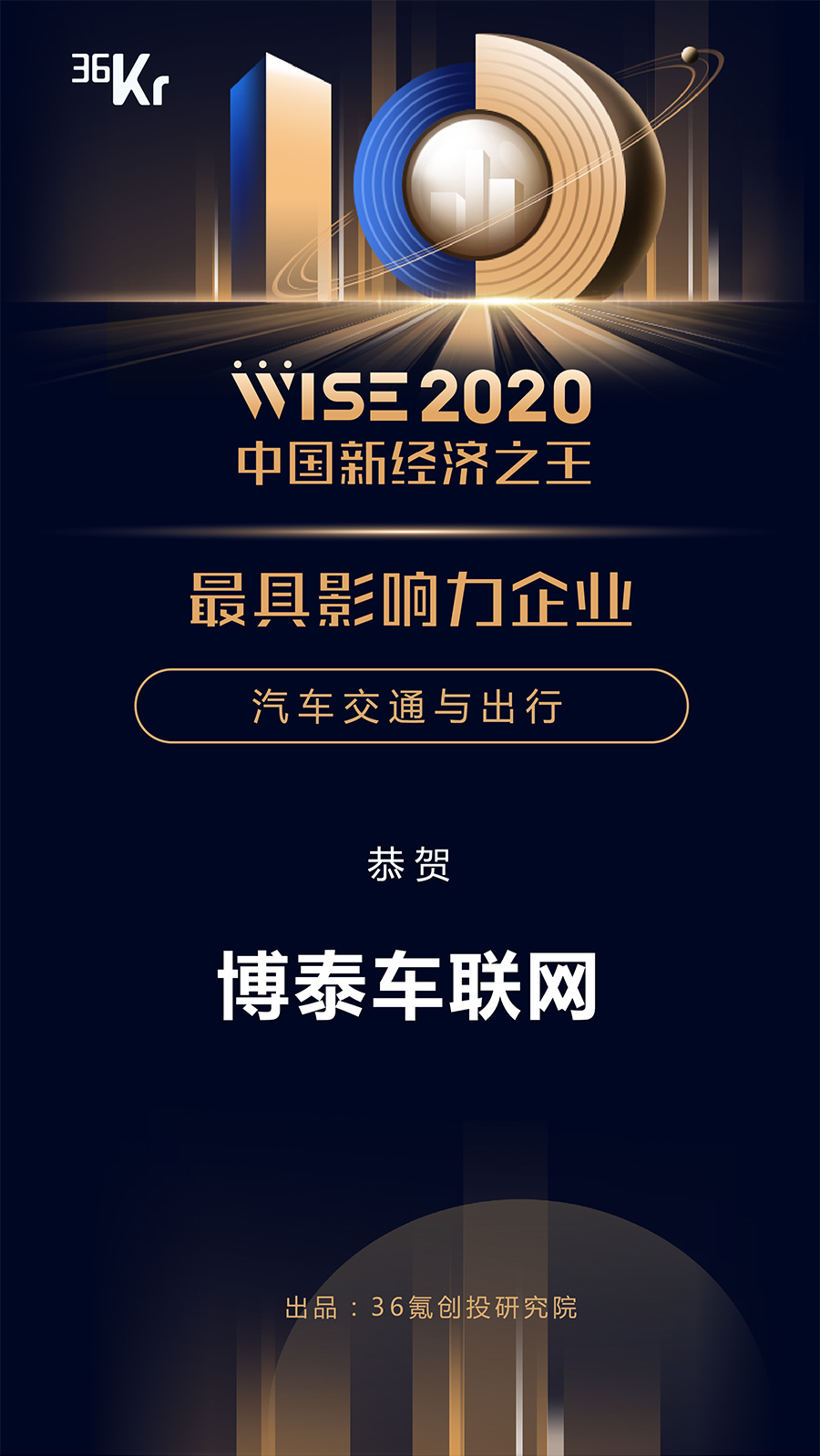 "China's Top 50 Enterprises with the Greatest Potential to Be Listed on STIB"
The list of "China's Top 50 Enterprises with the Greatest Potential to Be Listed on STIB" reviews and commends outstanding enterprises with great potential in the field of science & technology innovation from a forward-looking perspective, which, while challenging forward-looking technologies, have been constantly seeking technology implementation scenarios, promoting the development of the industry with more advanced technologies, looking for opportunities and exploring themselves despite the severe market environment, and striving to become a pillar of the emerging economy, so that more people are able to see their ability to change the future. So it is well-deserved that PATEO CONNECT+ has been selected as one of the award winners.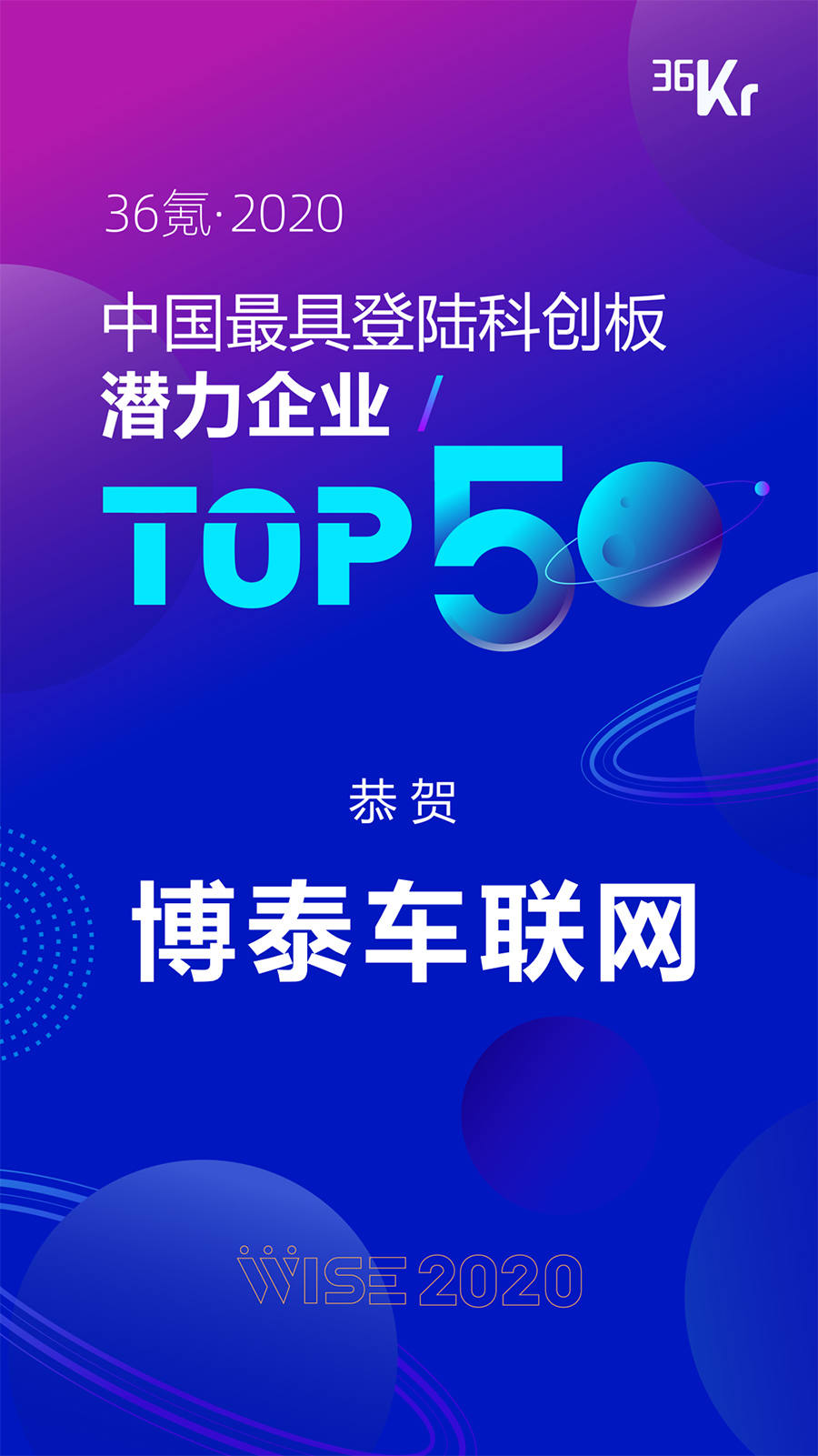 Since its establishment, the technology-oriented PATEO CONNECT+ has defined the "3I Spirit", namely "Insight, Innovation and Integration", put innovation first, persisted in R&D investment, and created many firsts in the industry. In the eleven years since its founding, PATEO has invested more than CNY 1 billion in R&D, and been continuously investing 28% of its annual revenue in it, boasting a full set of qualifications for operations in China's IoV market as well as nearly 4,000 IPRs, ranking 1st for two consecutive years in terms of intelligent connectivity patent, and 104th on the list of "China's Top 500 Companies by Patent".

PATEO is not only the first company in the world to work on in-car Chinese speech recognition, but also the only company in the IoV industry that owns a voice platform. PATEO Qing AI not only boasts an industry-leading voice experience characterized by fast response, powerful multi-turn dialogue capability, and accurate recognition in environments with high noise levels, but also supports the integration of offline and online voice services, so it is able to implement complex natural language dialogue scenarios through efficient speech recognition (SR), multi-dimensional semantic processing, personalized language interaction together with full-duplex speech interaction, to offer the user an intelligent and humanized voice assistant. What's more important is that with platform-based capabilities, it is an in-vehicle AI-empowered product supporting custom configuration for creation of individuality.
The next generation Qing AI product will be based on big data, adopt deep neural networks (DNNs), enable continuous optimization and iteration, and integrate multiple interaction modalities such as voice, image, vision, gesture, emotion and more, so it will become a perceptive, emotional, caring, and self-learning soulmate who grows with you.
In the first half of 2020, the outbreak of the COVID-19 pandemic around the world has exerted a significant impact on the auto market and the world economy. As a representative of Shanghai's sci-tech innovation enterprises, PATEO has repeatedly won the favor of the capital market, and successively received strategic investment from DFG (Dongfeng Motor Group Co., Ltd.), Xiaomi Corporation and Haier Capital.
In the meantime, it is co-building R&D centers with leading automakers. Following the 6 R&D centers in Nanjing, Wuhan, Shenzhen, Shenyang, Dalian and Changchun, its independent R&D and production base has gone into operation in Xiamen; and recently, it joined hands with Liuzhou Municipality and SGMW to sign an agreement on "PATEO Liuzhou Intelligent Connectivity Industry Base Project & Strategic Cooperation Between SGMW and PATEO CONNECT+", in a bid to put forth a concerted effort to step up the R&D and iteration of intelligent connectivity technologies.
In the future, PATEO will continue to uphold the "3I Spirit", so as to build stable and trustworthy delivery capabilities, as well as a top-notch and rich partner ecosystem in a consistent manner; achieve a win-win evolution together with automotive enterprises, Internet companies, and the whole industry chain; and go all out to help Chinese car companies become a global leader in the field of intelligent connectivity through future ecosystem layout, ultimate product concept, and advanced technologies.