PATEO CONNECT+ Makes It to "2020 China New Dynamic Enterprise Economic Index" List
The continuous rise of the new momentum index of China's economic development has given prominence to its vitality. The new impetus of economic and social development cultivated through new measures like structural reforms and the next-generation information technology revolution has expedited the birth of a lot of new industries, new business forms and new models during the COVID-19 pandemic, thus providing strong support for China's economic recovery. The increasing vitality in the emerging fields is effectively facilitating the conversion of the old drivers to new ones, and promoting China's economy to move towards high-quality development, which would not be possible without the efforts of each and every new enterprise force that's seeking change and making innovations.
"Technology-Focused PATEO" Makes the List
At the Global New Economy Conference (GNEC) 2020 on Aug. 26, EO Company released the "2020 China New Dynamic Enterprise Economic Index" list, covering six major areas – big health, industry, finance, automobility, living consumption, and new technology. PATEO CONNECT+ together with companies like DiDi, NIO and Xpeng Motors, as the representatives in the mobility field, made the list. In the special social context, these enterprises that have made this list have all without exception been taking the initiative to seek change, keeping innovation consciousness, and taking practical actions in terms of strategy, management, business, capital, etc.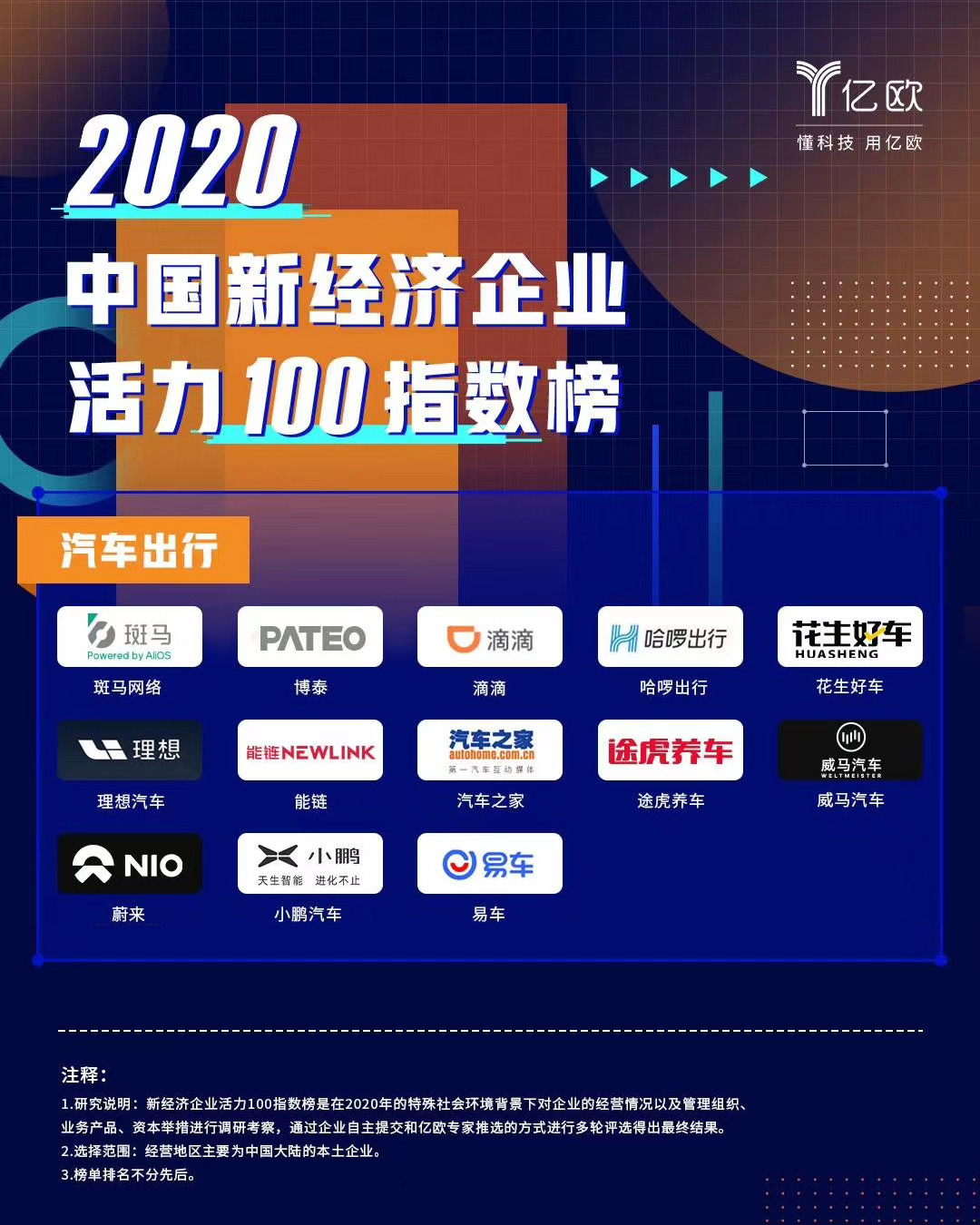 Thanks to its extraordinary growth capabilities, PATEO CONNECT+, as a representative of science & technology (S&T) innovation enterprises in Shanghai, has managed to swim upstream under the unexpected "margin pressure test", making itself known as "Technology-Focused PATEO CONNECT+" and manifesting to all its attention and commitment to technology R&D for a dozen years with perseverance and consistency. During this pandemic, it has illustrated with its concrete actions that as an S&T innovation enterprise, taking moves across the board in the self-developed technology and intellectual property rights (IPR) fields is particularly the most direct manifestation of corporate social responsibility (CSR).
Making All-round Efforts in Self-developed Technology – Direct Manifestation of CSR
Besides the "2020 China New Dynamic Enterprise Economic Index" list, among the top 30 principal applicants filing patents in the Intelligent Connected Vehicle (ICV) sector during Jan.-Jun. 2020 that include Huawei, the communications company, Bosch, Baidu, Tencent as well as OEMs like Volkswagen, China First Automobile Group Corporation (FAW) and SAIC Motor, PATEO CONNECT+ ranks 2nd by patent disclosures, next only to Toyota; plus Shanghai Qwik Smart Technology Co., Ltd., a wholly-owned subsidiary of PATEO CONNECT+ that's in the 18th place, the company has actually surpassed the No. 1 applicant by 52 patents.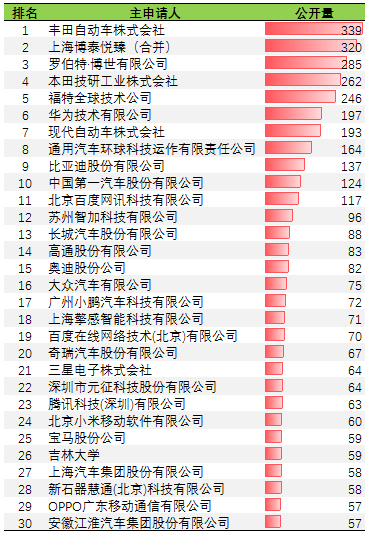 Data Source: Global Automotive Patent Database – AutoPat
As PATEO CONNECT+ sees it, technology is the core of an enterprise, but the value of technology lies in warming up the city and the life, therefore, this year it has implemented a smart mobility business platform to show the future development direction of automobile, in hope that it could spend five years cultivating deeply and intensively the Shanghai "field", participate in the construction of smart city in a bottom-up manner, and make dedicated efforts to contribute to the development of the city with its technical power.
PATEO's emphasis on intellectual property (IP) and patent originates from the strategic thinking of its founder Ken (Yilun) YING. As early as when the company was founded in 2009, it input CNY 9 million in IP, almost 30% of its then overall annual costs, which was merely CNY 20-30 million. Since then, each year it has been investing heavily in patent application & maintenance, and putting 28% of its overall revenue into R&D — such a proportion represents a leading level even on a global scale.
Up to now, PATEO has obtained 804 licensed patents whose value exceeds RMB 2 billion. Owing to its continuous innovation, it developed the first navigation product capable of avoiding traffic jams in 2012, then applied for a patent at the end of 2012 and got the patent granted in 2015, which was worth $90 million.
Now it has become a pioneer and representative in China's IoV industry, holding more than 4,000 IPRs covering all aspects of the entire industry chain of the IoV ecosystem, including hardware circuit, OS (operating system), application software (app), HMI (Human-Machine Interaction) / HCI (Human-Computer Interaction), map & navigation, cloud service, and autonomous driving.
Innovative Layout to Catalyze Change in Urban Lifestyle
Since its establishment, PATEO has accomplished a lot and won high recognition from the industry; even so, it doesn't feel content and satisfied, but keeps making intensive & dedicated efforts to plow ahead on the innovation path, and never slackens efforts on focused thinking about and pursuit of perfection of the IoV, while continuously expanding its eco friend circle, joining partners in the Internet, automotive, finance, communication, retail, insurance and other sectors in launching numerous blockbuster innovative products, and pushing for changes to urban lifestyle through its own efforts.
In the "Top 50 Online New-Economy Enterprises (Shanghai)" list recently released by jiemian.com of SUMG (Shanghai United Media Group), PATEO's name is included. In the selection process, the development potential of Shanghai enterprises in the field of online new economy was comprehensively evaluated by centering around such dimensions as technological innovation, business model, enterprise management and brand influence, to help create a new high ground for Shanghai's economic development.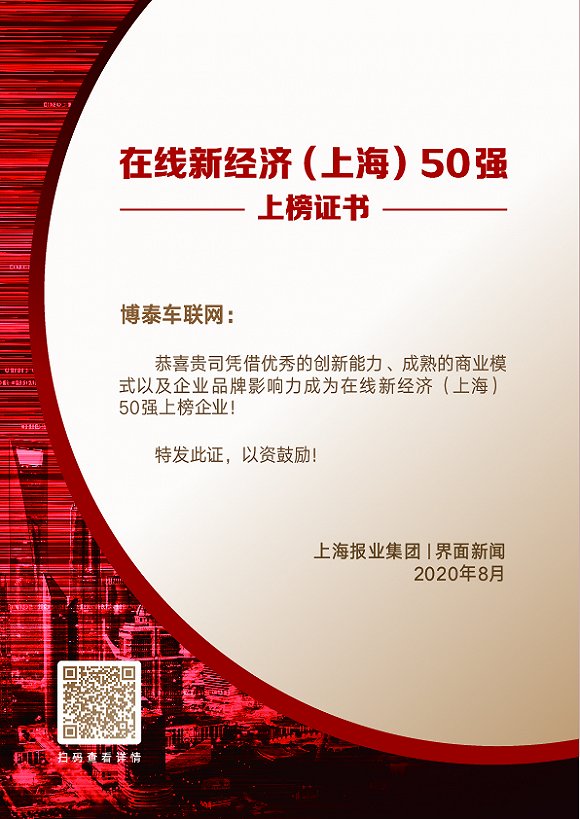 Presently, PATEO is working with automakers and other partners to accelerate the reshaping of the "Automobile + Industrial Internet + AI (Artificial Intelligence)" business model, "turn new energy vehicles (NEVs) into appliances", and at the same time develop data experience center & AI-enabled smart sales system to empower the digital transformation of auto companies; so far, the <1+1+N> fully closed-loop smart retail has already been realized.
In the first half of 2020, the chain reaction brought about by the pandemic has exerted a great impact on the global economy. The surviving enterprises will get more resilience and vitality in the future, and the innovation of the IoV technology led by PATEO will bring more surprises to people's mobility life.