PATEO CONNECT+ Makes It to "Top 50 Online New-Economy Enterprises (Shanghai)" List
[Lead] The "Top 50 Online New-Economy Enterprises (Shanghai)" list launched by jiemian.com of Shanghai United Media Group (SUMG) was officially released, where the name of "PATEO CONNECT+" can be found. With Shanghai Municipal Development Research Center of Economy and Informatization providing the think tank support and Fudan University School of Management (FDSM) the exclusive academic support, the list aims to select Shanghai's leading enterprises in the field of online new economy.
Organized and initiated by jiemian.com of SUMG, the "Top 50 Online New-Economy Enterprises (Shanghai)" list was unveiled(recently, in which 50 Shanghai enterprises represented by PATEO CONNECT+, DeepBlue Technology, Dada Group, Xiaohongshu (Little Red Book), Dingdong Maicai, Weimob Inc., etc. are included. In the selection process, the development potential of Shanghai enterprises in the field of online new economy was comprehensively evaluated by centering around such dimensions as technological innovation, business model, enterprise management and brand influence, to help create a new high ground for Shanghai's economic development.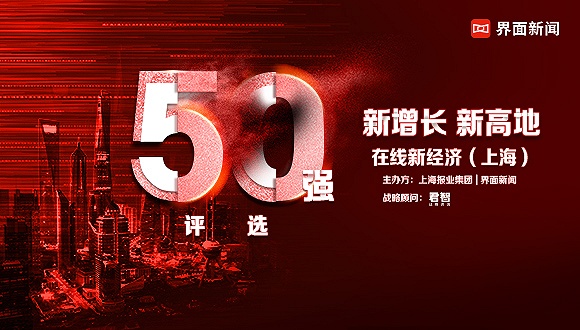 In 2020, Shanghai issued the Action Plan of Shanghai Municipality for Promoting the Development of Online New Economy (2020-2022). The "Online New Economy" refers to the online, intelligent and interactive new business form / model that deeply integrates with modern production & manufacturing, business & finance, cultural entertainment consumption, education & health, circulation & mobility, etc. by leveraging AI, 5G, the Internet, big data, blockchain and other intelligent interactive technologies. During the COVID-19 outbreak, the online new economy has exerted a far-reaching effect on economic and social development, and is of great significance for future urban development.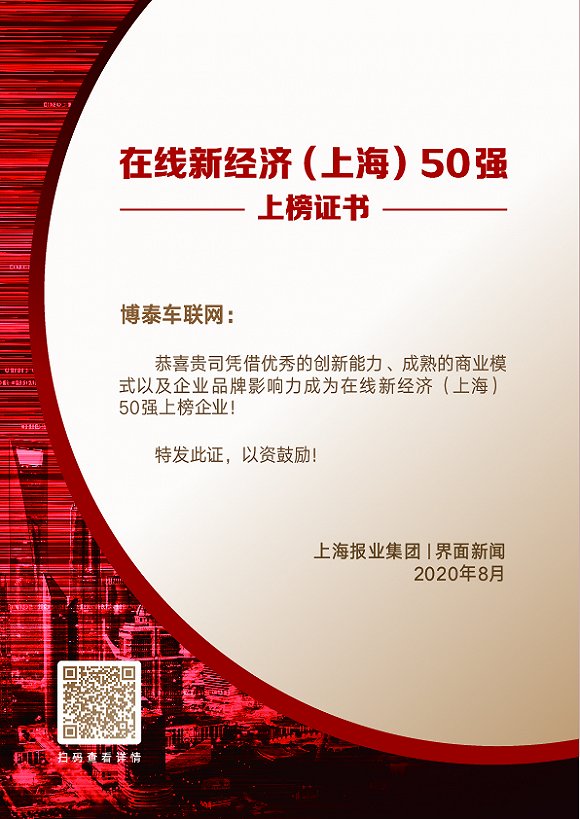 By focusing on one year and having its eyes on three years ahead, Shanghai has been gathering advantageous resources, and plans to build an internationally influential and domestically leading high ground for the development of online new economy by the end of 2022.
PATEO CONNECT+ is mainly engaged in the R&D and manufacturing of intelligent telematics system and provision of subsequent supporting services. As an independent third-party service provider, it offers IoV products and services to mainstream auto groups in China as well as luxury brands like Bentley and JLR based on its commitment to building a cross-platform system that integrates vehicle, Internet and mobile phone and centers on car life services. In the ten years since its establishment, PATEO has invested more than CNY 1 billion in R&D, and been continuously investing 28% of its annual revenue in it, boasting a full set of qualifications for IoV operations in China market, and ranking 1st for two consecutive years in terms of intelligent connectivity patent, and 104th on the list of "China's Top 500 Companies by Patent in 2019". As the only independent third party in the industry that owns T-Box and V2X platforms; the only enterprise that deploys mobile phone based IoV platform, and possesses cloud platform and in-vehicle IoV ecosystem; the only IoV company that has its own map engine, software & cloud architecture, and independently builds and controls the capabilities compatible with Internet companies; and also the first one to move into the "Five New" (New Retail, New Finance, New Manufacturing, New Technology and New Energy) middle office business, PATEO CONNECT+ offers the user products with "the price of the food stall and the experience of the Michelin restaurant", using software to solve hardware update issues, and allowing the IoV service to go out of the vehicle and be oriented towards the era of 24h user operation. In 2020, PATEO CONNECT+'s R&D investment reaches up to CNY 750 million, boasting an R&D team of 1,500 members. IPRs and invention patents ranking 1st in the industry is just a "moat". Only continuous large-scale R&D investment is the foundation of business sustainability of a good enterprise. PATEO CONNECT+ believes that only by working with the numerous most innovative clients and partners to come up with the 3U (Ultimate Quality, Ultimate Experience & Ultimate Interaction) products and services through 6 to 24-month pragmatic implementation, can we win the love of the user, and only through the products that the user loves can we win the clients' trust and form long-term in-depth partnerships with them.