Joint Efforts to Fight Epidemic Voluntary Work Resumption of PATEOers via Telecommuting in Action
Over the past week, we have experienced a special Spring Festival; and over the past two days, we have experienced a special ceremony for "Recommencement of Work". Despite the fact that the virus is raging, and the traffic is disrupted, causing travel inconvenience, the PATEOers who strongly believe that there are always more solutions than problems, have spontaneously turned on the telecommuting mode. From the previous nine offices located in Shanghai, Nanjing, Beijing, Shenyang, Dalian, Shenzhen, Changchun, Wuhan and Frankfurt, PATEO's office network has spread all across the motherland overnight. We isolate the virus, but we do not isolate the professional services and the ultimate user experience. PATEO will always stand together with you through thick and thin, and goes hand in hand with you to advance together. We'll do our best to provide our clients with professional products and services, and create greater value for them. Believe it or not, the PATEOers have already unlocked the N possibilities of office scenes and initiated the new telecommuting experience.
Previously, there were hard core virus prevention & control slogans invented by Henan Province
Now, the slogan for PATEO engineers to resume work is being chanted
Stay home to isolate the virus
Never go out to add trouble to the country
Bury ourselves in assiduously digging into technologies
Be wholeheartedly devoted to the delivery of ultimate services
Ladies and Gentlemen,
Here come the splendid telecommuting scenes of PATEOers, please keep your eyes open and enjoy it!
The environment doesn't matter, we can work anywhere

Although the epidemic situation is still very severe, it simply cannot curb our enthusiasm for work. As early as on Feb. 3, PATEO engineers spread across the country have proactively and voluntarily turned on the telecommuting mode. No office environment? It doesn't matter, the environment is not important, because we can work anywhere. 

Look at this antique ancestral original wooden table and chair suite. Undoubtedly, you are the most handsome guy in the village!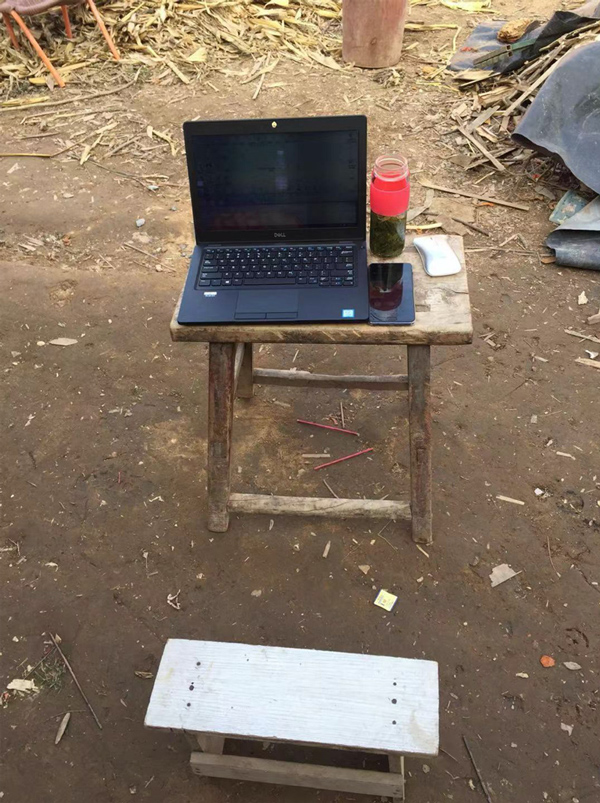 While you work on programming freely in your spacious yard, I type codes in the corner of my bay window. Although the engineers can do their work as long as they have a computer or device, we should never be careless with the creation of a great "office cubicle". If there's no enough space, accessories can be used to make up for it — place a U-shaped pillow around my neck, and see who can stick to the end! In fact, no matter it is high-level or low-level furnishings, it is the perfect furnishings as long as you can finish your work without going out.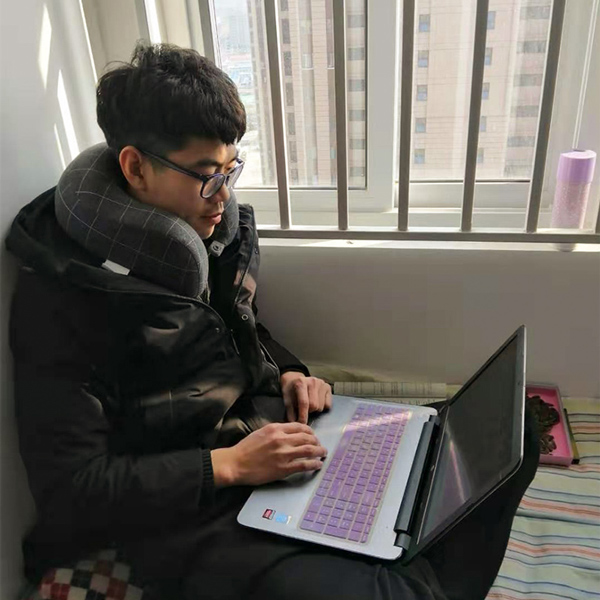 The balcony — what a waste it would be if we don't make use of such a nice place! The sunshine — what a shame it would be if we don't leverage such a good resource! Sun, please grant me energy! I want to transform into a solar-powered superman. As long as the sun doesn't go down, my strength will never be exhausted.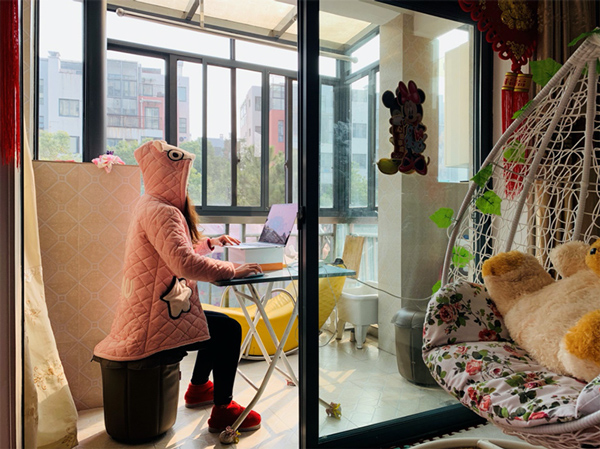 While you have the 360-degree panoramic full view camera, I have a 360-degree no dead angle luxury open-air office. The sunshine, breeze and air in this area... are all mine by contract. Since programming is a mental work, we must ensure abundant sunshine, sufficient oxygen and plentiful breeze.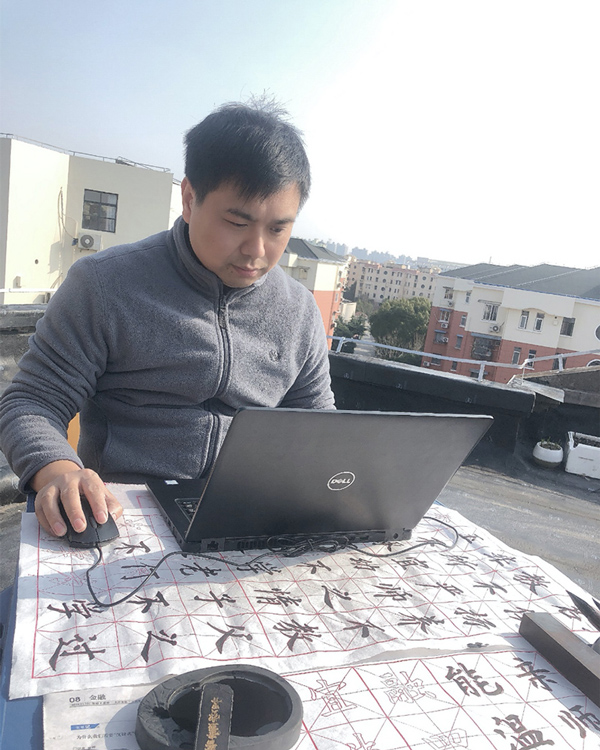 Life is not just about the work at hand, but also the nature well within reach. The 5A-level office environment is a nice to have. I'll empty this cup of tea first. Be my guest!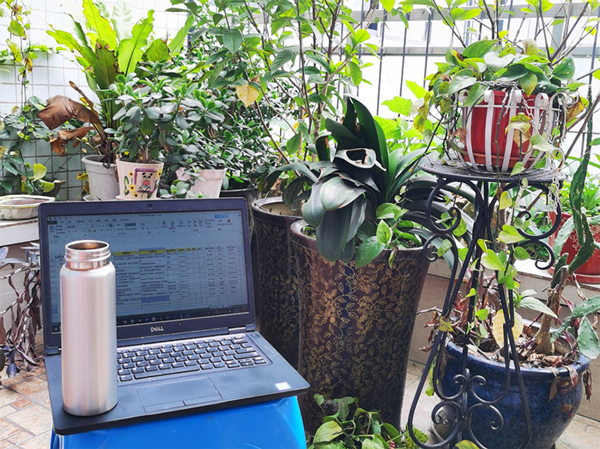 The unexpected outbreak of the epidemic has brought many impacts to our lives. When there's no office environment, we can create it by ourselves. No matter the dining table, the coffee table, the bay window or the children's study desk, everywhere we can think of could be transformed into our temporary office desk. Even the kitty's home is temporarily requisitioned by us.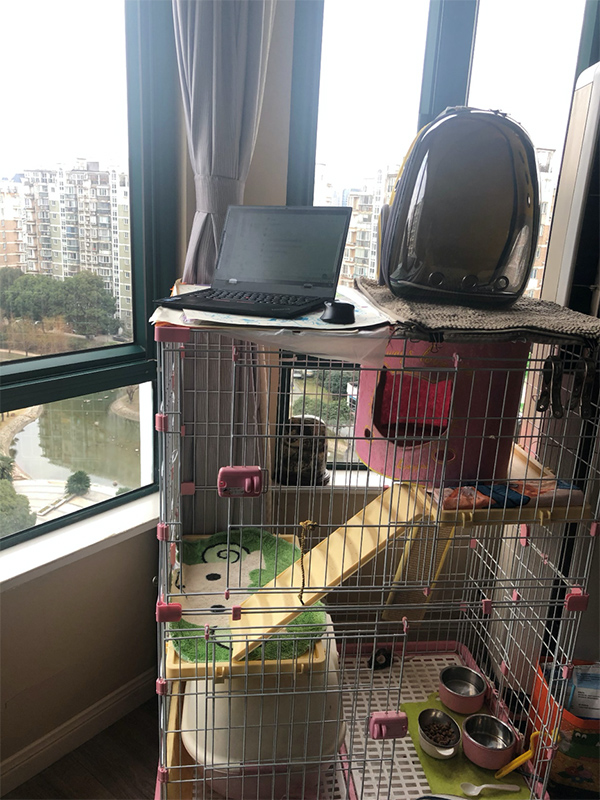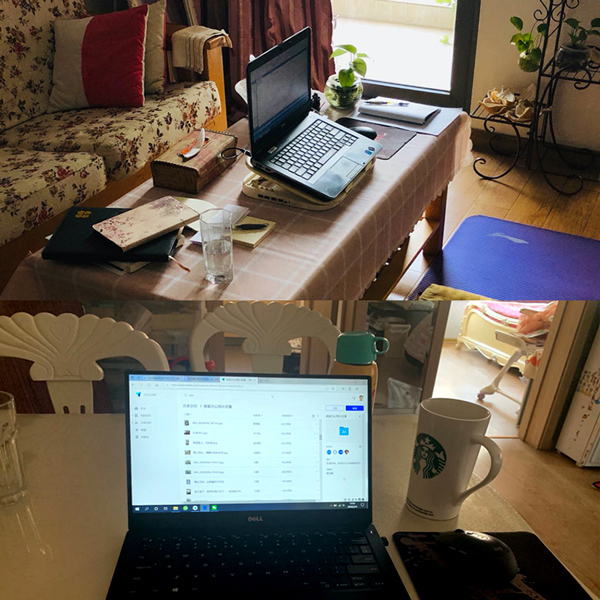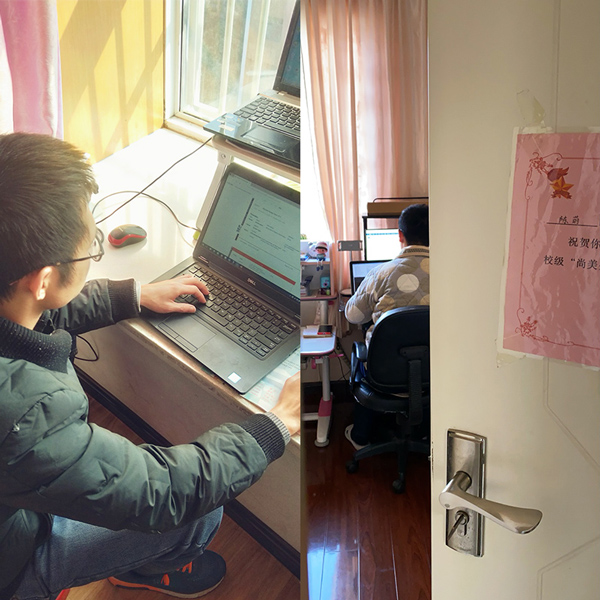 What we wear is nothing serious. As long as it's comfortable, we can pitch into the work  

We used to dream that one day we would not be woken up by the alarm clock, and we could start work without brushing our teeth and washing our face. Who could know that this dream came true so soon. But they... 
Tidying ourselves up shows our respect for the coworkers on the other side of the computer, and clearing up the desk shows our attitude towards work.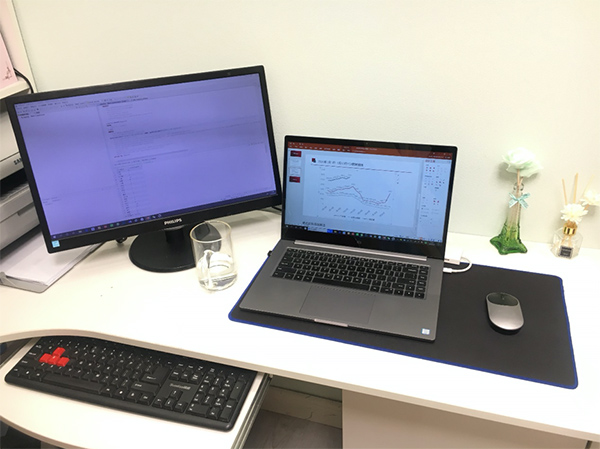 Be neatly dressed even at home… 
Working from home should also be ceremonious; while fighting against the epidemic, we don't forget the user experience.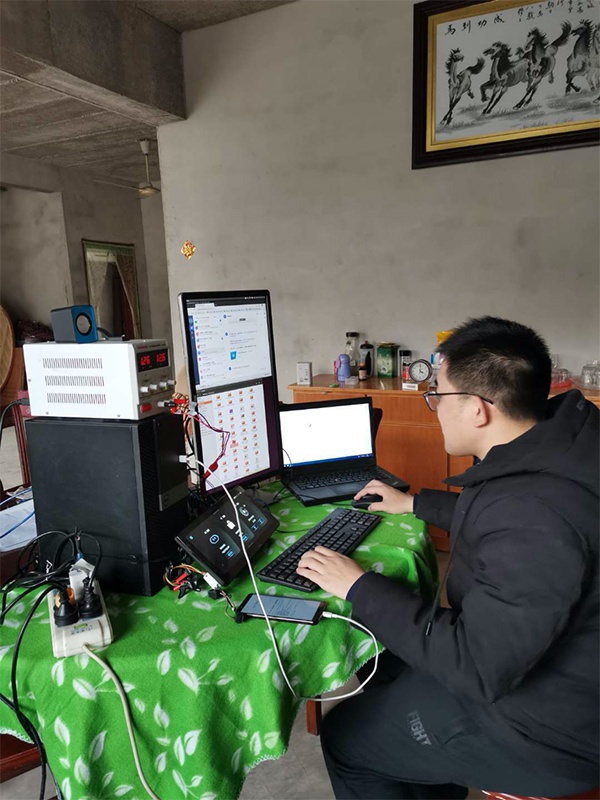 It turns out that as long as they don't have to go out, a wo-man can be this way: personal appearance is not important, but work is the most important; a cup of tea and a computer are enough.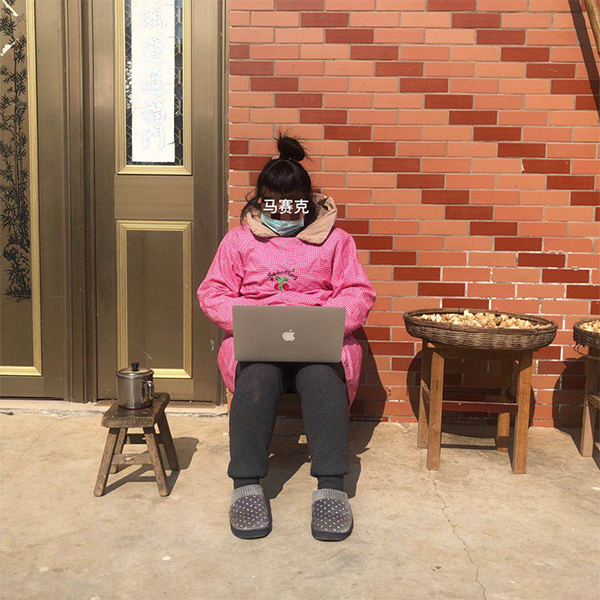 Without cuties around, we have the company of adorkable pets at home
When teleworking, though there are no beautiful female coworkers around, we have the company of adorkable pets. We are not alone even though we are damn single! 
The Meow: "Come on. Let me have a look. What on earth are you busy with?"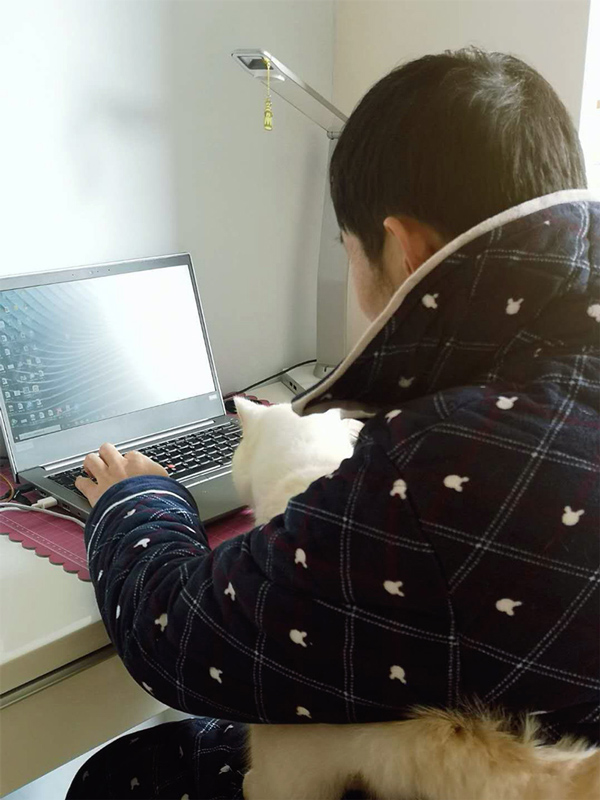 "Wish you a prosperous and flourishing new year! (Substituting "旺旺旺", meaning "very prosperous," for the sound of a dog barking in Chinese, "汪汪汪", a near homophone) Come on, PATEO!"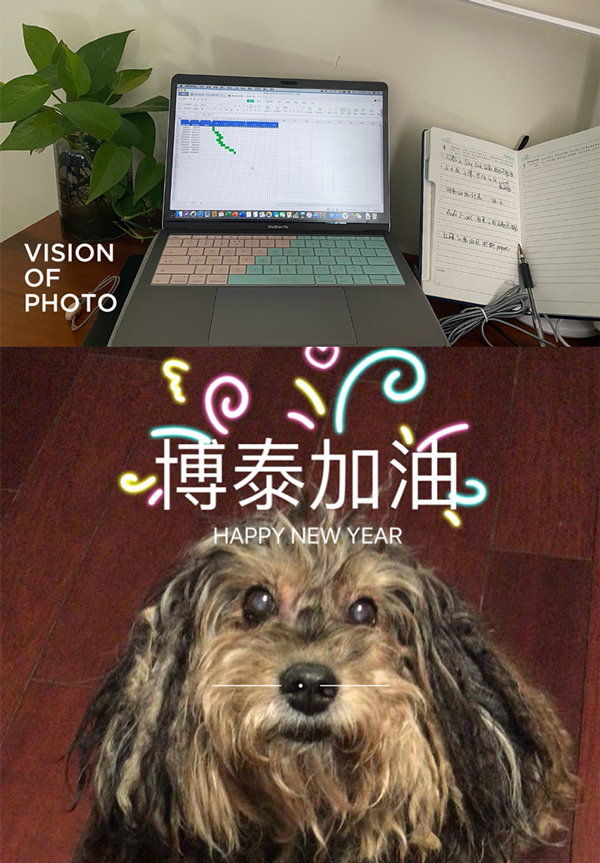 Bring a chair and make an appearance with my bunny. Wish you an auspicious start of the work year!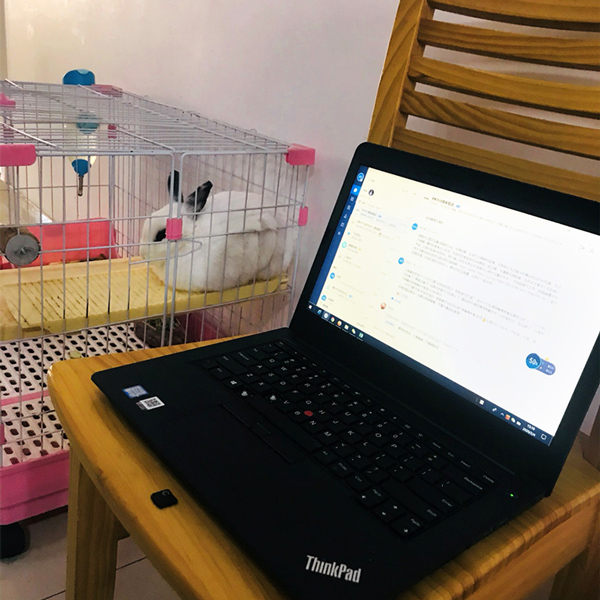 Always feel something is missing around... Without enough coworkers, use dolls to make it up. Thank you for being with me when I'm working!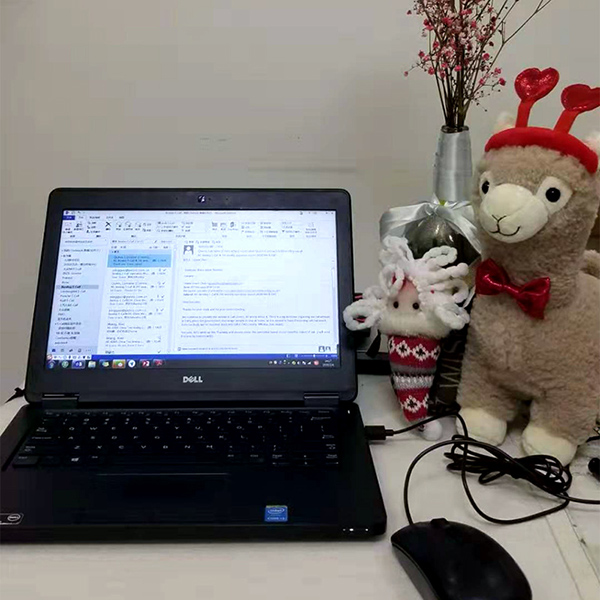 When the leaders are absent, the little supervisors take their place
Do you think there are no supervisors at home? NO! Cute babies at home always want to find out what daddy and mommy are busy with — so these little supervisors get on board! We have to take care of both the baby and the work. Do you think it's easy for us? Really miss the days when we worked in the office…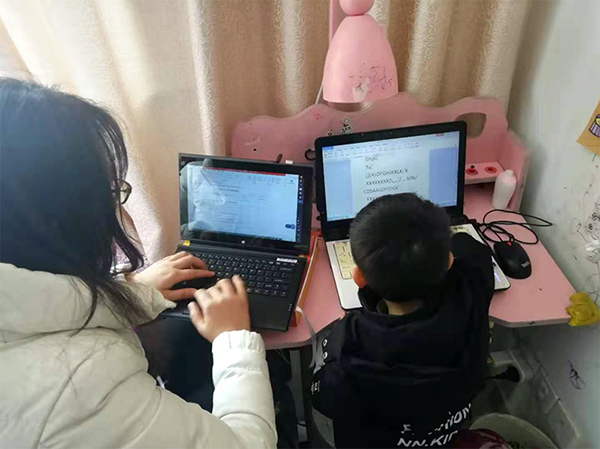 Work and study with my baby for mutual supervision and mutual progress. Come on!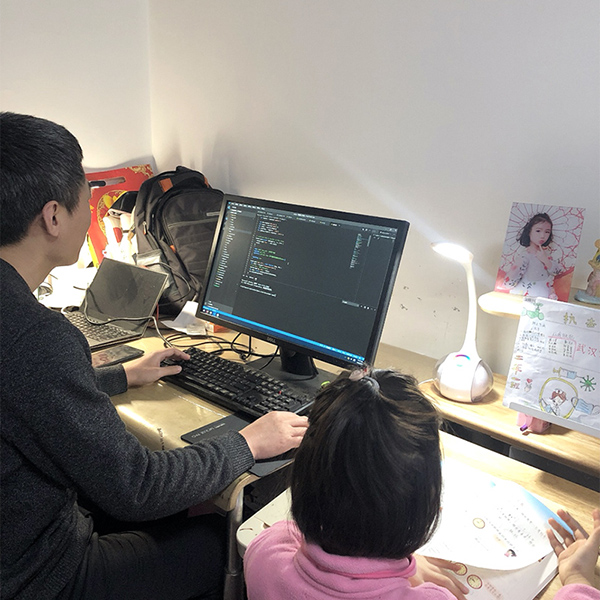 "Although I don't know what this machine in front of me is, I really just want to touch it... Your company will not blackmail me, will it?"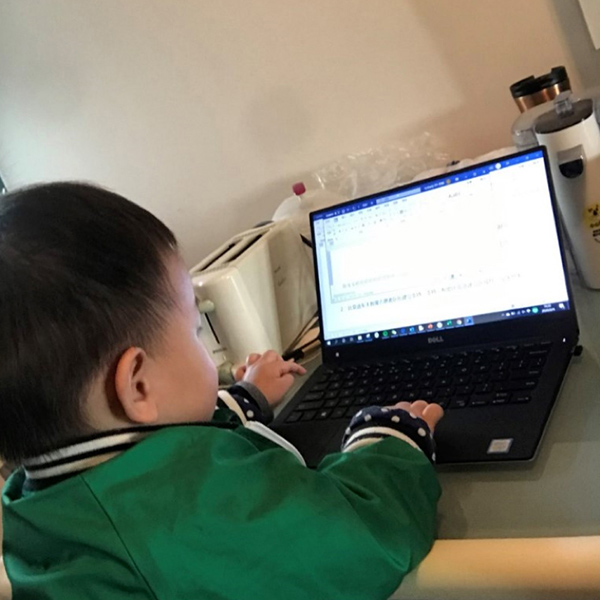 PATEO product experience starts with kids. Let our children experience the amazing moments of our products!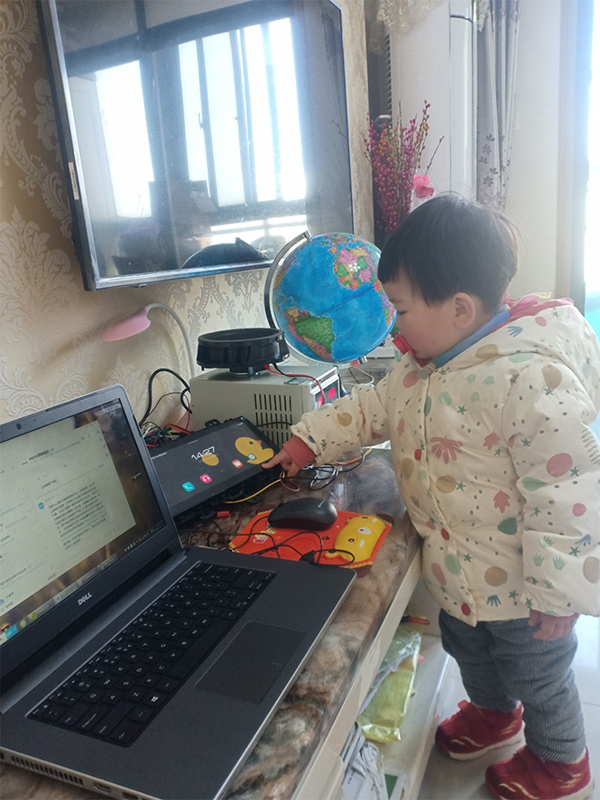 When coworkers are absent, roommates instantly become deskmates
Damn singles, please bypass this part. Thanks!
Share the same desk with my husband today. Let's work hard together!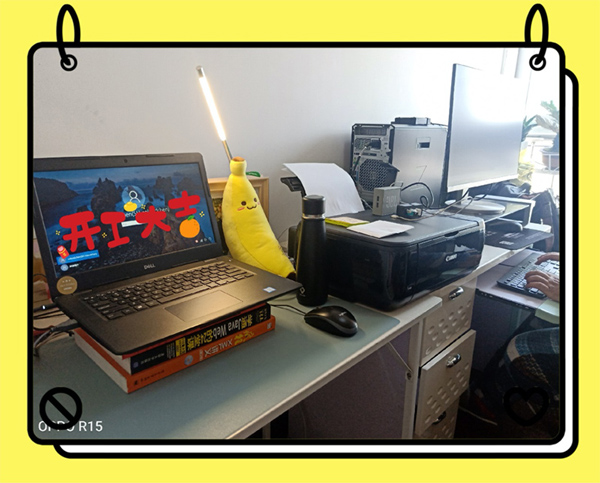 A dining table becomes an office desk; a "roommate" becomes a "deskmate"; together, we start work and fight the epidemic!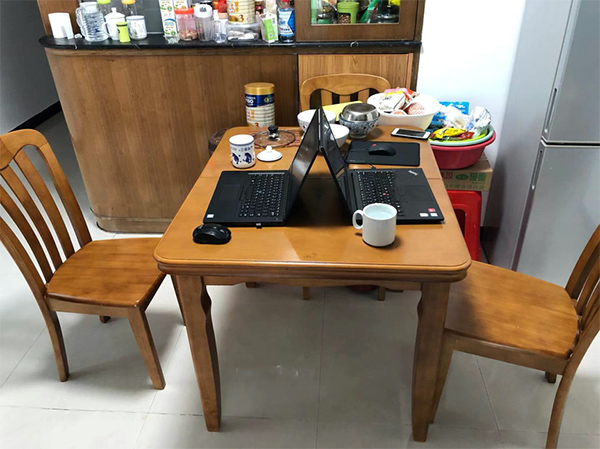 The dining table is the office desk, and family members are coworkers at home.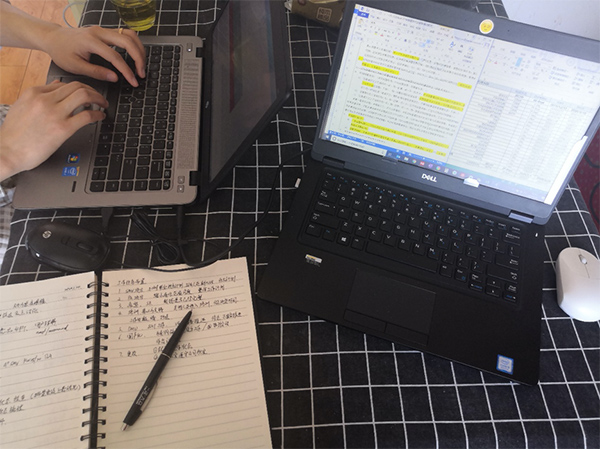 With a chef at home, I am not worried though the takeout restaurants are not open for business
During the normal weekdays, the biggest headache is what to eat every day. Now, out of the necessity for epidemic prevention and control, restaurants are closed for the time being. It doesn't matter — though the takeout restaurants are not open for business, with a chef at home, I'm not worried. All three meals are served on time with unlimited supply, and there's no need to queue up; also, morning and afternoon teas are always available when needed. Supplement the nutrition while basking in the sunshine during the working time. The most important thing is that no matter how fast 5G is, it's simply insufficient to deliver the taste. Finally, I can indulge in garlic when eating dumplings!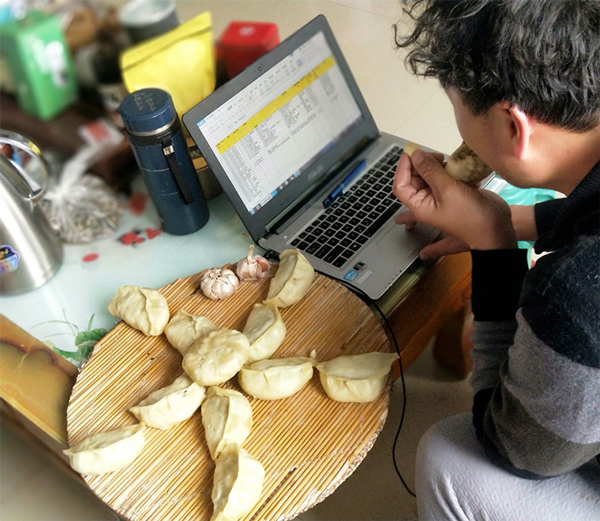 At 2:00 a.m., accompanied by a cup of coffee, I hit the sack when drowsy, without having to ride and hurry on my way alone at night. Though working overtime, I still feel a little happiness...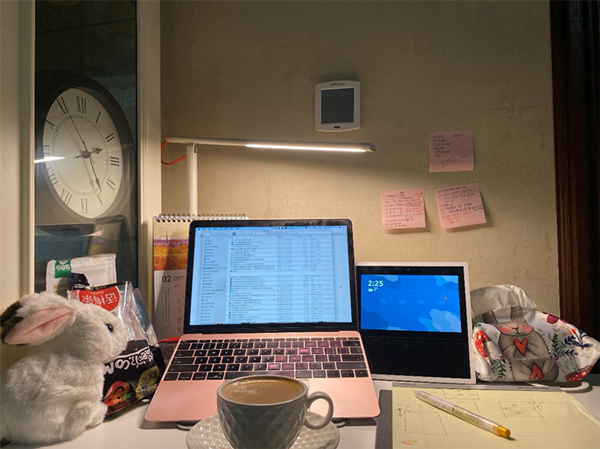 At the dressing table, I'm having Coke while working. It feels that I've reached the peak of my life!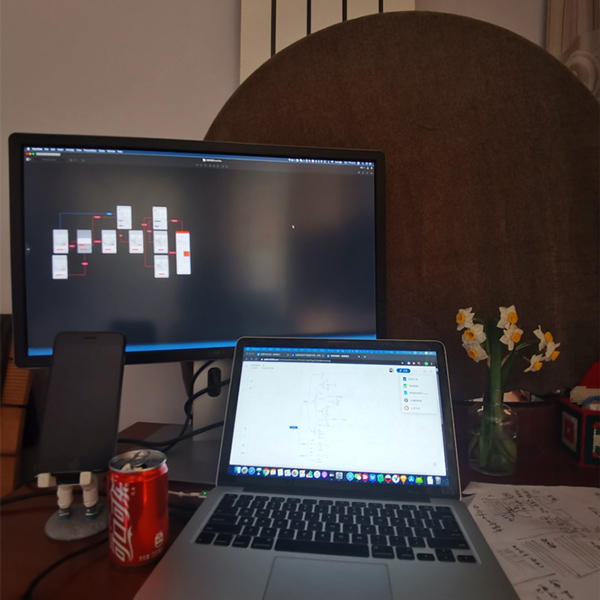 — This is the new telework experience of PATEOers.
In the face of the epidemic, everyone is responsible. All PATEO staff members are determined to fight and win the battle against epidemic. Believe in the power of belief, and believe that together, we will make it through!
PATEOers are ready to continue bringing the ultimate experience to our clients and users. No matter how severe the epidemic situation is, what has changed is the environment, what remains unchanged is ourselves. PATEO adheres to its original aspiration and dream, sticks to the "3 I" and "3 Ultimate" DNA, and strives to achieve the vision of "Lead the Ultimate Intelligent Vehicle Experience & Reconstruct the Lifestyle in Mobile Space".
During the unusual season, special action is taken; we work from home, to isolate the virus, but not our professional services. For those who choose telecommuting for the first time, we've prepared some tips on it, hoping they'll be of help to you.
It's time to show the real "tricks of the trade"
Here come the efficient telecommuting tips
Telecommuting and self-quarantine — PATEOers' fight against the epidemic is going on, have you joined in? At the end of the day, do you feel a little pain in your lower back and a little upset in your mind because you're really somewhat uncomfortable with such a work pattern? It doesn't matter. We have drawn on the successful experience of others to propose solutions to help you out!
I. Establish a sense of ritual for telecommuting
Get up and start work as per normal schedule, take a lunch break from 12:00 to 13:30 at noon, and keep a consistent working state as usual.
Change your pajamas and put on formal clothes. Ladies can also put on light makeup to enhance the sense of ritual for work and start the day with a good mental attitude.
II. Create a work-friendly environment 
If there is a study in the house, you can use it directly as a working area; if no, you can transform a corner of the dining room, living room or bedroom into a working area;
The more comfortable areas, such as the bed or sofa, are not suitable for work, because they will affect your working state.
III. Increase internal & external communication frequency at work
Morning meeting: Some departments follow the convention of holding a morning meeting during normal workdays. Now, they can make use of the Lark chat group to hold an audio morning meeting, for everyone to communicate their work progress and (the) outstanding issues;
Daily work report: List three to-do tasks of the day in the daily report, and review them at intervals to help you stay more focused;
Evening meeting: Before COB, you can edit the progress and completion status of your work items of the day in the Lark Daily Report;
Online meeting: Since we can't meet and communicate face-to-face, we can use Lark (internal) and
*
messages (external) tools to hold internal and external meetings for communication. Don't forget to show care for clients and partners during the unusual season!
Weekly department meeting: As a manager, organize the online department meeting to communicate the current important work items, understand work progress, maintain timely communication with team members, and don't forget to show the employees that you care about their health.
IV. Clever use of various tools for time management 
Every morning, spend a few minutes creating the three most important tasks that you need to concentrate on throughout the day in the Lark Calendar (官方名称应该是这个词), to let others see your work schedule and thus avoid disturbance;
Those familiar with the Pomodoro Technique can also use it: Take 25 minutes as a unit. In these 25 minutes, set your phone to silent mode and put it aside to focus on your work; 25 minutes later, take a 3-5 minute break, drinking water and dealing with something else, then, proceed to the next 25 minutes.
V. Establish ground rules with your family to avoid disturbance
If there is a kid in the house, also develop an explicit study and entertainment plan for him / her, to help the kid gradually return to the learning state;
During the telecommuting period, inform your family about your work schedule, and clearly divide child-accompanying and housework duties with them, to ensure sufficient time for work;
Spend your lunch break and afterwork time with your family and kids, to enjoy the happy moment together.
VI. Find a "phone-pad" for your beloved mobile phone
The biggest obstacle we encounter during the telework period is habitually taking out the cell phone to browse news, Douyin videos, Weibo and
*
messages, etc. Find a safe "phone-pad" for your mobile phone, sign out of various Apps, and only keep Lark for PC online.
VII. Strengthen your immune system even when working from home
When you work from home, the tables and chairs may not be suitable for handling office work, resulting in discomfort of the lower back, eyes, etc. During the unusual season, you should also get enough rest and do more exercise. You can make use of the breaks to stretch your muscles 
In terms of diet, eat regularly, have more fruits and vegetables, intake appropriate amounts of protein and cereals, stay away from alcohol, avoid sugar-sweetened beverages, and drink more water; keep your room ventilated, maintain good personal hygiene, and wash hands frequently.
VIII. Start the new journey with a positive attitude
In the face of the epidemic, we all tend to produce various emotions. During the telecommuting period, it is recommended that you pay less attention to the epidemic, and leave the fight against the epidemic to professionals. We PATEOers should not add trouble to the country and the medical staff.
With the Beginning of Spring falling on Feb. 4, we've officially entered 2020, the Year of the Yang Metal Rat Geng Zi in the Chinese calendar. The whole year's work depends on a good start in spring. The best of times is now. It is time to shift focus to our work, adjust our working state, actively face the various challenges in 2020, and work together to achieve one goal after another.
I wish that all of you could spend the telecommuting time period with motivation, efficiency and self-discipline!