PATEO Showcases Extensive Mobility Innovations and Global Expansion Plans with Strategic Partners at IAA MOBILITY 2023
MUNICH, Sept. 11, 2023 /PRNewswire/ -- The IAA MOBILITY (International Automobile and Mobility Exhibition) 2023 (referred to as "Munich Auto Show" for short) kicked off at Munich Exhibition Center on Sept. 5, and is scheduled to last until Sept. 10. As the most important industry conference for the global mobility sector, it is a platform to promote the sustainability and showcase the diversity of the mobility sector. At this grand event, PATEO CONNECT+ has joined hands with strategic partners including Tencent, BlackBerry, Amazon, and Qualcomm to highlight the success of these cooperative efforts to Munich Auto Show visitors.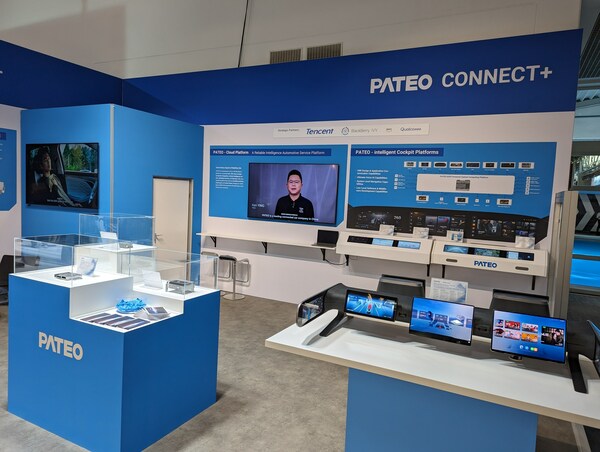 PATEO has prepared a total of three special "magic weapons" for the auto show, namely the PATEO smart cockpit platform, PATEO cloud platform, and 5G T-Box hardware product, embodying its years of hard work and fruitful achievements in the field of smart mobility, and epitomizing its insistence on original innovation along the way.
This time, two series of PATEO smart cockpit platform products are respectively powered by Snapdragon SA8155P – the 3rd generation processor, and Snapdragon SA8295P – the 4th generation processor, are exhibited as core products of PATEO. Among them, the SA8155P-based smart cockpit integrating the BlackBerry IVY feature is a highlight.
Based on the advantages of the third-generation SA8155P powered cockpit, including among others those related to HMI application and AI, PATEO has joined BlackBerry to create a customized smart cockpit based on the QNX® Neutrino® Real-Time Operating System (RTOS) and QNX® Hypervisor, providing a more personalized and interactive intelligent driving experience, and achieving breakthrough innovations like secure access to data across multiple vehicle domains and edge-side deployment computing + remote updates. Additionally, both sides have also joined R&D personnel to adopt Electra's exclusive battery management solution to provide real-time and personalized recommendations for battery range management of electric vehicles, with a view to increasing range and relieving the "range anxiety" of the driver. To date, it has been nominated for mass production projects of more than ten vehicle models of five automakers.
The PATEO - (SA8295P-powered) 4th Generation Snapdragon Cockpit Platforms are a new upgrade based on the 3rd Generation. By virtue of the ultra-high computing power and rich interface capabilities, it realizes the integration of multiple ECU features in the car.
The partnership between PATEO and Tencent this time will integrate the capabilities of TAI (Tencent Auto Intelligence), Tencent's intelligent cockpit product, in the smart cockpit and service operation sectors, to co-build a reassuring, efficient and pleasant user experience, and at the same time, based on Tencent's rich pan-mobility service ecosystem and SaaS platform to explore innovative models and solutions in segments like mobile-phone-vehicle connectivity and scenario-based user operation.
The PATEO cloud platform demonstrates the remarkable achievements of the company in integrating ecosystems inside and outside the industry, including Amazon Music, and an intelligent call center empowered by ChatGPT.
PATEO's overseas eco platform integrates the features and services of App Store, enabling the end client to obtain flexible cloud management and precise application control services, and provide OEMs with richer application resources through a unified application market.
As one of Amazon's core partners in the Chinese domestic auto industry, PATEO has teamed up with it to help OEMs to equip Amazon's unique eco services such as Amazon Music and Alexa in vehicles; so far, a number of OEM cases on Amazon Music have been accumulated. With the help of the online content and service ecosystems of AWS, massive music resources, a diversified sound experience, and customizable & personalized UI experience are realized.
PATEO cloud platform has worked with Amazon to build E-Call and B-Call services that conform to the European standards for E-Call on the basis of the Amazon Connect product. By integrating the capabilities of ChatGPT, an intelligent customer service pilot based on the large model can be realized, able to generate responses that meet service standards in real time based on its exchange with the user, and assist the agent in completing the automatic filling of the ticket, thus improving rescue efficiency and service quality.
Alongside software, PATEO has also showcased innovative mobility hardware like:
5G V2X T-Box: Jointly developed with Qualcomm using the SA515M chipset, this terminal integrates key capabilities to enable intelligent vehicle data processing;
AR Creator: Adopting NXP's high-power automotive SoC, this system renders HD maps for augmented reality navigation, enhancing the autonomous driving experience;
VOYAH Dreamer T-Box: PATEO's tailored T-Box solution equips the VOYAH Dreamer EV with intelligent services.
By exhibiting this cutting-edge mobility hardware, PATEO demonstrates its extensive capabilities in developing specialized solutions for next-generation transportation.
The extensive range of innovations demonstrates the importance the company has placed on this high-profile industry event, and it can be seen that PATEO is well positioned to expand internationally.
Positioned as an automotive intelligence eco platform company: Since entering the IoV field in 2009, PATEO has grown into an industry-leading smart cockpit solution provider, offering comprehensive capabilities across hardware, software, cloud services and integrated operations. By covering the entire smart cockpit value chain, PATEO has achieved a top position in vertically integrated intelligent cockpit development.
PATEO possesses strong independent R&D capabilities and provides flexible full-stack delivery solutions tailored to automaker needs, ranging from hardware OEM to complete platforms integrating hardware, software, middleware and algorithms, and satisfying the OEM needs for diversified one-stop cooperation. 
The many global layouts of PATEO will also provide more assistance for OEMs to make preparations for entry into overseas markets. To assist automakers in expanding overseas, PATEO has prepared compliance frameworks, secured global patents, and partnered with AWS for worldwide infrastructure and support. With strategic global initiatives, PATEO helps partners to enter new markets abroad with leading intelligent mobility technologies.
PATEO currently provides overseas R&D, ecosystem cooperation, compliance, and operation services. Moving forward, PATEO will establish main hubs in key regions like Southeast Asia and the EU to offer localized intelligent mobility solutions. It will also set up sites in specific markets to meet legal requirements. Based on its core competencies in areas like cloud infrastructure, IoV platforms, and eco services, PATEO is poised to expand worldwide, aiming to bring leading Chinese mobility innovations to the global arena.