"2022 WIOTRL Top 500" Announced, PATEO CONNECT+ Secures Three Consecutive Wins
On Aug. 5, World IoT Top 500 Summit in 2022, a prelude to the 2022 WIOTC (World Internet of Things Convention) Annual Conference, was held in Beijing, at which the "2022 World Internet of Things Ranking List (WIOTRL) Top 500" was officially released. The Shanghai-headquartered PATEO CONNECT+ (hereinafter referred to as "PATEO") has once again, made it onto the list, ranked 87th among bronze medal winners and 387th among all, moving up ten places from last year — this also marks that the company has been selected for three years in a row since 2020, and witnessing a steady rise in the rankings.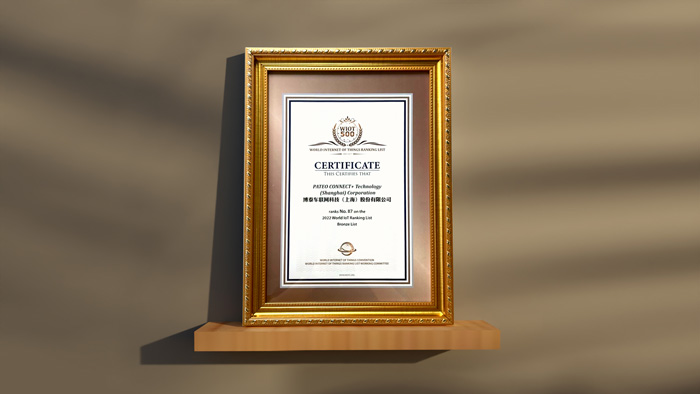 Themed "Powering the Infrastructure Construction of IoT Worldwide · Leading the Innovative Progress of Global Digital Economy", the summit consisted of Industrial IoT Forum, and International Forum on the Development of New Economy.
The WIOTRL Top 500 Selection this year had attracted 10,000-plus enterprises from more than 150 countries and regions to participate, which were comprehensively evaluated and ranked by 50 judges composed of experts and scholars from 20 countries based on the dimensions of technology R&D, technological innovation, sustainability, output value size, and influence, etc. Those on the list account for 70% of the global new digital economy output value and innovation achievements, and represent the trends of development in science & technology and digital economy around the world. Besides PATEO, other winners include Huawei, Xiaomi, Qualcomm, Bosch, Haier, IBM, Intel, China Telecom and other well-known IoT enterprises.
For PATEO, the three consecutive wins is not only an honor, but more of an incentive. It is learned that in the 13 years since its establishment, PATEO has cumulatively invested nearly CNY 2 billion in R&D, and applied for a cumulative total of over 6,000 intellectual property rights (IPRs), more than 85% of which are invention patents; possessed a team boasting a full set of capabilities ranging from hardware and software to cloud; accumulated a wealth of technical experience in fields like OLED, autonomous driving & cockpit domains, software & cloud, operating system (OS), and intelligent parts; and completed overall planning and arrangement for relevant industry chains as well.