Auto Retail Seeks Change — JAC-VW, Suning Auto & PATEO Jointly Promote Smart Retail
Will the three parties advancing together blaze a trail for auto retail?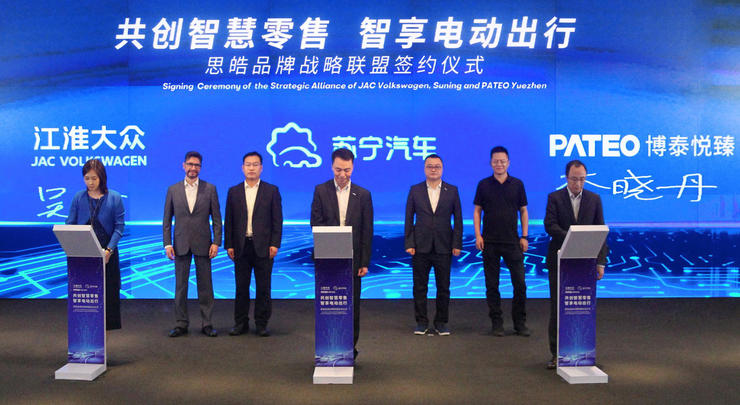 The "Four Megatrends of CASE (Connected, Autonomous, Shared & Electric)" vehicles have become an irresistible force. However, from the whole-industry-chain perspective, its scope only covers the vehicle itself.
In fact, the energy of this wave has gone far beyond this range. The entire chain of the auto industry is moving in a smarter direction, and the restructuring of traditional auto retail is exactly part of this development process.
On Jun. 10, the Signing Ceremony of the Strategic Alliance of JAC Volkswagen (JAC-VW), Suning Auto and PATEO Yuezhen (PATEO) was unfolded in the form of cloud based live streaming.
During the live stream, the three sides indicated that they will ally to explore the future of the new scenario based sales model, build smart retail for electric vehicles (EVs), and carry out business cooperation in multiple fields.
Leiphone.com learned that the specific cooperative implementation measures include, among others, the SOL flagship store settling in the Suning.com (Suning.com Co., Ltd.) platform, and participating in the 618 Big Promotion event (a large shopping festival in China generating huge sales around 18 June) of the platform with tens of billions of RMB of subsidies provided; at the same time, the first Suning Plaza SOL e-Station built by JAC-VW and Suning Auto was completed in Hangzhou, and will expand to 55 outlets within 2020.
JAC-VW Places High Hopes on SOL
As a joint venture between Volkswagen Group and JAC Automobile Group, JAC-VW is highly expected, especially in the new energy vehicle (NEV) field.
The protagonist of this alliance is precisely the SOL E20X unveiled by JAC-VW, the first joint venture electric SUV in China that hit the market not long ago. Amid the current fierce competition in the Chinese domestic NEV market, it's simply challenging for the newcomer, the SOL E20X, to grab a niche in the market.
Therefore, it's also striving to keep pace with the "Four Megatrends of CASE".
A case in point is the AI-empowered voice system of Volkswagen-Mobvoi equipped on it, featuring accurate and smooth Automatic Speech Recognition (ASR) as well as automotive offline HMI even when there's no internet available.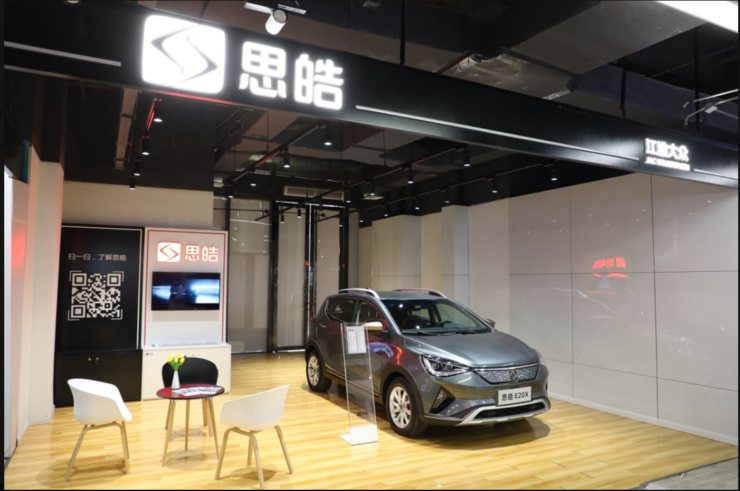 Another highlight is the IoT technology adopted by it, allowing multi-terminal interconnection between and remote control of the vehicle and the TicKasa line of smart speakers, the TicWatch range of smartwatches & other smart home devices of Mobvoi.
In addition, it has also put a great deal of effort into user service: the exclusive user app provides four key features, i.e., entertainment, IoV, butler service & value-added service (VAS), to create an auto social model.
It's hard to say whether these features could help JAC-VW gain a firm foothold in the NEV market, but we can perceive from these focal points the determination and action of traditional & JV automakers to achieve transformation in compliance with the "Four Megatrends of CASE".
Not only that, JAC-VW is also devoting itself to building an EV marketing ecosystem centered on consumer demand, with its partnership with Suning Auto and PATEO as a significant starting point.
JAC-VW stated that it will gradually realize the transformation from the traditional vehicle sales model to smart retail for electric vehicles (EVs), thus laying a foundation for the long-term sustainable development of EV companies.
And the SOL brand will also utilize the online & offline multi-scenario closed-loop operation mode to improve business efficiency in terms of traffic collection, lead distribution, sales conversion, etc., thereby offering the consumer a brand-new car purchase & ownership experience.
The Automotive Ecosphere that Suning Auto is Expecting
As a wholly-owned subsidiary of Suning Holdings Group Co., Ltd. (SHG), Suning Auto aims at creating an automotive ecosphere in the smart retail mode.
Just as said by Liu Donghao, President of Suning Auto, in the live stream, as an E-commerce platform, Suning aims to have its products cover all categories and all scenarios, so the automobile should naturally be included.
In the past, due to the one-stop service of the 4S store in the traditional auto retail model, the car and the eCommerce platform have always failed to be integrated deeply enough. With the digital transformation of the automotive industry, a new retail model has become imperative. But at the same time, the product attributes of the automobile have determined that it's impossible to use a simple way to realize a transformation of its sales & marketing channels really from offline to online.
On this account, Suning Auto has worked out the optimized "1+1+X+Y" business model, where the two "1" respectively represent the brand's existing channels and the community platform & community marketing based on Suning.com flagship store, "X" represents the diversified offline funnel-type auto store forms, while "Y" represents empowerment by full eco resources and scenarios such as Suning Corporate Sales, Suning City Sales, Suning Sports and Suning Cultural Creativity. Through such a model, Suning Auto is in a position to achieve low-cost and high-efficiency customer acquisition.
It can be perceived that Suning Auto has applied the mature marketing model polished by Suning for the E-commerce industry to auto retail. Through the interconnection between online flagship stores and offline stores, together with the empowerment of the various resources of SHG, a closed-loop business model has been formed.
In the ongoing 618 Big Promotion event, a subsidy of up to 45,000 yuan can be enjoyed for the purchase of SOL E20X. Whether this Internet marketing model could get off to a good start for JAC-VW remains to be seen.
The "IoE" Scenario-based Sales Pioneered by PATEO
In this alliance, there's one more party playing the "adhesive" role, that is, the IoV enterprise PATEO. 
This company has been deeply and intensively cultivating the IoV field for many years, and launched a range of IoV products represented by the "Qing" Series.
Based on its accumulation and understanding of the IoV data, PATEO has also taken the lead in carving its own path towards a vehicle purchase model based on scenario and characterized by fully smart retail.
It believes that despite the differences between the auto sales and the Fast Moving Consumer Goods (FMCG) industries, e.g., the former features a long and slow decision-making process as well as a relatively long tracking period, as long as the customer-related issues of online information delivery, fund payment and communication & understanding can be solved, it's feasible to build a closed-loop sales system online.
In this cooperation with JAC-VW and Suning Auto, PATEO has provided the implementation & integration services, including addressing concerns over range, service, charging, used car and financial issues, offering online operational services for flagship store, sales network, ordering hotline, mini program,
*
messages (official) account and so on, as well as building virtual middle office business, AI-empowered intelligent sales system, etc., based on its technical platform capabilities.
"As far as the current sales status of the automotive industry is concerned, throughout the entire process of addressing issues like how to help the existing customer base upgrade to become the life-long fans of the JAC-VW SOL brand, and how to find new customers, digital marketing approaches are needed. PATEO is thinking about leveraging the big data capabilities to create a user profile, thereby eventually achieving rapid & accurate marketing."
Ken (Yilun) YING, Chairman of PATEO, said, "For smart retail, it's also very important to figure out how to give full play to the abilities in eco data establishment & middle office operations, connect the auto enterprise, the eCommerce sales platform and the customer, and form a closed-loop high-efficiency & low-cost auto retail operation service system. This year, we'll continue to conduct offline operation with Suning Auto on the basis of online promotion, and develop an AI-empowered intelligent sales system, to help JAC-VW further achieve rapid transformation."